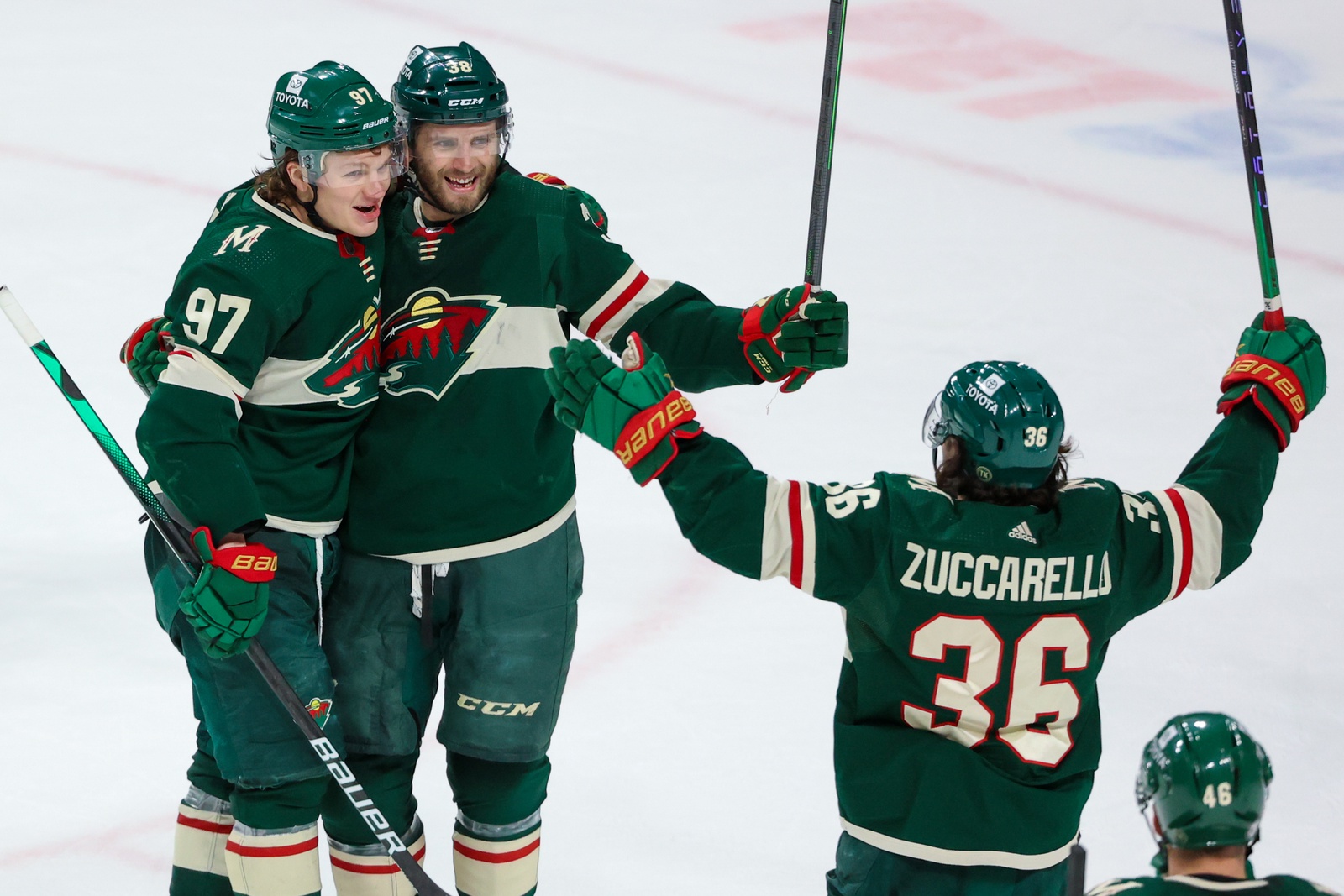 Image courtesy of © Matt Krohn - USA TODAY Sports
It's hard to perfectly read into anything in the preseason. Teams have young players looking to make a mark and veterans looking for a tune-up. The outcomes and the records of NHL preseason games are more or less irrelevant. Still a team's deployment of players and the lines.
Who knows if Dean Evason had all 60 members of training camp come out only to Herb-Brooks-it and decide the lineup after a couple of laps around the rink? I'd be willing to bet that's not completely the case, but Evason has had some idea of what he wants the lineup to look like. So far this preseason, we've seen a lot of off-season speculation turn into on-ice moments.
There are a few things that we can look at in the preseason and be like, Yeah, that's probably what it's going to look like on opening night. The hour grows nigh until the rubber hits the ice and the Wild suit up against the Florida Panthers on October 12th at the X.
Let's check out what we've seen so far that we can assume Dean is dialing up for Game 1. 
Forwards - Top-6
We've seen the Kirill Kaprizov line with Mats Zuccarello and center Ryan Hartman against the Colorado Avalanche on Thursday. Ryan Hartman, Ol' reliable, seems to be in line to start once again for the Wild. We saw this play out last season. But after a disappointing start to the season, the Wild demoted Hartman off that line. The revolving door of centers between 97 and 36 eventually ended with Hartman going back between them and staying there to end the season. 
While it may make sense from an outside perspective to have Marco Rossi play between Kapriozv and Zuccy, Evason and management may think otherwise, and only time will tell if a change is afoot now or in the future. But for Night 1, it seems like Hartman will take his place between 36 and 97 once again.
The Wild crafted a Matt Boldy-Joel Eriksson Ek-Marcus Johansson line for the Dallas Stars game. As long as Johansson is healthy, he will more than likely suit up as the Wild's second line this season. This group showed a lot of chemistry at the end of last season. 
Management really likes Johansson. While chances are slim of him repeating his success with the Wild (0.9 Points/Game) from last year, he's still a solid player. Boldy has a chance to be the Wild's leading scorer and enter true superstar territory this year. Eriksson Ek will help Boldy do that. Eriksson Ek is as reliable as ever, and his offensive game has been coming along nicely over the years. This line is ready to deliver in all situations for the Wild. 
Forwards - Bottom-6 
We can get some insight into the bottom six in the preseason. Adam Beckman was not skating in the Top-6. Beckman was skating with Jake Lucchini and newcomer Jujhar Khaira. At this point, none of these players look like they will be making the roster. In terms of roster hopefuls, though, the Wild had Rossi paired up with Marcus Foligno and new No. 20, Patrick Maroon. 
It's unlikely that those three are skating on the same line on opening night. Rossi was practicing with Foligno and Freddy Gaudreau. If the Wild pair Maroon and Foligno, that means either Rossi or Gaudreau are on the fourth line. I doubt they want that. 
As for guys who have been rocking fourth-line duties, the Wild had Brandon Duhaime and Connor Dewar paired on the penalty kill and at even strength during the first preseason game in Colorado. That duo looks to be tied at the hip once again this season. Dewar and Duhaime were key to the penalty kill last year and they will have to be once again this season. 
Defense
The rumored Jonas Brodin-Brock Faber pair has suited up for multiple games, they're a lock. Jared Spurgeon and Jake Middleton are almost guaranteed for opening night. The only question is who plays among the three of Calen Addison, Jon Merrill, and Alex Goligoski. They've all gotten work throughout the preseason. Addison has worked on the power play unit during practice and in games. 
Goalies
Prized prospect Jesper Wallstedt got the start in the opening contest, and Marc-Andre Fleury and Filip Gustavsson split time in the next game. Minnesota's plan is for Gustavsson and Fleury to also split time in the next games. One can only assume Gus would get the nod to start the opening night but who knows what Dean is plotting? Remember what happened to open the season last year? We don't want a repeat of Fleury's early-season shenanigans in the net again.
The Prediction
From the intel gathered at practice and in games, the things we are hearing from coaches and management, and the deployment of players so far, this is my best guess for how the Wild's opening night lineup will look:
Forwards
Line 1: Kaprizov - Hartman - Zuccarello
Line 2: Boldy - Eriksson Ek - Johansson
Line 3: Foligno - Rossi - Gaudreau 
Line 4: Duhaime - Dewar - Maroon
Defense
Pair 1: Spurgeon - Middleton
Pair 2: Faber - Brodin
Pair 3: Addison - Merrill 
Scratched: Goligoski, Khaira
Goaltenders
Tendys: Gustavsson - Fleury
Khaira has had a good camp, scored some goals, and played well in the preseason. Still, I don't think he's done enough to uproot one of the established guys. Same thing with Sammy Walker. The former Gopher has done enough to prove he belongs but not enough to find a spot in the lineup. Walker has three points in just a single tilt, but Tyson Jost also had six points in three games last preseason. So do with that what you will. 
While this preseason may have just reinforced what fans and pundits theorized all offseason, at least we have concrete evidence to back up these claims. While the stats and events don't really matter, the sneak peek at the line combination and defensive pairs gives us a nice look at what we could see on opening night. 
4