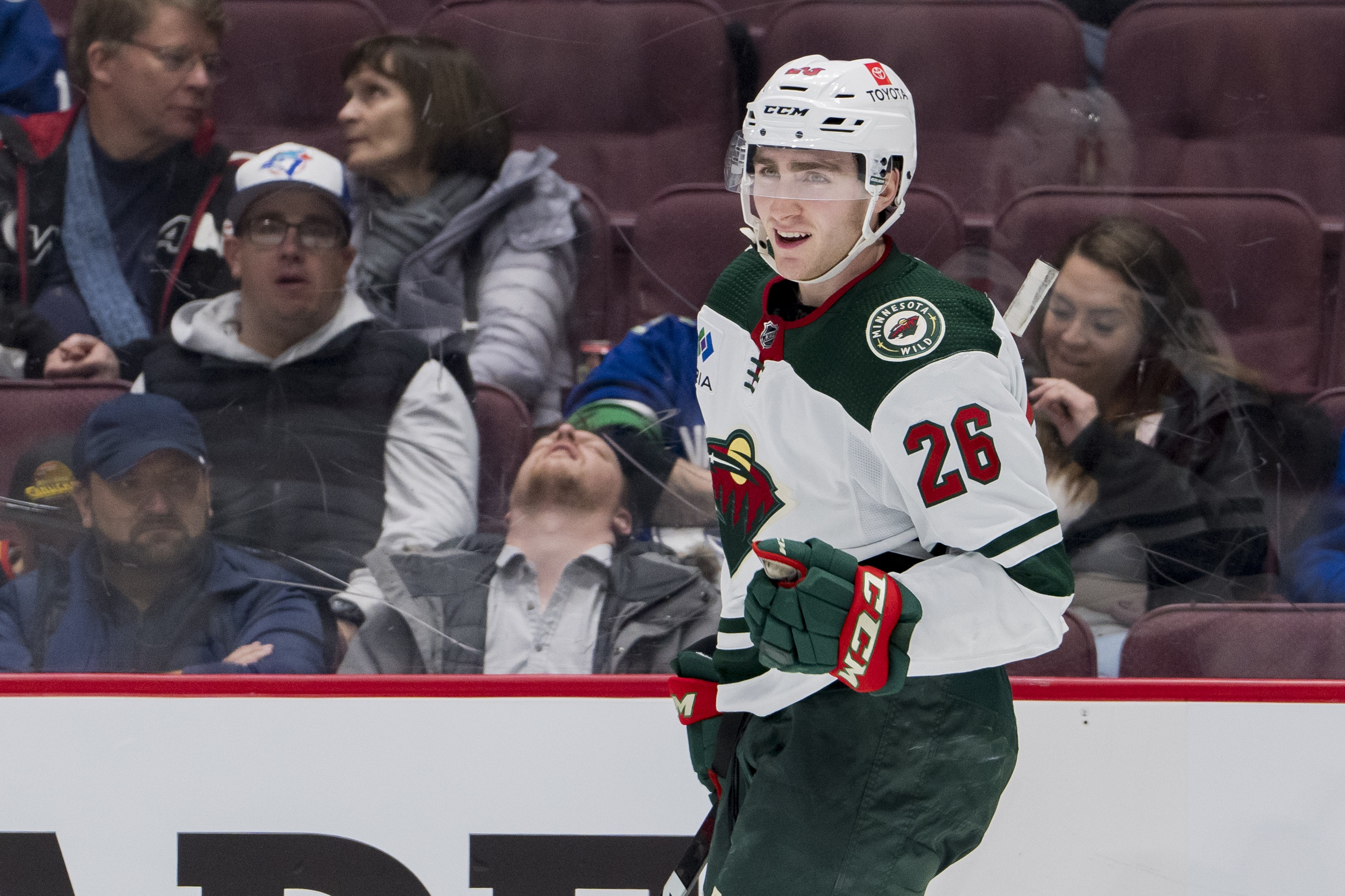 Image courtesy of © Bob Frid-USA TODAY Sports
Is hockey about to be…. fun?
In a somewhat shocking announcement this week, the International Ice Hockey Federation (IIHF) has decided to tweak some of their rules to create even more excitement with their on-ice product. They want more offense, even in a time when scoring is high across all levels of professional play.
You can bet the NHL will be monitoring the results of them closely, because if they work, we could see a major shake-up in the NHL in the very near future. Changes that would have large ramifications on the Minnesota Wild's roster makeup.
First, the new rules:
1)     If a team scores on the power play, that man advantage doesn't end. Minor penalties will be treated as major penalties in that a team can score as many times as they want during them. Unless…
2)     If a shorthanded team scores, the minor penalty against them will end.
3)     A minor penalty will be served even if a goal is scored while the delayed penalty is pending.
This is going to be so much fun.
While the proposed changes are a major departure from hockey tradition (but not as much as you'd think), they aren't new ideas. These rules have been suggested and floated about by media pundits for a few years now. But stateside, those always seemed far-fetched. Mostly because Gary Bettman still runs the league, and Bettman's only "fun" is picking and choosing when his salary cap rules do and don't apply. (I'll die on this hill.)
That could all change. Now that another professional league across the pond is testing the waters with these new rules, the pressure will be on the NHL to adapt if they become a success. The league has done a decent job in ramping up scoring the past few decades, but this would burst open the flood gates of creativity. And in a super fun way.
But why wait until the new rules take effect to debate how they would change the way an NHL team plans their powerplay and penalty kill? Just imagine if these rules had been in place the past couple seasons as a Wild fan. The idea is equal parts horrifying and electric. Take a ride on this roller coaster with me.
Minor Penalties are Handled the Same Way as a Major Penalty
Let's just take the scariest rule change for Wild fans right off the hop. You thought the last two postseason exits were already bad? Just imagine if the Wild's penalty kill never got off the ice after giving up all those power play goals??? They'd still be in Dallas right now killing off a Marcus Foligno penalty.
You have to imagine such a rule change would have saved Calen Addison from the doghouse last year too. If the NHL ever did adopt this rule, coaches would surely view a third pair powerplay specialist with a few defensive warts very differently.
If a Shorthanded Team Scores, the Minor Penalty Against Them Will End
Freddy Gaudreau and Connor Dewar, please stand up. Both players finished in a tie for third with four shorthanded goals each last season. It's probably good for the Wild this rule wasn't in affect last season. Otherwise, that Gaudreau extension probably would have cost them at least an extra $500k per year for him to kill penalties into his mid-30s.
Just imagine the excitement in an NHL arena during a penalty kill with such a rule. Will teams trot out higher-skilled penalty killers (they already should be) to intercept an ill-minded pass from the opposing team and race ahead up the ice in an effort to actually "kill" a penalty? Or will coaches be too afraid to risk giving up an easy power play goal only to find themselves still on the penalty kill because of rule No. 1?
It's the NHL, so we know coaches will favor the defensive effort far more than the upside in scoring shorthanded. But all it takes is one coach with some job security to have the gumption to pull it off.
Can you imagine being the player to quarterback a powerplay with Connor McDavid on the opposing penalty kill? I think I'd rather eat 12 Pronto Pups and then ride the Sling Shot at the State Fair.
A Minor Penalty Is Served Even If A Goal Is Scored While the Delayed Penalty is Pending
Now this is a rule the Wild could really benefit from. Remember two seasons ago when they were prolific late in games with the goalie pulled? If they could rebound to being above average in such situations, this rule change could be a real ace up their sleeve.
During a delayed penalty, most coaches advise their teams to maintain possession and attempt to get a good shot off. It's fairly bland and stuck in the middle. They don't plan to just give this small advantage away, but they aren't so bold as to develop a whole strategy around it. What if the prize of scoring on a delayed penalty was a powerplay with the potential to score as many goals as you want in those two minutes? I'd hope coaches would capitalize.
So how would that look? Let's say the Wild were down a goal with under five minutes remaining in a game, and the third line is on the ice when they draw a penalty. Imagine Jonas Brodin circling back into his zone with the puck as they complete a wholesale change and get their six best players on the ice for a structured six-on-five powerplay. The Xcel Energy Center would explode in anticipation as one of the league's best six on five teams attempts to tie the game with a goal. And to top it off, follow it with a power play chance to take the lead! The chaos!
In short, some of these rules would cause a complete meltdown in the State of Hockey, while some would be exhilarating. And that's what we're going for with our professional sports teams, right? The more drama the better.
Because drama has always been lacking with Minnesota sports teams, right?
1