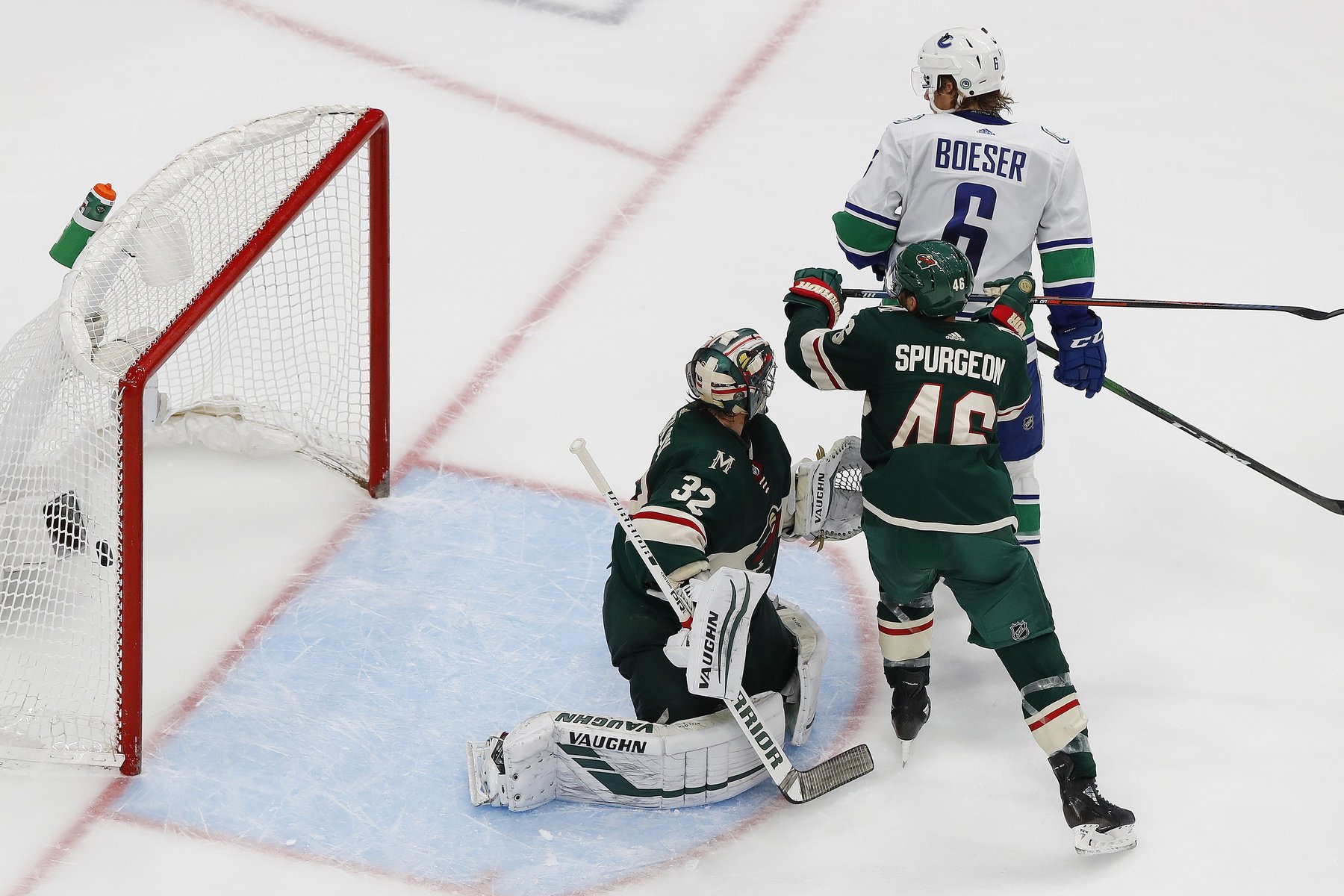 The Minnesota Wild entered Monday's Draft Lottery with dreams of the NHL picking their lucky ping-pong ball. Alas, the Wild's 12.5% odds weren't nearly enough as the New York Rangers had the Hockey Gods shine on them today.
But the Wild, who haven't picked in the top-3 of the draft since 2000, have little other reason to complain. They are settled into the ninth slot in the draft, which is higher than they've picked since 2012.
Any fan disappointed in the Wild's quick postseason exit or the Draft Lottery loss is justified. But the truth is, Minnesota has had some luck on their side in picking ninth. Their regular season points percentage would have them slotted 11th or 12th in the draft. But the three playoff teams worse than Minnesota (Montreal, Chicago and Arizona) all pulled off upsets in their qualifying round, moving Minnesota up the maximum number of spots.
Minnesota was also lucky to not win their qualifying match-up against Vancouver. While Minnesota's Game 1 victory was strong, Games 2-4 proved Minnesota didn't have the scoring depth or goaltending to truly make a run.
If the Wild prevailed over Vancouver, they'd be looking at a likely first-or-second round exit. That would send them down the 19th overall pick. No Minnesota fan needs to be reminded how difficult it is to secure elite talent in the late teens.
So, Minnesota loses out on another Draft Lottery. Thems the breaks, we guess. Let's find out where they go from here.
What Could Be Available at Ninth Overall?
We'll cover Minnesota's options much more thoroughly in the lead-up to the October 9 Draft. But here's a quick rundown of the options the Wild could have available to them.
The 2020 Draft is considered to have a very good amount of talent, especially at the top of the first round. Uber-talented winger Alexis Lafreniere, powerful center Quinton Byfield and speedy forward Tim Stützle are considered the top-3 prospects. After that? It's anyone's guess as to how this draft could play out.
There are a ton of quality forwards rated to be top-10 caliber picks. Marco Rossi is a small but skilled center who scored over two points per game in the OHL. Cole Perfetti has a chance to stick down the middle and scouts rave about his goal-scoring ability. Anton Lundell is a Finnish center with strong playmaking and defense. Maybe that sounds like a player Minnesota needs to replace.
At wing, Lucas Raymond and Alexander Holtz are talented Swedish wingers, one a playmaker, the other a sniper. Defensemen Jamie Drysdale and Jake Sanderson project as smooth-skating puck-movers. And Russian Yaroslav Askarov is hyped as being the best goalie prospect of his generation.
Many of these players will be picked ahead of the ninth spot, but the Wild will get a choice between at least three of that group. The rise from the 12th to ninth pick seems small, but it's actually quite massive.
Before You Say "They'll Blow This Pick"…
It's understandable to be frustrated with previous Wild drafts. Brock Boeser's two goals in the qualifying round helped eliminate Minnesota, and the Wild could have picked him in 2015. They instead picked Joel Eriksson Ek, a fine defensive center, but who lacks Boeser's scoring chops.
In 2018, the Wild went off the board completely at pick 24, selecting right-shot defenseman Filip Johansson. Johansson didn't have much offense at the time, and hasn't developed much in the years since. Four picks later, the New York Rangers selected Nils Lundkvist, another right-shot Swedish defenseman. Lundkvist has emerged as a top prospect.
Bitterness has even extended to 2019 first-rounder Matt Boldy, who went 12th overall. Many Wild fans wanted small sniper Cole Caufield, who had immediate success at the University of Wisconsin. This grumbling continued even when Boldy put together a second half at Boston College worthy of a top prospect.
Minnesota hasn't gotten everything right, but as a franchise, they've tended to hit when given top-10 picks. Their last three forays into the top-10 have produced Matt Dumba (seventh overall in 2012), Jonas Brodin (tenth in 2011) and Mikael Granlund (ninth in 2010). Not mega-stars, but two first-pairing caliber defensemen and a very good top-six winger. You'd take those any day.
If you're still discouraged, please meet Judd Brackett, the new guy running the draft table. Remember how Vancouver's young stars knocked Minnesota out? Brackett's the one who got them. He picked up Boeser with a 23rd pick, Elias Pettersson at fifth overall, and Quinn Hughes at seventh. The man knows his way around a top-10 pick. Believe in that, at least.
The History of the Ninth Pick
It's one thing to look at scouting reports for these prospects and get excited. After all, if you're a top-10 prospect, scouts are going to love you a lot. But not all scouting reports are right, and not every top prospect develops.
So maybe instead of looking at the prospects, we might get a better idea of what Minnesota could get by looking at history. Here are the ninth overall picks from the last decade:
2010: Granlund
2011: Dougie Hamilton
2012: Jacob Trouba
2013: Bo Horvat
2014: Nikolaj Ehlers
2015: Timo Meier
2016: Mikhail Sergachev
2017: Michael Rasmussen
2018: Vitali Kravtsov
2019: Trevor Zegras
That's a remarkably solid collection of players. Hamilton is a legitimate Norris contender. Trouba and Sergachev are no-doubt top-four defensemen. Horvat is a legitimate top-six center. Ehlers and Meier are dynamic wingers. Zegras is one of the top center prospects in the league.
Not a lot of duds! Also, there's a big leap in terms of talent level and success rate than the mid-to-late round picks the Wild are accustomed to. Chances are, Minnesota is going to land a player fans will be very, very excited about.
Does Minnesota Get Another First-Round Pick this Season?
But, wait! There's more! Maybe! The Pittsburgh Penguins lost the draft lottery, as well. Now they have a decision to make - one that may add the 15th overall pick to Minnesota's arsenal.
Pittsburgh traded their 2020 first-round pick to Minnesota in the Jason Zucker trade. That pick came with a condition. If the Penguins made the playoffs, Minnesota would automatically get the pick. But since they didn't win their playoff qualifier, they get the choice to keep the pick or defer it to next season. Pittsburgh now has seven days to decide.
There is reason to believe that Pittsburgh may keep the pick for 2020. They have picked in the top-15 of the draft once since 2006. The Pens have used just two first-round picks in the last seven years. This is the biggest chance for Pittsburgh to add talent to their system in nearly a decade.
But there's some risk, as well. Should Pittsburgh defer the pick, it will have no conditions on it. If, say, injuries, aging or bad goaltending strike and the Penguins miss the playoffs, the Wild get a top-15 pick next year. And if Pittsburgh wins the 2021 Draft Lottery, Minnesota gets that pick, thank you very much.
If Pittsburgh does surrender their 2020 first-rounder, this would be another huge opportunity for Minnesota. They've never had two top-15 picks in the history of their franchise, and they'll have Brackett calling the shots. The Wild's prospect pool has been steadily growing in hype over the past two years. 2020 could be the year that puts their system over the top.