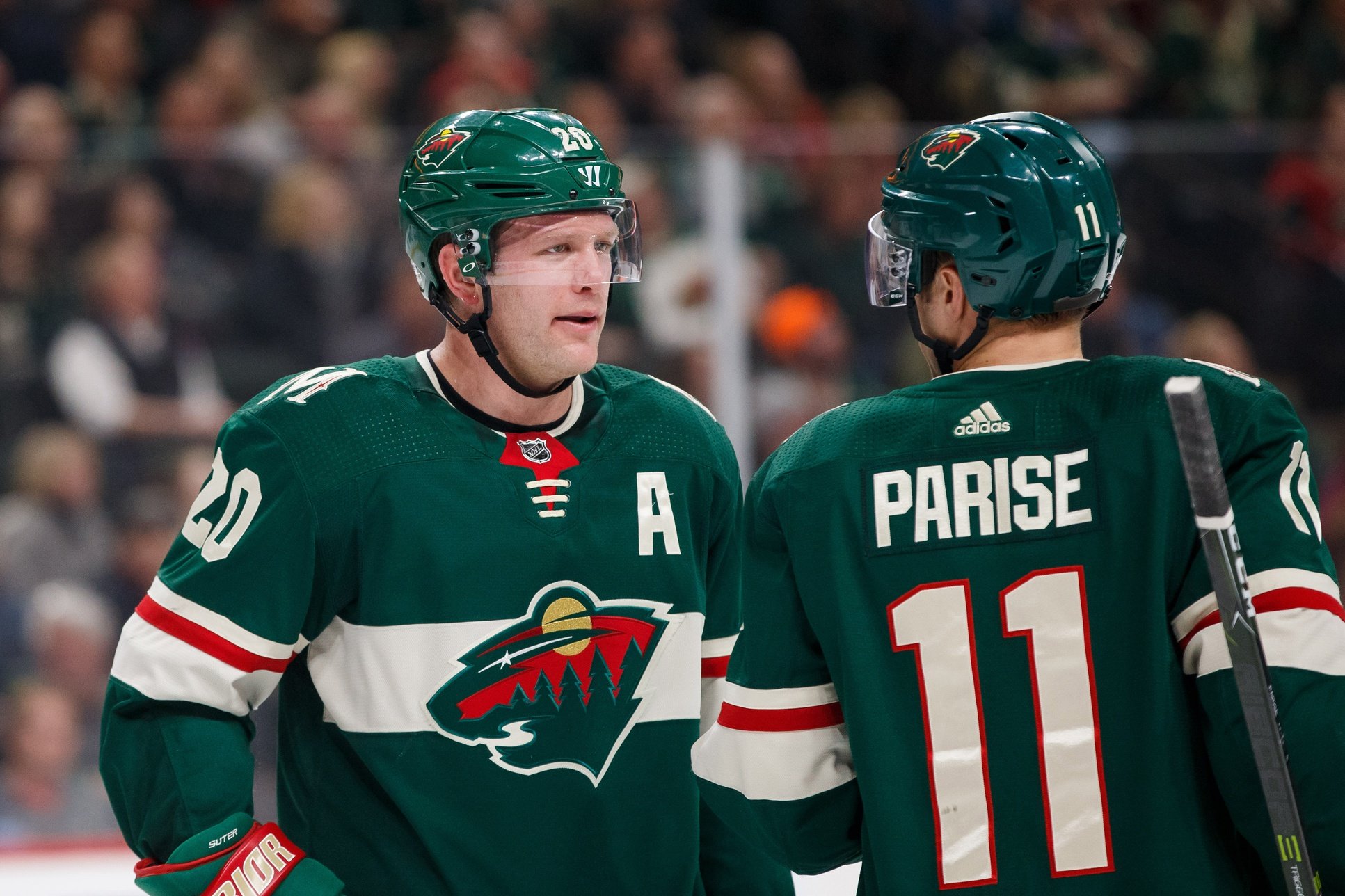 You have few choices right now if you're looking to get your hockey fix during the coronavirus pandemic. Watching replays of classic games is a great way to do that. You can catch an old game and relive a moment in Wild history. It won't be exactly the same as watching it live, but seeing it again will replicate that experience somewhat. You'll feel some of the tension of that moment, and remember your emotions at the time.
That's easy to do for games. It's harder to accomplish that for other types of events. And the biggest event in Minnesota Wild history is impossible to duplicate.
You can't replicate the feeling of Minnesota signing Zach Parise and Ryan Suter on July 4, 2012. Months of anticipation and speculation came to a climactic four-day free agency courtship. You can get some enjoyment out of rewatching, say, Nino Niederreiter score in overtime in Game 7. You probably won't have fun replicating the experience of refreshing Twitter every 30 seconds for 80 hours.
There are other reasons it's difficult to conjure up the euphoria the State of Hockey felt eight years ago. That we know how the first eight years played out is one of them. Parise and Suter have been valuable, integral contributors to the Wild. But that's not why Craig Leipold dropped almost $200 million that morning.
This was Minnesota's coming-out party to the league. Leipold and Chuck Fletcher signed the prized free agents believing they were necessary ingredients for a Stanley Cup in St. Paul.
We know that hasn't happened. Playoff disappointments, ill-timed injuries and salary cap woes marred this dream. The duo produced just two playoff series wins. They're both about to enter their age-36 seasons. Parise was almost traded at the deadline, and could still find himself gone this summer.
Minnesota is on the hook for a combined $15 million cap hit for the next five years. Those contracts were a source of hope and joy for Wild fans back in 2012. Now they are increasingly feeling like a millstone around the State of Hockey.
But is all hope lost? Can Minnesota put together a playoff run that will erase the disappointment of the past eight years? It's not clear, but answering three key questions should give us an idea.
Can Parise and Suter Still Provide Value?
Not all expensive 35-year-old veterans are created equal. A player at that age is clearly in a decline phase, yes, but there's lots of variance among the group. Some are still productive well after then, while some are washed years earlier.
Where do Parise and Suter fit in on that spectrum?
Let's start with Parise. He was an elite goal-scorer who could play an all-around game when he arrived in Minnesota. He rated as one of the worst defenders on the team this year, so it's safe to say the defense won't be a strength going forward. It's also very concerning that he had the lowest per-minute 5-on-5 goal production of his career.
But there are still strengths to Parise's game. He proved that he's still a weapon on the power play, notching 12 goals on the man advantage. Parise was also the linemate who first developed great chemistry with Kevin Fiala.
The decline is undeniable. But his bread and butter is scoring goals. And he's still doing that pretty well, scoring at an almost 30-goal pace this year.
https://twitter.com/OhHiTony/status/1219458431008083969
Suter has aged better, but his devastating ankle injury and aging has caught up with him. His once-elite defensive game has become pedestrian. Fortunately, Suter has made up for this by driving offense extremely well at both even-strength and the power play. Suter was on pace for a career-high 57 points — an impressive feat at his age.
So they were both decent, but were they worth the money. We can use Evolving-Hockey's Standings Points Above Replacement model to help us here. According to them, a point in the standings is worth $2.28 million for a forward and $2.63 million for a defenseman.
Parise was worth 2.4 standings points to the Wild this season. Run that calculation, and his performance was worth $5.47 million. That's good, but not quite enough to justify him making $6.89 million more than the NHL's minimum salary.
But that $1.4 million the Wild overpaid for Parise this year is more than made up for by the value Suter provided. Suter's 3.7 Standings Points Above Replacement was worth a whopping $9.73 million.
Together, the Wild paid almost $14 million more than if they replaced Parise and Suter with two AHL call-ups. They got $15.2 million of value out of the duo. They're holding up their end of the bargain. They should provide similar value next season, provided injuries or a steep decline don't occur.
Does Their Money Restrict the Wild?
Providing equal value on their contracts doesn't mean that Parise and Suter's deal aren't hurting their team. Even a market-value cap hit can be burdensome if it prevents a team from being able to improve.
But Minnesota's salary cap situation is the best it's been since 2012. Paul Fenton and Bill Guerin cleared a hefty amount of cap room for this offseason. Even if the salary cap holds at $81.5 million, the Wild will still have $16 million to work with. Their only restricted free agents are Jordan Greenway and Luke Kunin, whose next deals should both be team-friendly. They arguably have no major unrestricted free agents.
Minnesota's roster is in good shape as well. They'll have 17 players under contract, and few major holes in their roster to fill. The Wild have a lot of money and few needs. There's not many moves that the Parise and Suter contracts render impossible.
What About the Supporting Cast?
Two of the biggest criticism leveled at Parise and Suter aren't particularly accurate at the moment. But it's fair to say that they fell short of the team's expectations. Minnesota hoped that they landed the players that would be able to power them to a Cup. While both have been high-level players, they weren't at that superstar level.
The Wild can't win a Cup or get a deep playoff run as constructed. They'll need star players that Parise and Suter can support.
Fiala's emergence as an electric player and the (probably) impending arrival of Kirill Kaprizov gives Minnesota two potential stars. Even more crucially, that star power is coming on the cheap.
Fiala's $3 million cap hit makes him vastly underpaid next year, provided he keeps up his development. If Kaprizov arrives next year, he'll play two full seasons on his entry-level contract. That talent at that price point could pry open a closed competitive window for a year or two.
Unfortunately, there's more work to be done. The Wild have few needs, but the ones they have are difficult to acquire. They'll need to fix their 29th-ranked goaltending, a tricky proposition given the volatility of the position. And they'll probably need to get a bona-fide center to slot in on the top line. Those don't exactly grow on trees.
But it isn't Parise or Suter's job to fill out that cast. All they can do is their part, which is to play and play well. They both did that this season. It'll take some savvy moves by Bill Guerin and some Russian prospect-related luck to do so, but it is still possible that Minnesota, Parise and Suter can fulfill the promise of that magical day in July 2012.