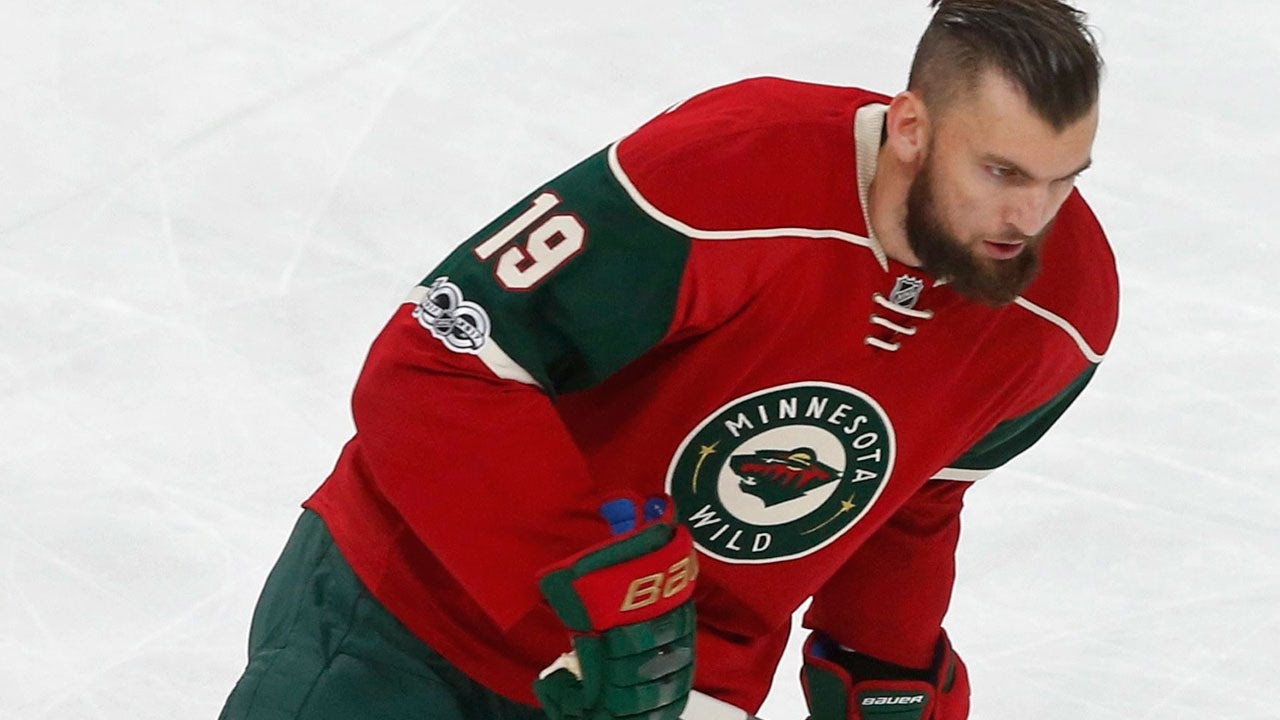 Everything was going so smoothly, wasn't it? The Wild were rolling, rolling into the playoffs, with Central Division title hopes in their minds while finally getting the monkey of midseason slumps off their back. They made a deadline trade! A big one too! The most prized forward on the market this season was theirs -- for an absurd price -- but hey, they got him!
Then the wheels came off.
What happened? Why did the Wild team we had grown to know and love, finally achieving success after Bruce Boudreau's arrival, revert back to the team of the Mike Yeo era? It must be the new guy, right? You can't just plop a player into a locker room full of camaraderie and fragile egos like that, what was Chuck Fletcher thinking?
This kind of logic is a knee-jerk reaction to the typical fan, so it's understandable. Something was good, something changed, now that good thing is bad. It's damn near fool-proof, and even in the day of advanced statistics and a better understanding of the sports world, it's still actually unable to be proven wrong. I'm a firm believer in the psychological aspects of athletics, and how things that can't be measured do matter.
That being said, I don't buy it. I don't believe for one minute that Martin Hanzal's arrival with the Wild is what sent this team into a tailspin and I've got a few reasons.
1. Goaltending
We talked about this very topic on a recent Giles and The Goalie Podcast, and my exact line was "Hanzal didn't make Devan Dubnyk suck." While that's a little oversimplified, I think it's mostly true. Hanzal is known to be a good defender, and I haven't recalled any situations where an egregious Hanzal turnover or defensive lapse has cost the Wild a goal. The numbers back it up. Since his arrival, Hanzal has the 4th best Corsi% on the Wild, behind Pominville, Niederreiter and Suter.
Hanzal was brought in for his defense and he's done just that, to the tune of a 60% Corsi%, which is outstanding even considering the small sample size. It's not entirely because of the Hanzal acquisition, but the Wild have actually been a better puck possession team in March than they were through most of the season. It'd be tough to convince anyone that they were actually playing better, but that's because of the goaltending. Giles Ferrell touched on it yesterday, and the call-up of Alex Stalock further reinforces what we already knew -- the Wild goalies nearly went 0-fer March.
2. He's actually produced
It's easy to forget Hanzal's contributions to the Wild, since he has yet to have a goal that is really defining or an assist that was particularly impressive, but he's actually been productive. Hanzal tied for third on the team in March with eight points. While that's a paltry total during a bad month of hockey for the team, it's still worth noting. In fact, the only Wild players to outscore Hanzal during March were Eric Staal and Zach Parise.
In fact,the only Wild players to outscore Hanzal during March were Eric Staal and Zach Parise.
Along those lines, it seems that the combination of Hanzal, Ryan Pominville and Charlie Coyle have found a groove and could be a very formidable third line in the playoffs. They could also likely draw some tough assignments, given the solid defensive statistics they've boasted. Hanzal was acquired just as much to shut down the Jonathan Toews' of the world as much as he was to score, so the point production from him is definitely a positive, despite his high price tag.
3. Tyler Graovac
No offense to the young Wild forward, but essentially he's who Hanzal replaced. Now, you can say what you want about Graovac's game, from the bright spots to the low spots, but almost regardless of what you think of either player, we should all be able to agree that Hanzal is an upgrade. Graovac has had some solid games, sure, but his season had been marred with inconsistency and he seemed to be the goat just as often, if not more, as times where he raised an eyebrow with his play.
Acquiring Hanzal re-slotted the Wild center ice position and gave Boudreau the flexibility of stashing Erik Haula on the fourth line, a spot where it's probably more acceptable for him to have some long stretches of being invisible (not to be confused with Graovac, who's inconsistency went from pretty decent to very bad, Haula is more like pretty good to just not noticeable). Going into the deadline, the words that were heard were flexibility, and the mixing and matching before that proves that the Wild brass were looking for a more permanent solution.
It seems like the Wild are slowly getting on the right side of some puck luck recently, and have points in their last three games, and four out of their last six. Now, that's certainly nothing to get too excited about, but the team is playing slightly better hockey right now, and if the goaltending comes around, they could really take off.
This doesn't without a shadow of a doubt prove that Hanzal was not responsible for the March slump, but it goes a long ways towards leaning the direction of hogwash. The Wild have seemingly weathered the storm of March, and even though it's very debatable whether or not they'll be better off on the other side, it's still a good sign that they've actually been able to right the ship, without acquiring another goalie or getting their coach fired.
As mentioned earlier, it's impossible to prove that Hanzal *wasn't* responsible for the slump, and no one outside of those locker room walls can really know for sure. So while you can argue that winning proves he's not a problem, some will say that the losing proves that he was the problem, and while it's likely not 100 percent in either direction, the external factors and Hanzal's play during this stretch tell the story, in my belief.
Did the Wild overpay for Hanzal? Sure, absolutely, I'm not going to argue that. But the fact remains that he was acquired with the postseason grind specifically in mind, and we have yet to see the returns on that. It's easy to make statements backed up by flawed logic that sounds good at the time, but one should consider all of the things at play. Hanzal could still have a lot of his story with the Wild yet to be written, but the story so far reads pretty good, and don't let anyone tell you otherwise.
---
Never Miss an Episode of Giles & The Goalie!