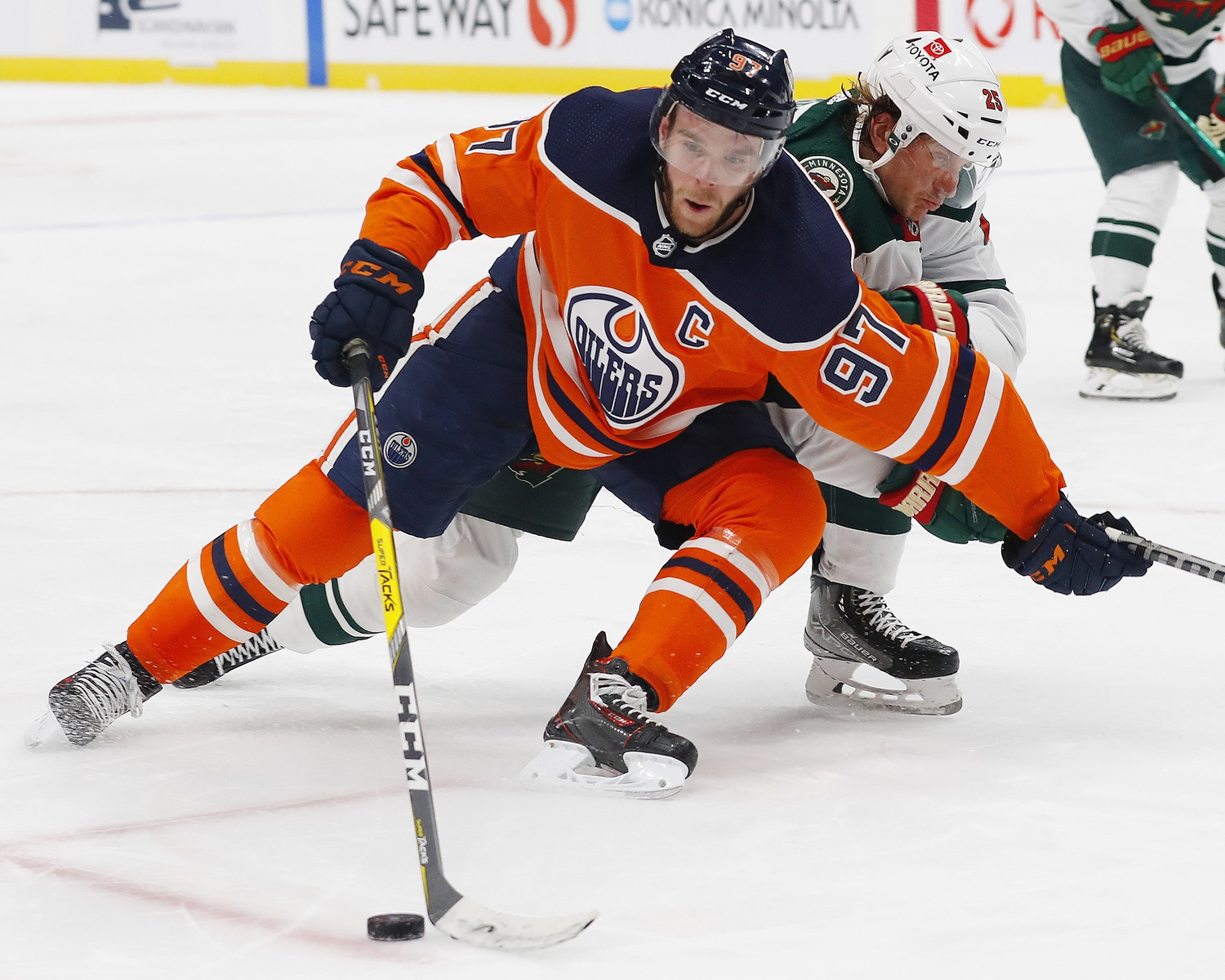 If you had to make a boxing-style poster to promote last night's tilt between the Minnesota Wild and Edmonton Oilers, your job would be easy. It's the Battle of the 97s! In one corner, Kirill Kaprizov, the Siberian Sniper. In the other, the reigning MVP Connor McDavid. Slap those two on the poster and take an early lunch.
Sadly, anyone wanting to watch the stars go head-to-head was treated to just four minutes of Kaprizov vs. McDavid.
No, Jonas Brodin was the real prizefighter to square off with McDavid. On the ice, it's hard to find two players more opposite. McDavid is arguably the league's most explosive offensive player, while Brodin has long been atop the list of best shutdown defensemen. Even their skating, the shared skill that makes them elite, are somehow opposites. No one skates forwards better than McDavid, and no one skates backward better than Brodin.
You can believe Brodin knew he was the marquee match-up. "They've got probably the two best players in the league," he said, referring to McDavid and 2019-20 MVP Leon Draisaitl. "It's fun, you know? It's fun to play against the best players in the world."
Who won the match-up? It'd be easy to look at the stat sheet and conclude McDavid absolutely had his way with Brodin and the Wild. In the 10:55 they faced each other at 5-on-5, McDavid's Oilers put up 18 shot attempts and conceded just five to Brodin's Wild. Even when you account for Minnesota blocking nine of those attempts, and Edmonton missing a couple more, he still had a 7-3 edge in shots.
At the end of the night, though, the Wild did their job, easily dispatching the Oilers 5-1. And despite being in the defensive zone most of the night, Brodin did, too. McDavid was held to zero points, his second scoreless outing in three games against the Wild this year.
After the game, no one doubted which player emerged the victor. "He's so calm," said Ryan Hartman after the game. "It looks like it's easy for [brodin]."
So how on earth could Brodin have undisputably handled McDavid without even controlling 30% of shot attempts? To figure this out, we'll need to turn to the tape and break it down.
It's overly simplistic to say that McDavid's speed makes him uniquely lethal. He's got one of the highest top speeds in the NHL, to go with elite acceleration and a brain and two hands that can keep up with his skates. When those work in concert, he can go from a standstill to carving up entire defenses before they even know what's happening.
Because of his skating, and what he can do at top speed, McDavid can create space even when there's none there. So the key is to give him as little daylight as possible and hope he doesn't find it anyway. On a long enough timeline, McDavid will get his points eventually — he has 17 in 17 career games against the Wild — but Brodin's ability to cut off McDavid's speed gives Minnesota a fighting chance. Watch how effortlessly he snuffs out a rush against a streaking McDavid.
McDavid is sprung for a chance, taking a pass at center ice, and going full-speed at Brodin. In an instant, Brodin is able to position his stick between McDavid and Zack Kassian, his only passing option. With the pass cut off, and Brodin holding inside position, McDavid has no choice but to try to go around Brodin. That doesn't work, either, as Brodin bumps McDavid slightly, making No. 97 skate into the corner with no puck.
There are a lot of NHL defensemen that McDavid would be able to effortlessly skate around, or even blow past entirely entering the zone. But Brodin's flawless backward skating nearly matches McDavid's forward speed. Watch that goal against the New York Rangers, and look how flat-footed and awkward their defensemen were. Now zoom in on Brodin defending McDavid, slow down the tape, and watch how well he closes the gap between them.
There's not a wasted or awkward motion in his feet. It allows him to keep up with McDavid and shepherd him from the highest-danger area of the ice to the lowest. "Brods does a great job of giving no space," coach Dean Evason raved after the game. "He skates so well even against the best skater in the world. He doesn't allow any space to separate."
Even on the rare occasions that McDavid found open ice, he couldn't get further than Brodin. Midway through the second period, McDavid was ready to get on the highlight reel. He faked Freddy Gaudreau out of his skates and protected the puck from Tyson Jost's helpless poke-check. All at full speed. That left Brodin as the last line of defense.
What did Brodin do as McDavid made two very good defensive forwards look like twin Thomas Vaneks? He calmly tracked McDavid down the middle of the ice and moved slightly to his right. Faced with the prospect of being forced to the corner again, McDavid shoots this time. It bounces harmlessly off Brodin's legs.
By the end of a futile power play in the dying moments of the second period, McDavid looked defeated.
He initially goes hard after a puck in the corner, but immediately Brodin closes the gap between them and gets in between McDavid and any possible play. All an exasperated-looking McDavid could do is dump the puck along the boards and glide straight-legged behind the net. Despite McDavid being ostensibly out of the play, Brodin remains glued to him, matching his glide exactly. "He's always in people's faces," Evason noted. "He's not the most physical guy but he's frustrating as hell, I bet, to play against."
It certainly seemed so on Tuesday.
Stopping McDavid from scoring is only one part of the battle, though. The intense defensive focus he demands, and the sheer amount of shots he takes create plenty of space and rebound opportunities for his teammates. Zach Hyman has 24 goals in 68 games, and Evander Kane has 16 in 35, both the highest goals-per-game rates of their careers. No coincidence there.
Brodin took away those second chances with a part of his game for which he rarely gets credit for: his net-clearing ability. "I think what's underrated with him is that he's as gritty as anybody," says Evason. "He doesn't shy away from the gritty areas. He defends in front of the net hard."
That willingness to engage physically may well have saved Minnesota a goal in the first period. Dmitry Kulikov does a great job forcing McDavid to go into the slot rather than take a direct line at the goalie, but McDavid still gets a shot off that bounces off Talbot's pads.
Jesse Puljujarvi is net-front, theoretically perfectly positioned to swat at the rebound. Except Brodin is tying up Puljujarvi, pushing him out of the crease by the time the rebound opportunity is there. Despite just being locked into a shoving match, Brodin's brain is able to process the correct next play in an instant. Instead of following up on Puljujarvi, he moves towards Kane, who has the rebound. Kane may well have been able to gather the rebound in time to catch Talbot in recovery, but Brodin's pressure forces Kane to bobble the puck and skate harmlessly behind the net.
That's not even the only time in the game he disrupted two rebound chances on the same shot. On that second-period power play, McDavid once again had a shot on goal that ricocheted through the crease, into ultra-dangerous rebound territory.
This time, Hyman is in Talbot's crease, and Brodin is fighting him for positioning. Hyman collects McDavid's rebound, but the position Brodin fought forces the shot to go wide. Unfortunately, that gets right in the path of Ryan Nugent-Hopkins. As Brodin and Nugent-Hopkins are in the scrum at the crease, a falling Brodin gets his stick on the puck and sweeps it to the outside. Draisaitl does get a shot at a yawning net, but the angle Brodin pushed it to is terrible, and Draisaitl misses. Crisis averted.
Evason made sure to credit the team effort of stopping McDavid after the game, and he was right to do so. Kulikov and Joel Eriksson Ek in particular disrupted McDavid and his linemates all night with hard play and physicality. Minnesota blocked all but one shot attempt from within 30 feet of the crease with McDavid on the ice at 5-on-5. They were disciplined and made his night miserable.
But McDavid gets hit, harassed, and harried on a nightly basis. What doesn't happen nearly so often is another player taking away his speed. Brodin is almost uniquely positioned to do just that, and because of this, he's the glue that held the Wild's "Stop McDavid" gameplan together. Next time these teams meet, feel free to take your eyes off Kaprizov for a night. The most fascinating and crucial match-up will almost certainly be the duel between Brodin and McDavid.