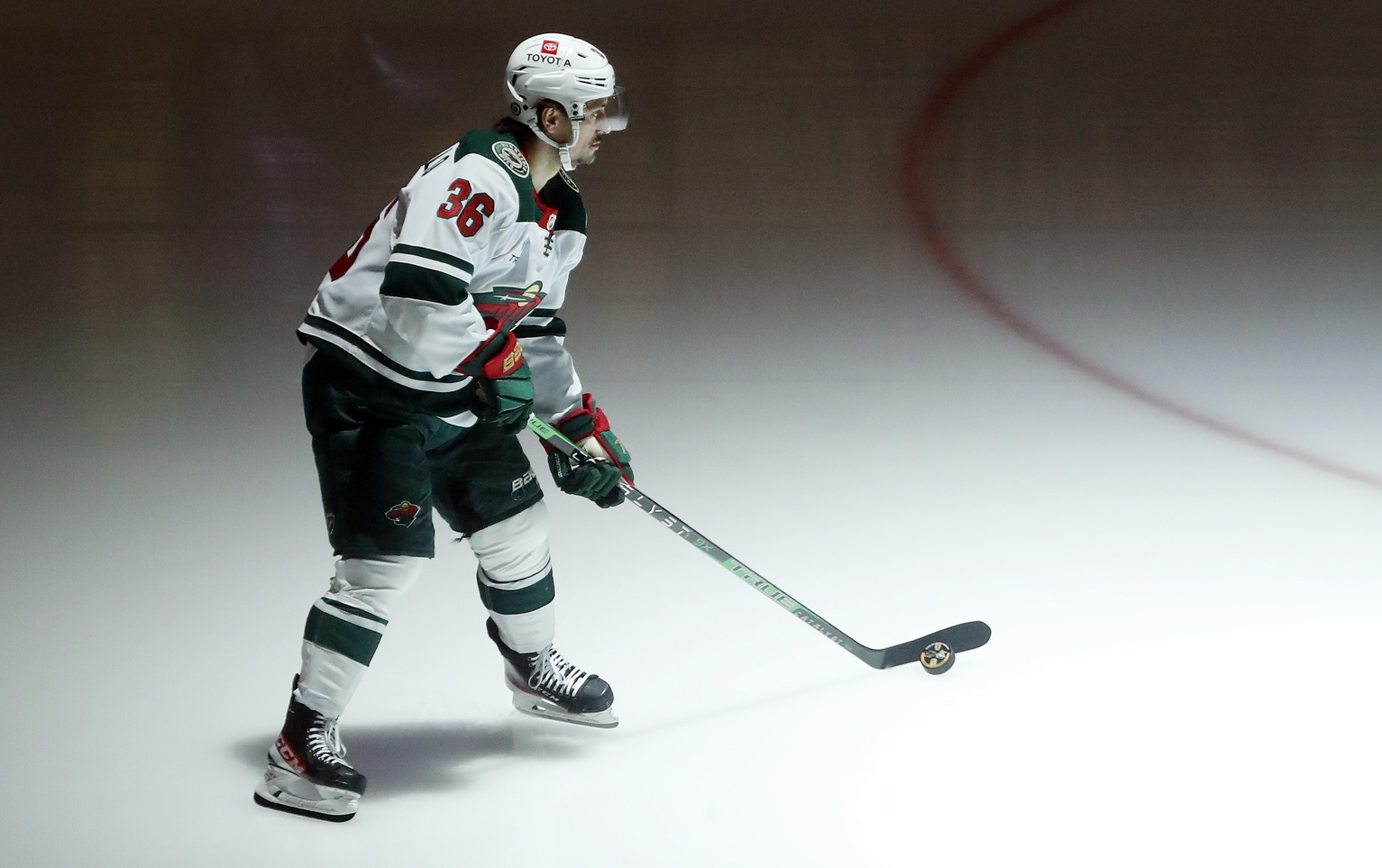 Image courtesy of Charles LeClaire-USA Today Sports
Pop quiz, hotshot: What position did the Minnesota Wild's two best 5-on-5 point producers play?
Taking out the small sample sizes of trade deadline acquisitions in Marcus Johansson and Oskar Sundqvist, the answer is: Center. Yes, really. Center. The only full-season players to get more than 2.00 points per hour at 5-on-5 were Joel Eriksson Ek (2.08) and Ryan Hartman (2.04). 
Granted, being the best scorers on a Wild team that would make even Jacques Lemaire and Mike Yeo say, Guys, we need more offense, isn't that impressive. But it's not nothing. Among 382 forwards with 500-plus 5-on-5 minutes, it's enough to sneak Eriksson Ek and Hartman into the top 100. You can find other big-time centers in that range, like John Tavares (2.09), Logan Couture (2.07), Nazem Kadri (2.05), and Robert Thomas (2.05).
We all know how good Eriksson Ek is, and his point totals this season finally are starting to reflect that. It's not surprising that he's one of the most productive players on the team. But Hartman's spot near the top should highlight that he was once again a capable pivot for Minnesota despite a step back from his 34 goals and 65 points in 2021-22.
The converted winger missed 22 games to injury, and another one to a benching after taking too many penalties, which drives down his counting stats. 15 goals and 37 points look like a massive step backward. That's true, but stretching that production from 59 games to an 82-game pace would look quite a bit better. We'd be talking about a 21-goal, 51-point stat line, which would rank fifth in Minnesota and only represent a 22% drop in points.
All this kind of makes you wonder: Is the fanbase too down on Hartman? Isn't he part of the solution next year?
It was easy to be skeptical of Hartman last year, when the third-line winger caught on with Kirill Kaprizov and instantly transformed into a 30-goal scorer. Hartman brought good things to the table, but it looked like he was a product of Kaprizov's superstardom spreading the wealth.
That's going to be true to an extent with any player alongside a superstar. After all, great players make everyone better. But it's a lot harder to suggest that Hartman was a product of Kaprizov this past season.
In 2021-22, Hartman spent 71.2% of his 5-on-5 minutes with Kaprizov, and those minutes saw 59 of the 76 (77.6%) on-ice goals Hartman had that year. Furthermore, Kaprizov registered a point on 33 of Hartman's 55 regular-season points, or just over 50%.
But Hartman spent significantly less time with Kaprizov last year, just 35.1% of his 5-on-5 minutes. Kaprizov was only on the ice for 13 of Hartman's 35 5-on-5 goals (37.1%) and registered a point on only six of Hartman's 37 points (16.2%). 
It's true that Hartman struggled in the first half and didn't take off until Dean Evason put him back on the top line on February 19. In the 26 games after that, he scored nine goals and 21 points, but it's significant to note that just 10 of those games came before Kaprizov's injury. In fact, Hartman's production slightly increased after the superstar went down.
Despite that, Hartman enters the summer with an uncertain future with Minnesota. His $1.7 million salary is a bargain for the Wild, given his role as the team's de facto No. 1 Center. But he's one of few trade chips Minnesota can freely expend this summer, and it's possible his cap hit could help Bill Guerin nab a strong return.
If Minnesota keeps Hartman until next season, they'd almost certainly lose him for nothing. In signing his three-year deal right before a career year, he also left quite a bit of money on the table and will likely price himself out of the cap-strapped Wild's range next year.
So what do you do here if you're the Wild? It's a weird spot for them to be in, because Hartman's clearly not just a placeholder in that spot like Victor Rask was. Rask could never clear half a point per game, even with Kaprizov and Zuccarello. Hartman's not just done that, but quite a bit more. He's produced at a 60-point 82-game pace at center over the past two years, and he was only really along for the ride with Kaprizov for about half of those minutes.
At the same time, it kind of feels as if Hartman's centering Kaprizov for most of next season, that's a failure on Minnesota's part. It might be unfair to Hartman, and it probably is, but we all just kind of know that Kaprizov could use a "real" top six-caliber center alongside him. With Eriksson Ek showing chemistry with Matt Boldy, that center spot between Kaprizov is the only place for Marco Rossi to snag a real scoring role. If that doesn't happen, and Hartman is still in that spot, it's a big step back for the organization.
Can Hartman thrive as an overqualified third-line center? The interesting thing is that we have precedent for this working. It's sort of what got Hartman the promotion last year, when he succeeded alongside depth players like Marcus Foligno, Brandon Duhaime, and Rem Pitlick. With players like Adam Beckman and Sammy Walker on the way, too, there might be some talent near the bottom of the lineup to play off of.
Minnesota might not have a headliner of a center in their lineup, even if Rossi takes a big step next season. But if Rossi can play well enough to displace Hartman to a third-line role, and Hartman can duplicate his success from two years ago? That'd be a perfect bridge to the Marat Khusnutdinov Era, and the Wild would be a lot closer to solving their center problem that we think.
All data via Evolving-Hockey unless otherwise noted.
1