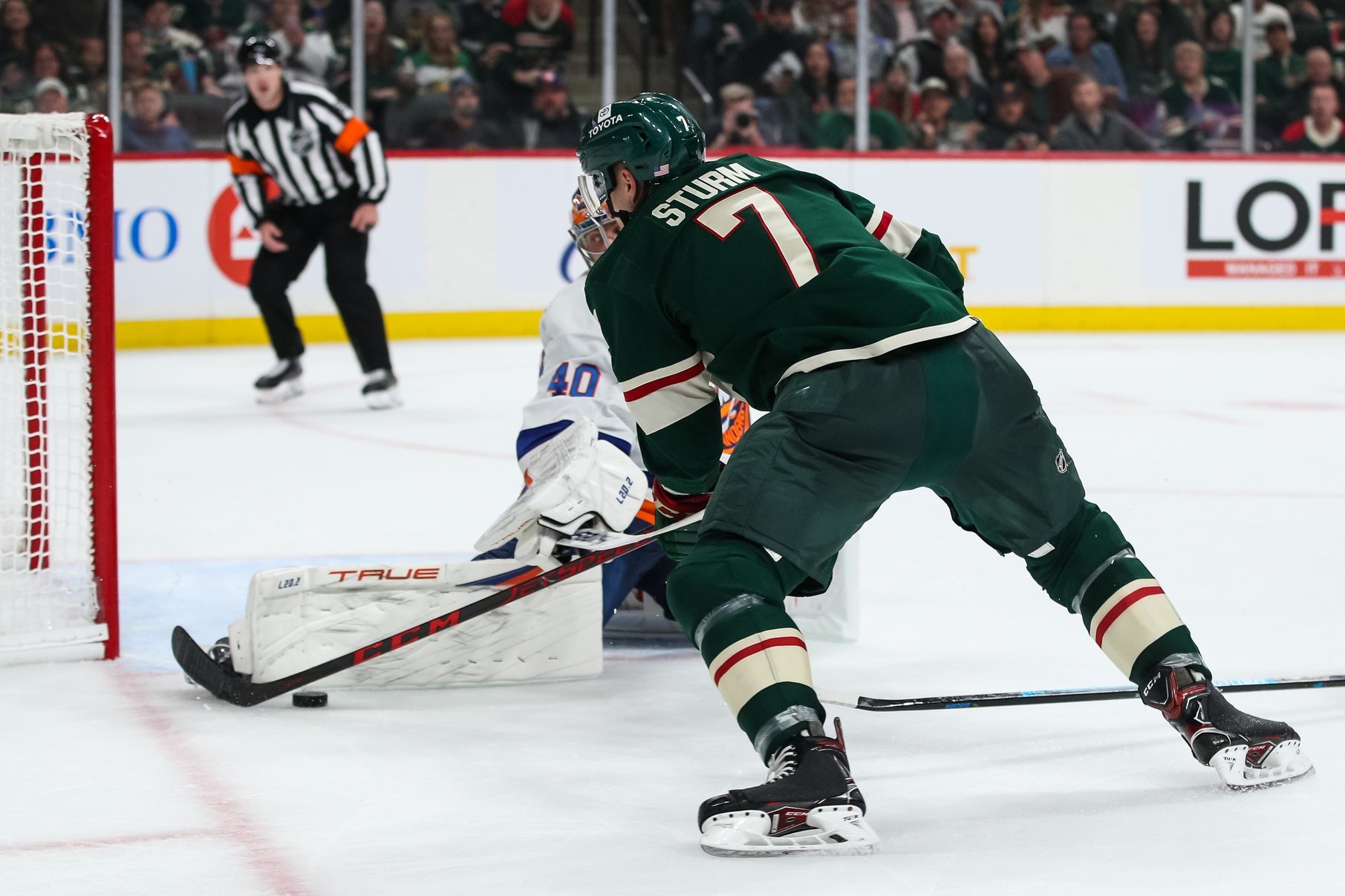 The Minnesota Wild executed another third-period comeback against the New York Islanders, erasing a 2-1 deficit Sunday. Ryan Hartman played hero once more, scoring the tying goal, with Brandon Duhaime netting the game-winner. However, neither goal was the game's turning point.
That came in the second period, shortly after Anders Lee scored his second goal of the night. Jon Merrill caught a cross-checking call, giving the Islanders a power play with a chance to pile on. Minnesota surrendered a power-play goal in nine of their 10 games thus far, with their only clean game coming against the Seattle Kraken's dead-last power play.
Instead, the penalty kill came through big-time. Marcus Foligno blocked the only Islanders shot attempt in those two minutes. Not only did they clamp down defensively and get big clears, but they gave New York difficulty even setting up. Watch Nico Sturm disrupt an Islander zone exit and turn it into a scoring chance.
It was such a big, refreshing change from a group that's putting together an uncharacteristically weak season. The Wild's penalty kill sits 23rd in the NHL with a 75.6% conversion rate, down from 80.7% (12th) last year. That difference may seem small, but 75.6% would've ranked 28th in the league last year.
These poor results can't be explained away by an unlucky bounce here and there, either. Minnesota's penalty kill gives up expected goals at a rate of 7.8 per hour in 4-on-5 situations, 24th in the NHL. One can say they've been a touch unlucky (giving up 9.1 goals per hour), but they've earned their bad luck.
For the most part, this doesn't make much sense. The Wild were Top-10 last season in giving up expected goals when shorthanded last season. They may have turned over their defense, but many valuable penalty killers remain, like Jonas Brodin, Jared Spurgeon, Joel Eriksson Ek, Foligno, Hartman, and Sturm.
This is a penalty kill where nearly everyone is a good 5-on-5 defender. Everyone who takes the ice on the PK can skate. Where are things going wrong?
Perhaps surprisingly, the goals have mostly come against the Wild's most veteran penalty killers. Eriksson Ek and Foligno have been on the ice for a whopping seven goals against each. Spurgeon and Brodin lead defensemen with five goals against. Eriksson Ek, Foligno, and Brodin are also culprits in the expected goal drop-off, with each surrendering more than 7.5 per hour.
On the other hand, Spurgeon and Alex Goligoski can be considered unlucky. They've been the Wild's strongest two defensemen in allowing expected goals, with Spurgeon allowing under six per hour and Goligoski under five. Add Matt Dumba to the list, as his goals allowed rate leads Wild defensemen despite giving up just 6.4 expected goals per hour.
Dmitry Kulikov and Jon Merrill are red flags, though, sitting at the other end of the process/results spectrum. The two rank in the league's bottom-five defensemen at almost every measure of allowing shots against. They've been bailed out by great goaltending so far, but once that evens out, the two should expect to see a lot more goals against. Minnesota would do well to adjust now, giving the top-4 defensemen the bulk of PK time while playing Kulikov and Merrill strictly at 5-on-5.
If they can make that adjustment, Minnesota can expect to right the ship. Even for that not-so-unlucky trio of Eriksson Ek, Foligno, and Brodin, though, it's hard to imagine they forgot how to kill penalties. One has to assume they'll be fine.
They'll need to find ways to keep up the pressure they showed on Sunday consistently, though. With the Power Kill revolution starting to take over in the league, Minnesota's far behind, ranking dead-last in expected goals while shorthanded. Adding Kevin Fiala to the penalty killing mix hasn't helped with that, as he has no shots on the penalty kill.
Perhaps the best way to fix that is to further emphasize skating and aggression when shorthanded. Minnesota can do that by giving Sturm and Freddy Gaudreau more time, who rank fourth and fifth in shorthanded minutes. Or what about giving the fast, physical Brandon Duhaime a shot? He only plays 10 minutes a night, so his legs should be plenty fresh for the PK. His willingness to pepper goalies with shots should fit in nicely with an aggressive kill.
Again, Minnesota should have the right ingredients to make a great penalty kill work. They have mobile defensemen who can exit the zone. They've got forwards who can all skate and defend, two must-haves when shorthanded. The Wild just have to tweak the formula slightly. If they can show the kind of aggression they showed against Anders Lee and company on Sunday, their PK can get back on track.