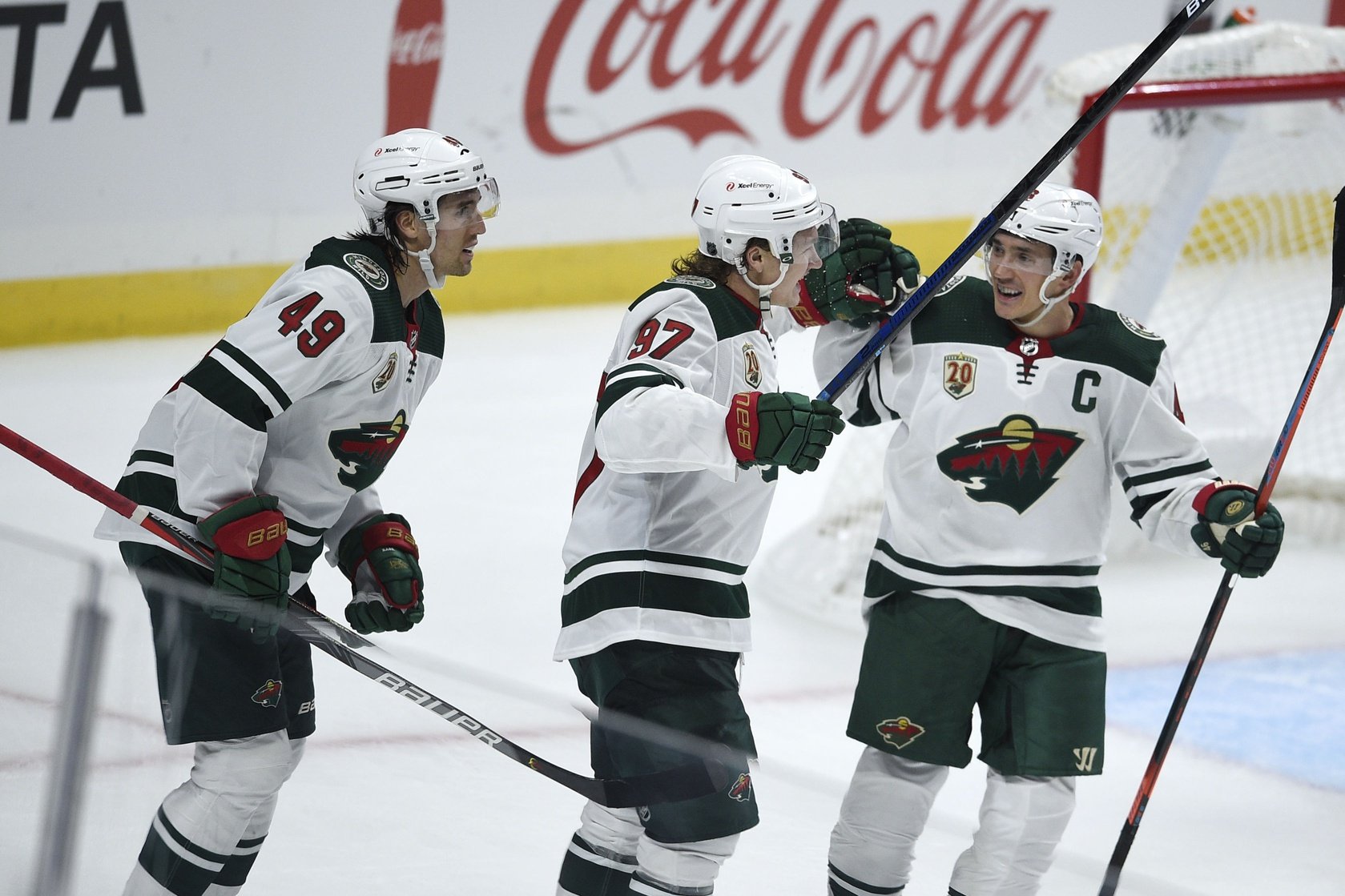 Yes, yes, we all know about Dolla Bill Kirill by now. The Soviet Savior. Kirill the Thrill. Ghostface Kirilla.
There's no denying that Thursday night's game against the Los Angeles Kings was Kirill Kaprizov's hour. He didn't just exceed expectations in his debut; he obliterated them, notching two assists in regulation before stealing the show in overtime.
It didn't matter that Kaprizov's goal happened in an empty arena 2,000 miles away from St. Paul. The magic of the moment transcended time, space and quarantining. Everyone in the State of Hockey felt the same collective buzz that usually only occurs in a stadium surrounded by 18,000 of your closest friends.
"Holy shit, did you just see that?"
Part of the magic is that Kaprizov flipped so many depressingly familiar scripts. The Minnesota Wild found themselves down 3-1 to a clearly inferior opponent? Sounds about right. The game's gone to overtime? Congrats on your loser point, boys.
In a universe where the Boston Bruins don't trade away the pick that becomes Kaprizov or the one where he re-ups for another three years with CSKA Moscow, this game plays out differently. In a universe where Kaprizov doesn't immediately announce himself as special, the team's vibes feel much sourer.
An opening night loss to the moribund Kings would inspire dread and soul-searching. Why did they look this bad? What needs to be fixed?
The obvious culprit would be the power play, which went 0-for-6 on the night. A team rarely gets so many power-play opportunities while converting on none of them. It's happened just 33 times over the past five years, about seven times per year league-wide.
Had this performance reared its head BKE (Before Kaprizov Era), it would undoubtedly have sunk the Wild. It might even be A Story since the opening night featured a heavily shaken-up power play. Would the power play be better off replacing Zach Parise with a better faceoff man? How about moving Ryan Suter's steady hand back up to the top unit. Should Minnesota split up Kaprizov and Kevin Fiala to balance the units?
No such questions were asked to coach Dean Evason in his postgame presser. The power play came up, but only to note just how good its chances were throughout the night. That's right, Kaprizov is so good his presence makes an 0-for-6 power play look like the Gretzky Oilers.
"Our puck movement was real good," Evason said. "[We hit some] posts, missed shots, they made some blocks…. I thought it looked great, and I think if we just stay with it and keep doing what we're doing, we think we'll get rewarded for it."
The thing is, Evason's right. The five players who made up the top power-play unit combined for nine shots and 1.17 expected goals in about seven minutes. Kaprizov showed tenacity around the net, Fiala buzzed all night, and Matt Dumba rang a post. Not to mention, all of this happened on an awful ice sheet that rendered clean puck handling impossible at times.
Using Kaprizov's 7.4 minutes of power-play time as a baseline, the No. 1 unit generated chances to the tune of 73 shots and 9.5 expected goals per hour. If they kept that up for the whole season, that'd rank second and third since 2007-08.
For one night, they looked like one of the best power plays of all time.
We talked last week about how Evason displayed creativity in forming his new power-play unit. He ignored conventional wisdom in favor of maximizing the unit's offensive potential. Sounds simple, but coaching is a profession that is risk-averse and hesitant to try new things. If you lose in a typical way, you might keep your job (we're looking at you, Paul Maurice). If you lose going against the grain? That's gonna turn up the heat on your seat.
Wild fans can remember when a player like Dumba or Jason Zucker would be placed on the No. 1 unit, only to be taken off at the first sign of failure. That doesn't look like it'll happen with Evason. Instead, he evaluated the process instead of the 0-for-6 result, decided he liked what he saw, and committed to sticking to it until results come.
It seems like a small thing, but it's refreshing in a very conservative world of hockey. Evason's only in his first year as Minnesota's full-time coach, but he's already shown that he is willing to differ from his predecessors. In addition to his quicker, weirder and more dangerous power play, he's shown a lot of trust in youngsters Kaprizov and Fiala. They finished the night first and second in time on ice, an unthinkable departure from the BKE Wild teams that prioritized veterans.
Kaprizov owned Thursday night, and in three hours jolted Wild fans with a sense of hope they may have never felt before. Nothing could overshadow that. But Evason's willingness to trust his young star and stick with what works, regardless of the result, shows that Dolla Bill Kirill is in good hands.
All Data is from Evolving Hockey unless noted otherwise.