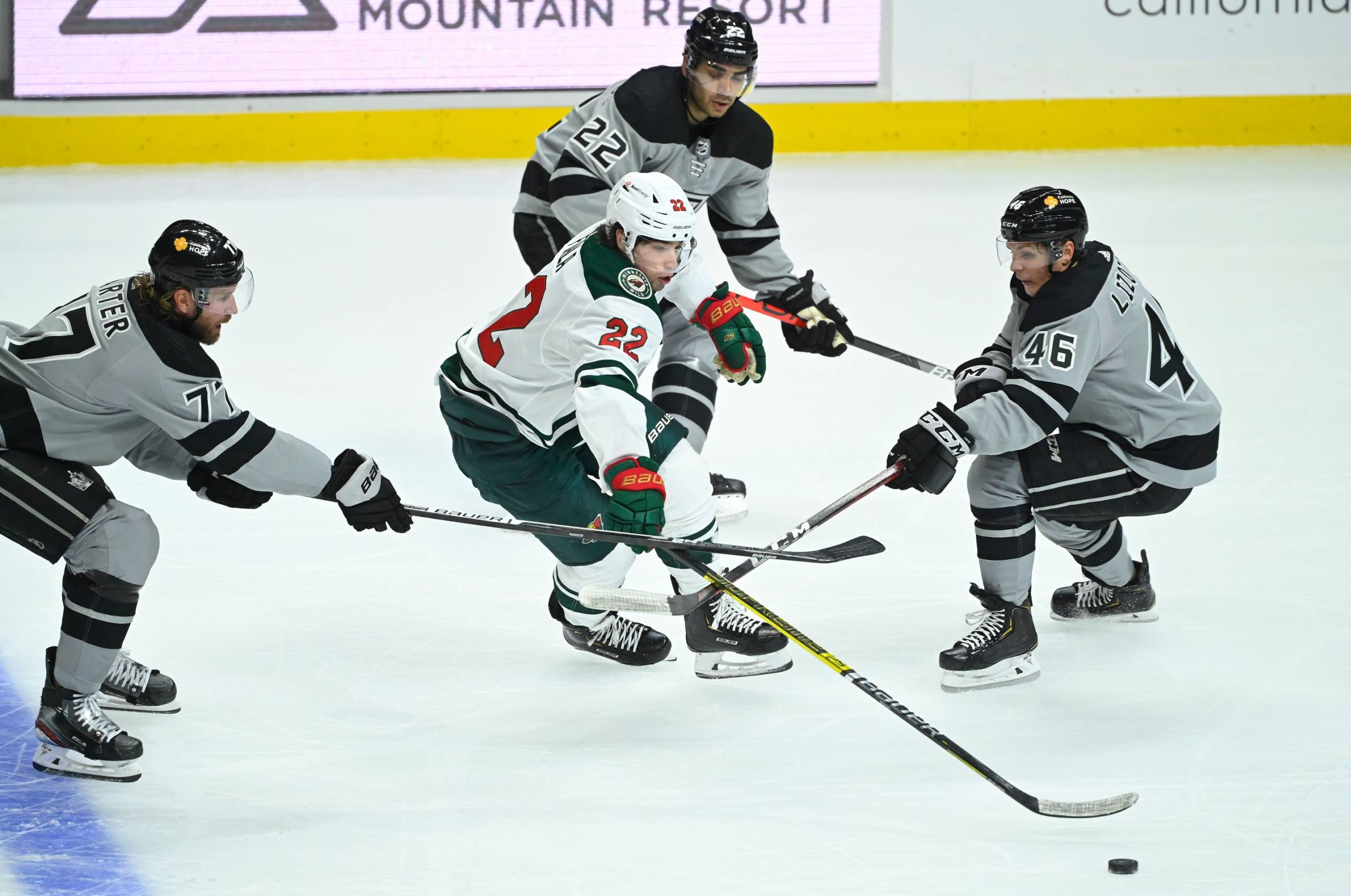 Don't look away too soon, but the Minnesota Wild are in second place in the West Division. Their penchant for comebacks, the quick emergence of Kirill Kaprizov, and Joel Eriksson Ek and Jordan Greenway's breakouts have contributed to their 4-2 start.
A closer look at both the standings and the games themselves shows that this start won't ensure that the Wild will secure a playoff spot in the division's top-three positions. While they are a promising young team, they have a lot of work to maintain their current trajectory. Minnesota still has time to figure it out, and their start is a bit of a mirage.
What's going wrong?
Half of the team's games have involved a slow start featuring comebacks to tie the game late. It worked out for the Wild in the first two in overtime against the Los Angeles Kings, but they couldn't pull one off against the San Jose Sharks on Sunday when Kevin Fiala tied the game at 3-3 in the third period only to have old friend Brent Burns beat four defenders and notch the go-ahead goal.
Sunday's game was especially lethargic with the Wild finishing the first period with a 12-3 shot deficit and a 1-1 tie. The Wild put it together in the second and early in the third periods, but the Sharks regained control late and won 5-3.
In addition to the slow starts, they are averaging just over 42% on faceoffs per game -- Nick Bonino is the only player who has a faceoff percentage higher than 50% (57.6). While it is tough to generate offense or efficiently kill penalties consistently when you don't start with the puck, there is the case to be made that faceoffs aren't as important as they're made out to be.
The biggest issue with Minnesota's start is the quality of teams it has played against.
While their main objective going into this season was player development, knowing that a deep playoff run was unlikely, the start to such a season should be taken with a grain of salt regardless of whether the Wild are 4-2 or 2-4. Getting a quick evaluation for the team is enticing, especially with a positive record, but not entirely accurate, thanks to opponents' quality.
Eight games against Los Angeles, Anaheim and San Jose are not a good indicator to see if Minnesota is a bonafide contender. Those three teams combined for an 87-104-20 record last season, and each one is in slightly different stages of rebuilding. Each of them still has some veteran stars on the back ends of their careers, but mostly they are made up of younger players vying for long-term roster spots and bigger contracts.
The Wild should be able to handle the California teams. Minnesota has done what should be expected six games in, and they have two more chances to continue that trend against the Kings this week. We will find out how good they really are when they play the Colorado Avalanche, St. Louis Blues and Vegas Golden Knights, teams expected to contend for the division and have Stanley Cup aspirations.
Minnesota faces Colorado for a home-and-home four-game set to end January and begin February. Four games against one of the deepest teams in the NHL will prove the Wild's mettle and give us a more accurate view of what this team is this season.