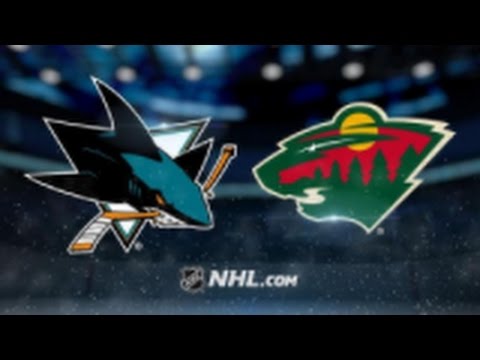 After snapping their five-game losing streak Tuesday night with a 3-2 win over San Jose, the Wild are now down to their final 10 games of the regular season. While they are not yet off the hook for still being in a slide (or at least Bruce Boudreau doesn't think so), they still do have some things that they can achieve in these final 10 games.
1. Secure the 2nd seed
Entering play on Thursday, the Wild trail Chicago by six points. Chicago is on fire right now, which makes it nearly impossible to catch them for first place in the division. So now the goal should be to wrap up the second seed in the division. Minnesota holds an 11 point lead over St. Louis and Nashville, who are currently tied for third in the Central. With 10 games to go, all the Wild have to do to lock in home ice advantage in round one is win the next couple of games. Literally.
The Wild have six of the next eight games at home, and seven of the final ten games will come against non-playoff teams. Locking in the second spot in the division should be a lock, but nothing comes easy with this team now, does it?
2. Get Devan Dubnyk Rest
Assuming Dubnyk gets the start tonight against Philadelphia (98% certain he will), it will be his 60th game of the season and a few have come recently despite horrendous play (his save percentage in March is .900). The second Minnesota locks up that second spot in the division, Dubnyk needs to get rest. Period.
On Monday, Tony Abbott at Hockey Wilderness laid out an alarming trend during Dubnyk's tenure in Minnesota. The common theme during his time (read the article), is the fact he gets played a lot. This year is different from the others in the fact that the Wild are not chasing a playoff spot this time around, but the continued play of Dubnyk can be explained by the fact that Bruce Boudreau has lost all confidence in backup Darcy Kuemper and the Wild do not think highly of third-string goalie Alex Stalock.
But to repeat, once Minnesota has firmly established themselves in the second spot, put Kuemper in goal. Its time to go into the playoffs with a (somewhat) rested goaltender. Because everyone knows how much the Wild need a sharp Dubnyk during the postseason.
3. Continue to give the vets rest
Before Sunday's game in Winnipeg, it was revealed that Jason Pominville was going to be a healthy scratch. His play had not been overly good since his return from the mumps, but it wasn't abysmal like we have seen in the past. It was revealed that Boudreau had a plan in place to give the veteran players some nights off later on in the season, as they go through a rigorous schedule to end the year (final 20 games played in 35 days). The losing streak tossed a wrench in that plan, but assuming the Wild can get back on track, Boudreau should absolutely continue on with it.
It's assumed the plan is not to give a player consecutive games off; it's more of a 'I'm going to give this player tonight off because its our third game in four nights,' second game of a back to back, etc. One player who can seemingly speak to the value of rest is Eric Staal, who has been a rare bright spot for the team in March (seven goals, nine points in 11 games), following the Wild's bye week to end February. Staal was not playing well, at all, before the bye, so it is good to see him back on track coming out of it.
Much like Dubnyk, give the older guys (and maybe some others, too) a night off as soon as the Wild have locked in the second seed.
4. Iron out the lines/defensive pairs
Besides rest, the most advantageous thing Boudreau can do during the final 10 games is find the right mix of lines/defensive pairings before the playoffs start. Lines have been a constant juggle this month (injuries, illnesses and new players can be thanked for that) and the lone exception up front has been the great Jason Zucker-Mikko Koivu-Mikael Granlund line. although the trio is in a bit of a slump itself, only scoring a combined 15 points in March (seven of which are from Granlund).
After that line, there are still three forward lines that can be ironed out, and boy do we know how much Bruce loves to experiment with line changes. He'll have a golden chance to find out who works best with who so he can have four good lines headed into the postseason. This will also give him a chance to look at the defensive pairings and see if he wants to continue on with one or two (*cough* Dumba and Scandella) who might not be playing up to par.
It's more likely he will stick with the same defensive pairings come April, but this will still give him a chance just in case he wants to try something new.