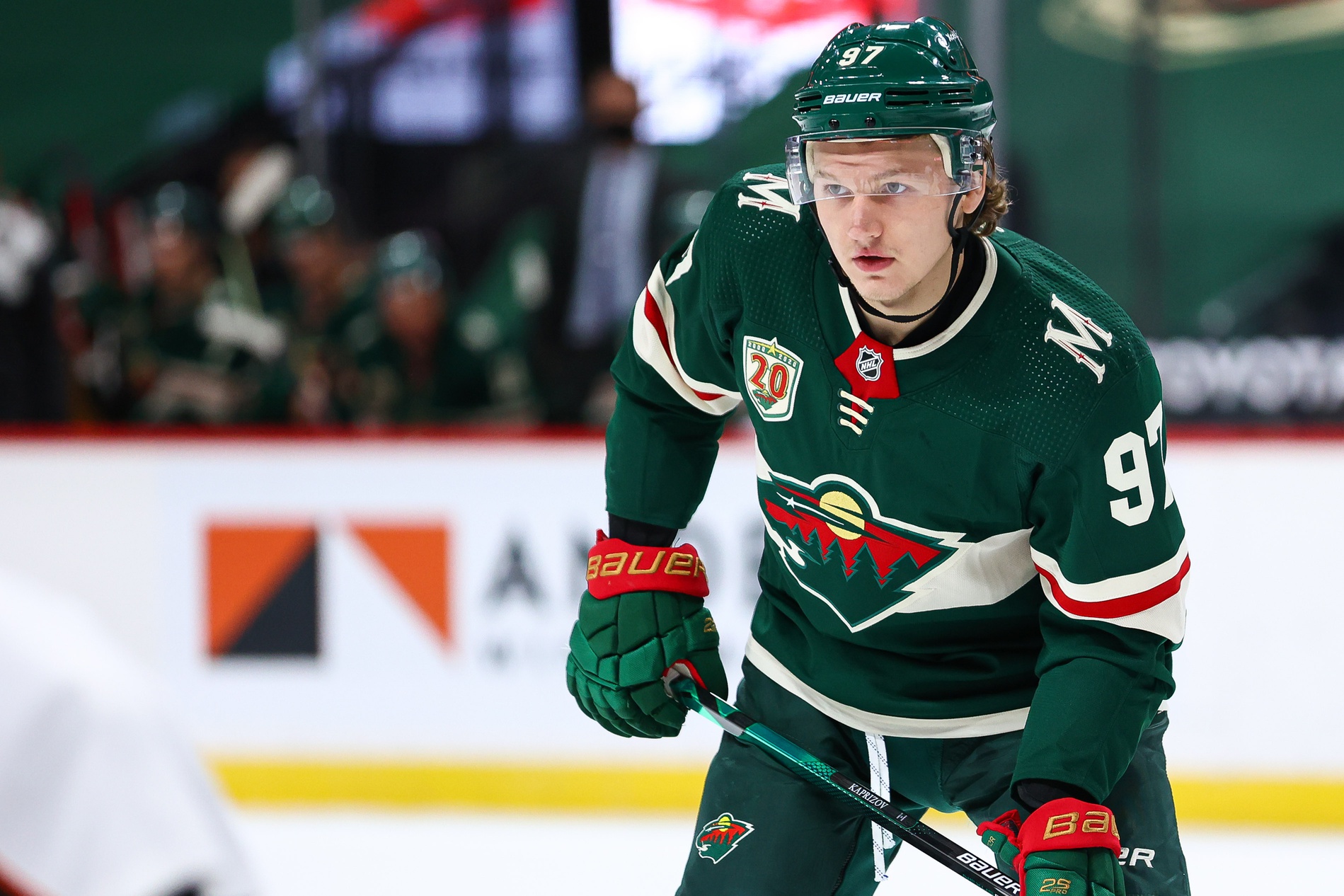 The Minnesota Wild are in the process of puzzling over whether acquiring Jack Eichel is worth it. On the one hand, Eichel's an elite scoring talent who comfortably rates as the mythical No. 1 center they've always lacked. On the other, it's a career-defining gamble for general manager Bill Guerin. The cost of acquisition, making Eichel's massive salary work, and questions about his health are all up in the air.
Guerin's hesitancy doesn't come from cowardice. He demonstrated a willingness to be bold in buying out Zach Parise's and Ryan Suter's contracts earlier this month. But the fallout of that move makes trading for Eichel difficult.
Specifically, making this move requires spending premium future assets: top prospects and first-round picks. Those are the exact things Minnesota will need to navigate the post-buyout era. In the 2023-24 and 2024-25 seasons, when Parise and Suter's dead cap hits register at nearly $15 million, they will not be able to use free agency to fill holes, just prospects — which would be especially true with Eichel's salary on the books.
Another obstacle the Wild are navigating right now is the impasse in Kirill Kaprizov's negotiations. Minnesota wishes to lock the Calder winner up for a long-term deal, while Kaprizov prefers a short-term contract. Minnesota has publicly expressed confidence in a compromise, but ESPN's Greg Wyshynski reported Tuesday the talks have "a deafening silence."
There's no getting cute here — you already read the headline. There may be a perfect, simple solution to all of Minnesota's problems. The Wild can have the No. 1 center they've always wanted, with little impact on their long-term plan.
And all it'll cost them is their new face of the franchise.
It Takes Three To Tango
We immediately run into a crucial snag when thought-experimenting a Kaprizov-for-Eichel trade: Will Kaprizov go to the Buffalo Sabres? Given that Ryan O'Reilly, Sam Reinhart, and Eichel have sought to escape Western New York, it's hard to imagine Kaprizov staying there long-term. That would likely kill Buffalo's interest in Kaprizov as well.
A third team must get Kaprizov in order to make it work, one with the cap space to sign Kaprizov, the prospects to meet Buffalo's demands, and a desire to make a splash.
Could the Los Angeles Kings be that team?
The Kings dipped their toes in the offseason splashing pool this summer in acquiring Viktor Arvidsson from the Nashville Predators this month. They've been linked to some big names like Seth Jones. And, crucially, they're not a team that's shown much interest in Eichel.
Part of this is that the Kings don't have much need at center. Anze Kopitar was a near point-per-game player at age 33. Second-overall pick in 2020, Quinton Byfield made his NHL debut last season and appears destined for stardom. They have Gabriel Vilardi, Alex Turcotte, Rasmus Kupari, Jaret Anderson-Dolan, and Akil Thomas as centers in what's easily the deepest prospect pool in the league.
What they don't have much of is bonafide NHL stars along the wing to help bring along those centers. Kaprizov would provide them with that, and the Kings should know it. After all, he spent eight games last year dunking on them to the tune of six goals and nine points.
Another motivating factor for L.A. to foot the prospect bill to Buffalo would be the opportunity to block Eichel from going to a division rival. The Anaheim Ducks and Vegas Golden Knights are considered contenders for Eichel's service, and to deny them a star while getting one in Kaprizov could be a genius move.
Sticking to The Plan
We know what's in it for L.A. But what about Buffalo? Well, they would be able to get blue-chip young players from L.A., including a center like Vilardi or Turcotte. But why would Minnesota trade their Calder Trophy-winning star? The State of Hockey waited five years for his arrival, then fell in love with his skill and joyful personality. How can the Wild give that up after Kaprizov became a phenomenon?
The easiest answer is: "To get that No. 1 center." Eichel is that rare of a talent that sacrificing even a star like Kaprizov is worth it. From ages 20 to 23, he had over 0.4 goals per game and 1.0 points per game. The only players to top those rates at that age since the 2005-06 season are Sidney Crosby, Connor McDavid, Alex Ovechkin, Evgeni Malkin, Steven Stamkos, Auston Matthews, David Pastrnak, Ilya Kovalchuk, and Eric Staal.
But it's not just to get Eichel in Minnesota. It's to both get Eichel and preserve "The Plan" Guerin envisions for the Wild. This team is on track to build around Kaprizov, with high-end prospects like Marco Rossi, Matt Boldy, Calen Addison, and more supplementing the team as they go through cap hell. Eichel can't be acquired without disrupting that.
Unless it's Kaprizov and not a chunk of the Wild's farm system that moves to land Eichel. Were that to happen, Guerin's plan stays almost entirely intact. The one difference is the team is built around a franchise center instead of a franchise winger. Detach yourself emotionally from Kaprizov, and you'll see it's a much better fit.
Is Kaprizov as Risky as Eichel?
Still, many would view such a trade as unacceptable because of the risk Eichel represents. There's the neck injury he suffered last season and questions about his attitude and leadership. If Eichel failed with the Wild, this trade would go down as one of the most infamous in Minnesota sports history.
But let's not pretend that Kaprizov doesn't carry risks of his own. Whether you buy that he would sign with the KHL this offseason or not, the threat does technically exist. While it's rare for a star NHLer to play in Russia, he wouldn't be the first. Alexander Radulov spent his age 22-29 seasons playing in the KHL, often for Kaprizov's old team, CSKA. It's possible Kaprizov could do the same until he hit UFA status.
And if Kaprizov's goal is to get to free agency and leave for another team, there's ultimately little Minnesota can do to stop him in three years. If that scenario ever played out, the Wild wouldn't be much better off than Buffalo — in a position where they have to trade a star player, and everyone knows it.
The Wild are definitely aware of those risks. Otherwise, there'd be no reason not to sign Kaprizov to a short-term bridge deal.
Eichel's much less risky on that front, as he's under contract for the next five seasons. With that comes cost certainty. He does make $10 million a year, a) when he's healthy, his production is worth it, and b) that figure doesn't change until summer 2026, a year after $13 million of Parise and Suter's dead cap hit comes off the book. Minnesota may never get that kind of security with Kaprizov.
This would be a bold, risky, unpopular move, perhaps even more so than Guerin's buyout gambit. There's good reason to think it'll never happen. But there's also good reason to think it should.