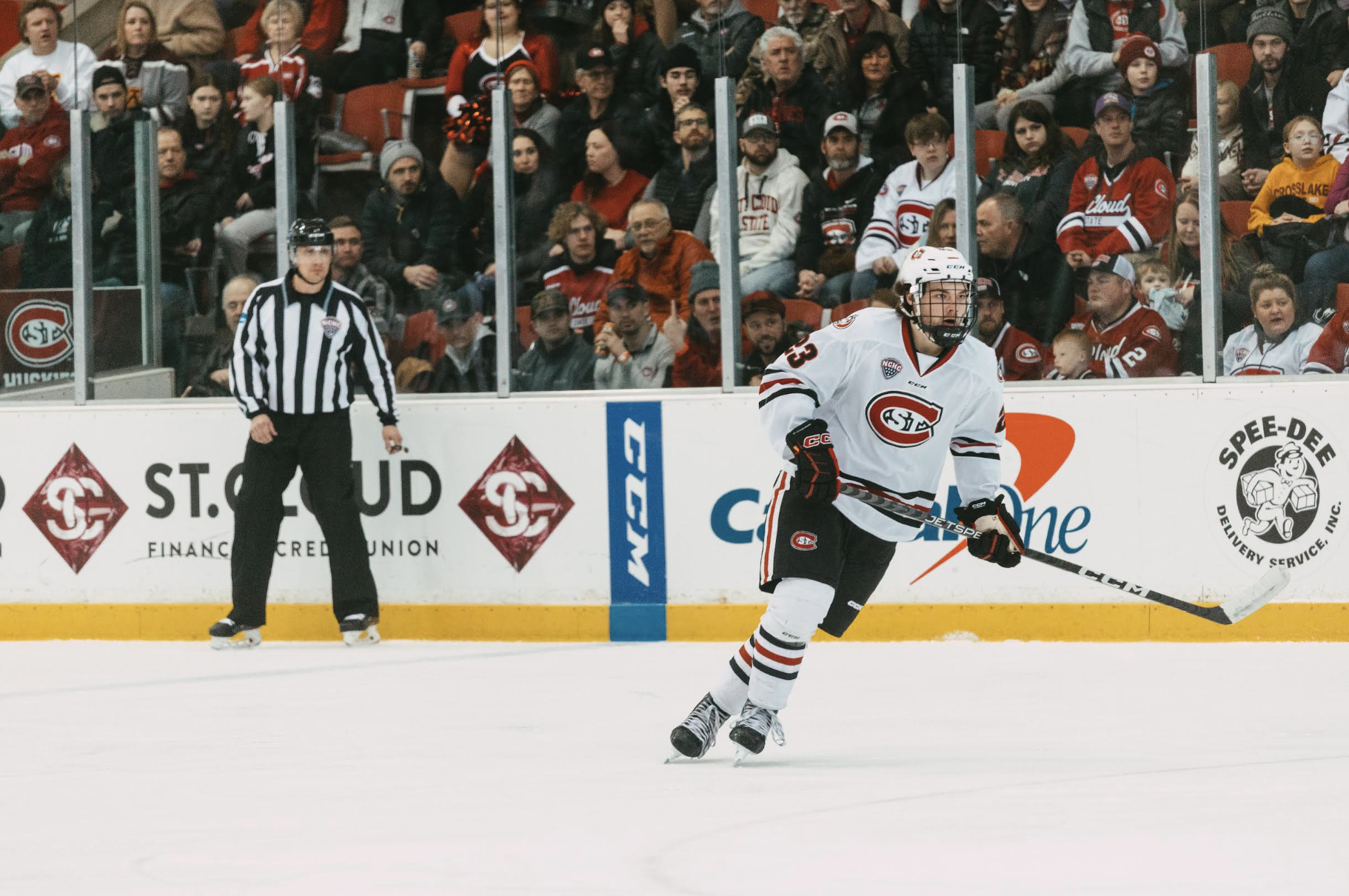 MINNEAPOLIS — Jack Peart played his usual steady 200-foot game in the St. Cloud State Huskies' series against the Minnesota Gophers two weeks ago. If he was tired from the World Junior Championships, he didn't show it on the road at 3M Arena At Mariucci on January 8. That game came only 72 hours after he played in Team USA's overtime win over Sweden in the Bronze Medal Game, then a home contest against the Maroon and Gold a night before. It didn't matter, though, as his smarts and patient two-way game were on full display.
Peart doesn't stand out because he's flashy, nor does he take a game over with speed and skill. Instead, he separates himself by noticeably doing the small things right, which leads to success. You don't have to look too far for that prototype with in-state comparisons like the Gophers' Brock Faber and Minnesota Wild defensemen Jared Spurgeon and Jonas Brodin. So it's hardly a coincidence that the Wild took the former Mr. Hockey winner in the 2021 NHL Draft out of high school, which is atypical of a high draft pick.
But there's more to Peart than you see on the ice, just like those three other blueliners in the Wild organization. Peart's leadership off the ice is a difference-maker for his teams. That's something Quinnipiac University's head coach Rand Pecknold, who coached Team USA in the World Juniors, wasn't aware of.
"I didn't know that about him," Pecknold told 10K Rinks in an exclusive interview. "I didn't know if he would or wouldn't be, but I thought he was really good from a leadership perspective."
Spurgeon captains the Wild, and Faber captains the Gophers. While Peart doesn't have a letter on his chest in St. Cloud, he was a captain at Grand Rapids High School and has those leadership traits. There's a pattern here of the Wild valuing leadership on the blue line, and Peart is no exception.
Peart's appearance at the World Juniors was his second time representing the United States in a five-month span. The Grand Rapids native recorded two points in four games last August in the rescheduled tournament. Despite the scoring, he was only deployed in a small role as the seventh defenseman.
However, he played a much larger role for Team USA in January. They used him on the penalty kill and in important defensive situations, which led to three points in seven games. Pecknold said he knew Peart can play on the power play, but they didn't need that from him.
"It was awesome to play against some of the best players in the world and to have some of the best players in the world on your team," Peart said. "It's really fun hockey to play and to get to represent your country. I mean, you can never dream that down."
Peart highlighted how important the experience was because of the ability to learn from some of the other top players in the world. And these two World Juniors appearances are already paying dividends in St. Cloud.
"I think the World Juniors gave him a lot of confidence," St. Cloud State head coach Brett Larson said. "I think feeling that the confidence that they had in him up in the World Juniors to play him that many minutes a game [17:41 per night]. I think that is kind of helping him realize that he's taking the right steps and getting better, and I think it's helped him when he's come back here now."
Pecknold said Peart played an "outstanding" tournament and was among the best performers for Team USA after being at the bottom of the depth chart back in August. Peart started on the top pair with No.1 defenseman and New Jersey Devils prospect Luke Hughes, but they eventually moved him to the second pair with Nashville Predators prospect Ryan Ufko.
And while one might call that a demotion, Pecknold said they entered the tournament planning on playing both Peart and Colorado Avalanche prospect Sean Behrens with Hughes. Pecknold said Peart played well with Hughes, but Behrens already had two years of experience with Hughes at USNDTP. Furthermore, Pecknold said Peart helped Ufko when they were paired together.
"I just saw a kid that was able to handle the pressure," Larson said. "That's a high, high-pressure tournament, and I didn't think that pressure got him off his game."
Back at college, Peart is enjoying his time and experiences in St. Cloud, especially with his family coming to watch his games since the drive from Grand Rapids is only 2.5 hours. Peart sits at 15 points through 22 games with the Huskies this season, two points shy of his 17-point 2021-22 campaign in 32 games last year as a freshman. The 19-year-old is second among Huskies defenders with 32 shots and ranks third in blocked shots (24), fourth in assists (13), and fifth in plus/minus (+13).
[caption id=attachment_143042" align="alignnone" width="785]

Courtesy of Hockey Prospecting[/caption]
"I think that confidence level of wanting the puck and having it more has been leading to increased offensive output for him," said Larson, who added Peart's instincts to join — and sometimes lead — the offensive rush has also been a factor.
Peart attributes his elevated offensive numbers to his rising confidence level as he gets more college hockey under his belt. He's also a regular on the top power-play unit and plays on the penalty kill and in important situations, which can only continue to build his confidence. As for what's stuck out to Larson about Peart this season, it's the sophomore's willingness to try to control play and be "the guy" in the high-pressure moments and important games. What are the elements of his game that allow him to do that?
"His brain and his stick," Larson said. "His ability to make small plays on breakouts. Finding the right play. He's ahead of a lot of guys mentally, for sure. So I think that combination of brain and stick is high end."
The left-shot defender is averaging 20 minutes a night and has been on the second pair for most of the year. However, his defensive partners have varied (between Mason Reiners and Brady Ziemer) until the middle of November when he was paired with Brendan Bushy. And while Peart had a solid rookie season, he got stronger after he dedicated time to the weight room, which he pointed out as one of the major reasons behind his progression from last year to now. But Larson said there's still room to grow physically.
"I feel like I've been getting bigger, faster, stronger," Peart said. "You're playing against men in college hockey. It was an eye-opening experience my freshman year."
Larson and Peart said their focus this season is his footwork, speed, and playing tighter and quicker defensively. But everyone agrees that his hockey IQ and two-way play — the highlights of his tool box — are where they need to be.
"He's a smart player. He makes good reads with the puck, without the puck," Pecknold said. "He's always ahead of the play. I'd give him high grades on the IQ. He doesn't have a weakness. That's probably one of his strengths. He's just a well-rounded player for his age."
Finding balance is an important facet of being a two-way player, though. So Peart has honed in on where he is on the ice and knowing when to make those pushes offensively — but that also comes easier for a player with the high hockey IQ he possesses.
"I think one of them is really never getting out of position," Peart said. "Never pushing too hard to be up in the offensive zone and never staying too far back where you're out of the rush. You got to pick and choose your times when you jump up and still be good defensively."
As for how Peart's two-way game gives him leverage in the future?
"Well, I think what really helps, especially when he gets to pro hockey is he can fill any role. ... He's a guy on an NHL team, [that] if they need a guy to play [a third pair] role and breakout pucks and play steady — he can do it. If he's reached the level to be a power play guy at that level, then he can do that as well. So I think that puts him in a really good spot to be valuable to a team."
All Data Via Elite-Prospects