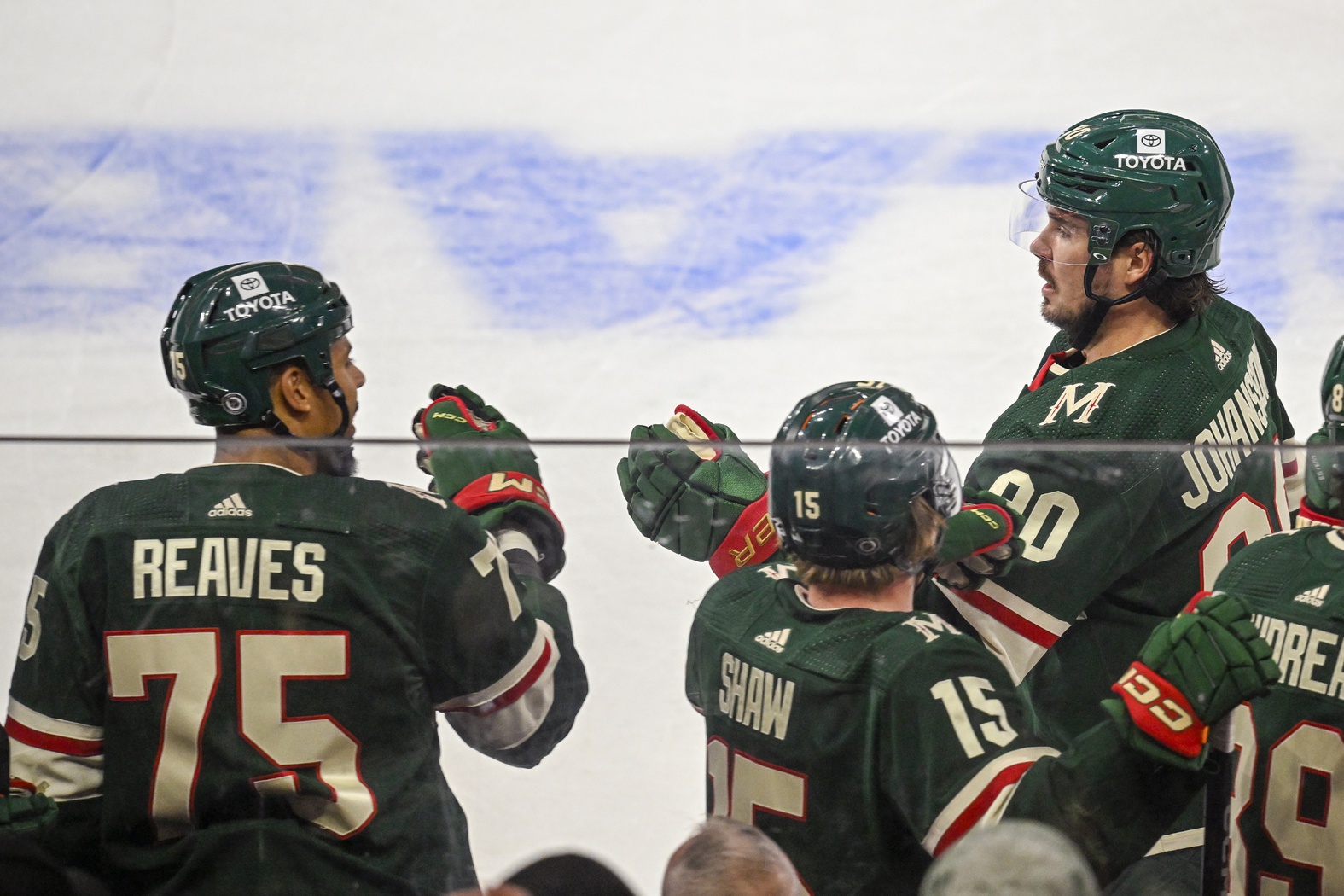 Image courtesy of © Nick Wosika - USA TODAY Sports
Like every off-season, the Minnesota Wild have signed a few players and said goodbye to others this year. With the team's buyout-induced salary cap issues, it isn't a surprise that almost all of Minnesota's trade deadline pickups have signed with other teams. But with half of the Swede Squad out of Minnesota again, did the Wild retain the right players?
Ryan Reaves, Oskar Sundqvist, John Klingberg, and Gustav Nyquist have all signed with other teams. Matt Dumba hasn't signed anywhere yet, but he will eventually sign with another team. Conversely, Wild chose to re-sign Brandon Duhaime and Calen Addison. (Everyone knew that the Wild would re-sign Filip Gustavsson, so he's not part of this conversation.) The Wild also chose to re-sign trade deadline acquisition Marcus Johansson and trade for Pat Maroon. Outside of a few lower-level players, those are all of the moves that the Wild made. 
Got all that straight? Let's dive in.
Ryan Reaves was the only player the Wild added outside of the trade deadline. While there were mixed reviews, Reaves turned on the charm and won fans over. Between his Gordie Howe hat trick and dressing up as Santa Claus with Elf Kirill Kaprizov in tow, Reaves brought fun to the locker room. Without him, the Wild lose a big body and a big voice in the locker room. 
Bill Guerin knew that, so he traded for Pat Maroon. He's got a big physical presence and a quirky personality. While Maroon and Reaves have different skill sets, it seems like Maroon can slot in for Reaves pretty well. Plus, Maroon came at a discount, while Reaves, 36, signed a three-year contract with the Toronto Maple Leafs – a budgetary win-win for Reaves and the Wild.
Once the Wild were officially in the off-season, it was apparent that they could only afford to keep one player: Gustav Nyquist or Marcus Johansson. Guerin made his choice and didn't second-guess himself, signing Johansson to a 2-year contract only a few days after the playoff series against the Dallas Stars ended disappointingly. Was that the right decision? 
After some initial grumbles about bringing Johansson back when Minnesota traded him in the spring, it was quickly apparent that he could bring the speed Matt Boldy needed. The Wild paired Boldy with a few different players this season, but not many of them could keep up. Johansson showed that he's got not only the speed but the skills to help Boldy's game get to the next level.
Nyquist stood out in the nine games he played with the Wild. He arrived in Minnesota injured and played less than 10 games, 3 in the regular season and 6 playoffs. However, in those games, he came away with 5 points in the regular season, 1 goal and 4 assists, and 5 points in the playoffs, all assists. Not bad for someone who the Columbus Blue Jackets traded while he was injured.
When looking at the two players, they both showed up and showed out. Honestly, either would've been a good option, especially when a few Iowa Wild players have the speed to slot in next to Boldy. But ultimately, Guerin must've decided that finding a veteran who can push Boldy would help him the most. 
John Klingberg was coming off of a tough year with the Anaheim Ducks. But Anaheim went 23-47-12 – everyone in Orange County had a tough year. But Minnesota gave him a chance at the end of a contract year to showcase his ability. And he did produce. In 17 regular season games, he came away with 9 points, 7 assists, and 2 goals. But as someone brought in to run the power play, he had shockingly few power-play points. 
However, he only had 3 points during a power play during the regular season. There was some hope when Klingberg returned from injury to play in 4 playoff games. He had 4 points, 3 assists, and 1 goal during the first two. One of those points came from a power play. But in the last two playoff games, he was invisible. The top power play was without a dependable quarterback. Klingberg still has some good hockey in him. His ability to walk the blue line is a thing of beauty! But he priced himself out of Minnesota.
That opened the door for Calen Addison. He hasn't re-signed with the Wild yet, but he has a qualifying offer. That ended a season-long question about what Guerin was going to do with Addison. After some initial success, especially with the top power-play unit, Addison was effectively benched for the rest of the season. 
Considering that they have similar skill sets, it seemed like the Wild were moving on from Addison when they brought in Klingberg at the deadline. The coaching staff had made it clear that Addison needs to work on his defensive game. Addison wisely chose to stay in Minnesota for the summer. That initiative might've been enough for the big brass to put their trust back in Addison.
Just like with the Reaves-Maroon situation, there wasn't another option. The Wild had to know they couldn't fit him under the cap when they traded for him. But the biggest uncertainty was whether they would trade Addison. Ultimately, the rookie Addison is more valuable to the team than the veteran Klingberg. Thankfully, with the salary cap and an amazing prospect pool slowly brewing in Iowa, Addison can take time to fully step into his role. 
That leaves Oskar Sundkvist and Brandon Duhaime. These two are an apples-to-oranges comparison. Sundkvist was a fun addition as a tough, physical player, even if he spent much of his time as an extra body in the press box. But Duhaime was drafted by Minnesota and played two seasons for the Iowa Wild before making the big club out of training camp in 2021. After two seasons in Minnesota, Duhaime has shown that he's a hard worker and is still improving his game. It would be hard to willingly let go of a player who has risen through the ranks to become not only a good player but a fan favorite. 
There is one thing that Guerin won't be able to replicate with a new player. The Wild will lose out on an important voice of the team when Matt Dumba signs somewhere else. While fresh-out-of-college Brock Faber will most likely slot in nicely next to Dumba's long-time partner Jonas Brodin, Dumba's off-of-the-ice presence will be harder to fill. 
Dumba's been an essential voice in the push to make hockey for everyone. Not only has he been a voice for more diversity in the hockey world, but he's also led initiatives to bring hockey to underprivileged communities and hockey players with special needs. The difficult part is that no one can do what Dumba did in the Minnesota hockey community. No matter what, he'll hold a special place in the heart of hockey fans.
When it comes down to it, the Wild have lost plenty of on-ice talent and off-ice personality. But they've gained a big veteran player with a gritty style, a veteran player with the skill to play beside a superstar, and younger players with a good floor and room to grow. And hats off to Bill Guerin, who could do it all on a budget. 
2