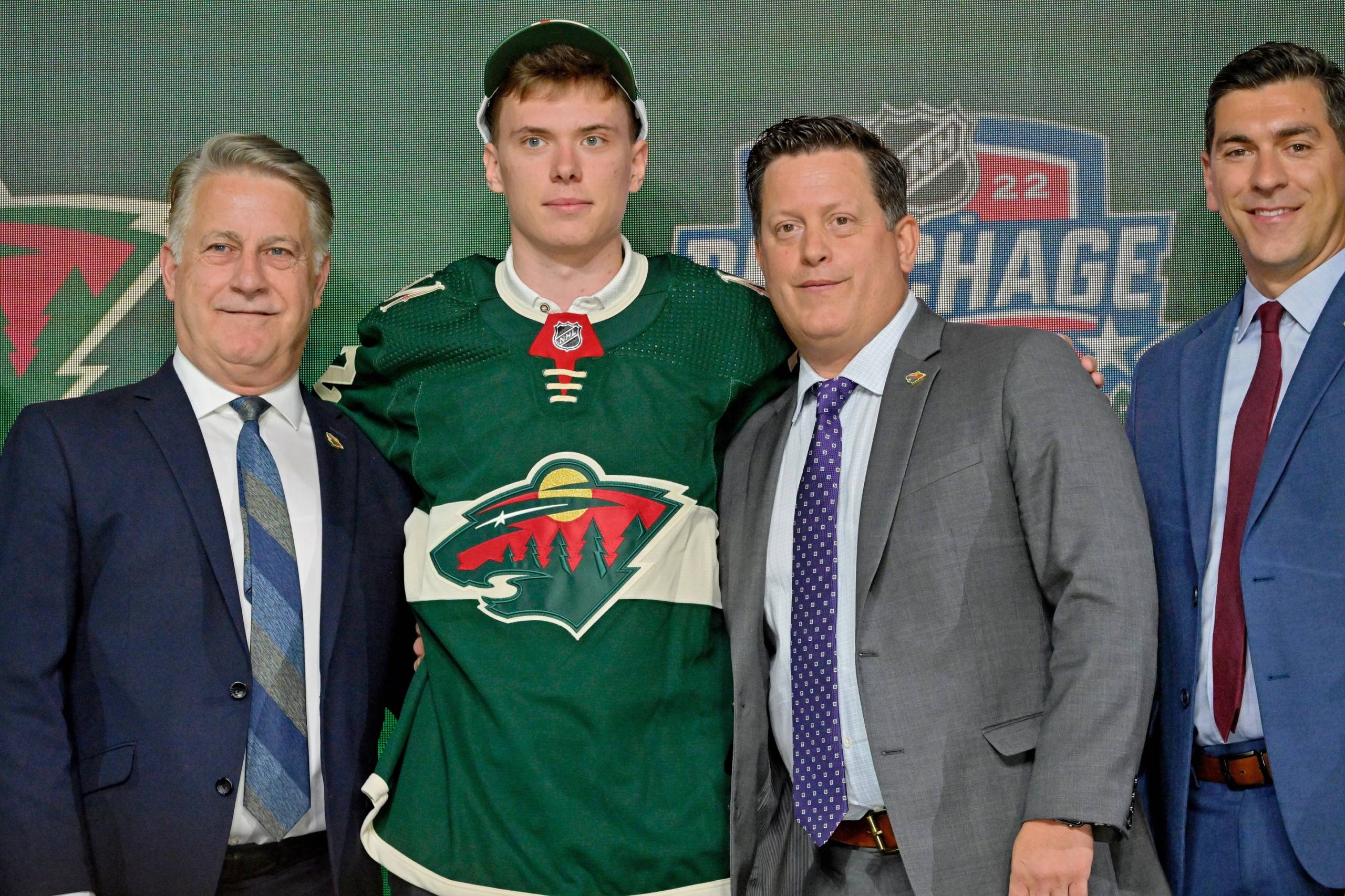 If you talked to Minnesota Wild fans leading up to the draft, you'd know they didn't want a defenseman. It wasn't out of a lack of appreciation for folks like Jared Spurgeon, Jonas Brodin, or Brent Burns. It was out of appreciation for Minnesota's deep pool of defense prospects.
The Wild came into the summer with Calen Addison and Carson Lambos headlining their next wave of blueliners. They're clear Top-4 prospects with a chance to be top-pairing guys in the future. In addition, Daemon Hunt, Ryan O'Rourke, and Jack Peart have a strong chance of Top-4 minutes. After the Kevin Fiala trade, Brock Faber joined the fray, sitting somewhere between the two tiers.
So once the five top-tier defense prospects fell off the board at last week's draft, Minnesota's choice was easy. They took two forwards. First, Liam Öhgren, the Zach Hyman-esque Swedish wing, at 19th overall, then the ultra-skilled Danila Yurov five picks later. Adding two high-end forwards was an excellent outcome for a prospect system about to graduate Matt Boldy and Marco Rossi full-time.
And they weren't done. When the Wild finished making their eight picks, they landed six forwards and two defensemen. That includes their first five picks, all in the top 90. Whether Minnesota was focusing on building up their forward group or if the board merely fell that way, no one can say for sure. But the former theory would certainly have some evidence backing it up.
Whatever the reason, the Wild deepened their prospect pool up front. Now we've got to ask: Are the Wild's forwards and defensemen prospects equally strong?
The ups and downs of player development could change quickly, but the answer seems to be yes. Maybe even better.
It's easy to see why the Wild defense pool is so highly-touted. It's so easy to draw up a future lineup card of top prospects who could conceivably trickle into the NHL over the next two to three years. Several of their players will make August's World Junior Championships (take two), and their pro debuts within the next 18 months. That theoretical lineup card, by the way, could look like this:
Lambos - Addison
Peart - Faber
O'Rourke - Hunt
That's not only a strong group; it's a diverse one. Lambos and Addison bring a highly-skilled element to their games. Peart leans more towards offense and Faber to defense, but both are mobile puck-movers. O'Rourke and Hunt each bring a nasty element to their games, but they have the skating to be more than stay-at-home big-hitters. This doesn't even include 2022 picks Ryan Healey or David Spacek. Nor does it include lesser-touted but interesting prospects Marshall Warren, Simon Johansson, or Kyle Masters.
So how do the Wild match that? Especially without Matt Boldy, who expended his Calder eligibility and thus is not considered a prospect for our purposes?
It starts with the forwards matching the defense in going star-for-star. The blueline has Addison and Lambos headlining their future. Addison's produced in the AHL, with 58 points in 75 games before turning 22. Lambos was nearly a point-per-game in the WHL last year and is poised to take a big step for the Winnipeg Ice.
The forwards can counter and raise with Rossi and Yurov. Rossi had an incredible first half in Iowa, with 14 goals and 38 points in his first 35 games. Injuries and perhaps fatigue from not having a full offseason of training sank his second-half numbers, but 53 points in 63 games from a 20-year-old making his pro debut is nothing to sneeze at. Neither is obliterating the MHL to the tune of 13 goals and 36 points in 23 games, as Yurov did. His draft year production exceeded what folks like Nikita Kucherov and Artemi Panarin produced at that stage in their careers.
[caption id=attachment_129045" align="alignnone" width="1698]

Courtesy of Hockey Prospecting[/caption]
Teams like Trevor Zegras' Anaheim Ducks and Anton Lundell's Florida Panthers are lucky enough to have one sure-fire stud forward prospect. Minnesota's got a pair and has already graduated a third in Boldy. In fact, ranking by Hockey Prospecting's Star Probability, here's a list of the Top-10 Under-23 forwards in (or outside of) the NHL:
Jack Hughes, NJD: 99%
Andrei Svechnikov, CAR: 99%
Tim Stützle, OTT: 96%
Zegras, ANA: 79%
BOLDY, MIN: 79%
ROSSI, MIN: 75%
Lundell, FLA: 71%
YUROV, MIN: 71%
Shane Wright, SEA: 55%
Dylan Guenther, ARI: 53%
That's two guys in the Wild's system (Remember! Boldy's not in this equation!) that are, three times out of four, going to be star-caliber players. The depths of Minnesota's Scrooge McDuck-esque prospect pool don't dry up after Rossi graduates this year, either. They're well equipped to backfill with potential impact prospects.
Adding Öhgren (22% star probability) in the first round was a massive boost to the forward group. You literally couldn't have asked for Öhgren to perform better in the Swedish Under-20 Junior league. His 1.93 points per game (58 in 30) were the most ever at that level by a draft-eligible player and third-most by anyone ever. When you've out-performed a future Hall of Famer like Anze Kopitar, that's probably a good sign. He'll get a chance to further develop his skills against men in a bigger SHL role this season.
Two-way forward Servac Petrovsky (20% star probability) has the highest-rated production of the rest of the 2022 Draft Class. But it's hard to sleep on second-rounder Hunter Haight, who had just 42 points in 63 OHL games but oozes talent. Elite Prospects loved him, ranking him 34th overall in the 2022 class in their Draft Guide.
In particular, they love his well-rounded offensive game. On their 2-9 scale, they rate his puckhandling abilities at a 6.5, comparable to top draftees Logan Cooley (3rd overall), Frank Nazar (13th), and Yurov (24th). His shooting, passing, and hockey sense all graded as a six. The only forwards to earn sixes or higher in all four categories were Juraj Slafkovsky (1st overall), Shane Wright (4th), Nazar, and Jagger Firkus (35th).
Many established Wild forwards saw their stocks fall over the past year, but each could rebound. Marat Khusnutdinov should have a bigger role in the KHL now that he's under contract. Adam Beckman's production as an AHL rookie (11 goals, 34 points in 68 games) was tough, but he racked up over 200 shots and should improve. If Alex Khovanov can commit to being a pro 24/7, he's as skilled as anyone in their system.
And similarly to the Wild's blueline corps, the forwards all bring different skills to the table. Rossi and Yurov both package high-end skill and a two-way game. Öhgren brings a heavy shot as a power forward. Beckman is a shot volume machine. Haight and Khovanov are dual-threat scorers with great hands. Khusnutdinov is a burner and does everything at maximum speed.
There are plenty of solid bets to be bottom-six NHLers, too, with Connor Dewar, Josh Pillar, Mikey Milne, and Rieger Lorenz fitting that profile. And there are even some high-skilled players like incoming AHL rookie Vladislav Firstov looking for a chance of a breakout.
With Rossi and Addison near-locks to graduate this year, and top prospects like Beckman, Lambos, and Faber not too far behind, the Wild will need both defensemen and forwards in the 2023 Draft. But for now, they can afford a few weeks of patting themselves on the back.
Minnesota's assembled a dynamite group that would be disappointing if it doesn't yield multiple star players and more full-time NHLers. Prospects don't mean anything until they deliver in the NHL, but the Wild have done all they can to amass talent at every position. Until seeing them in action this fall, that'll have to be enough.