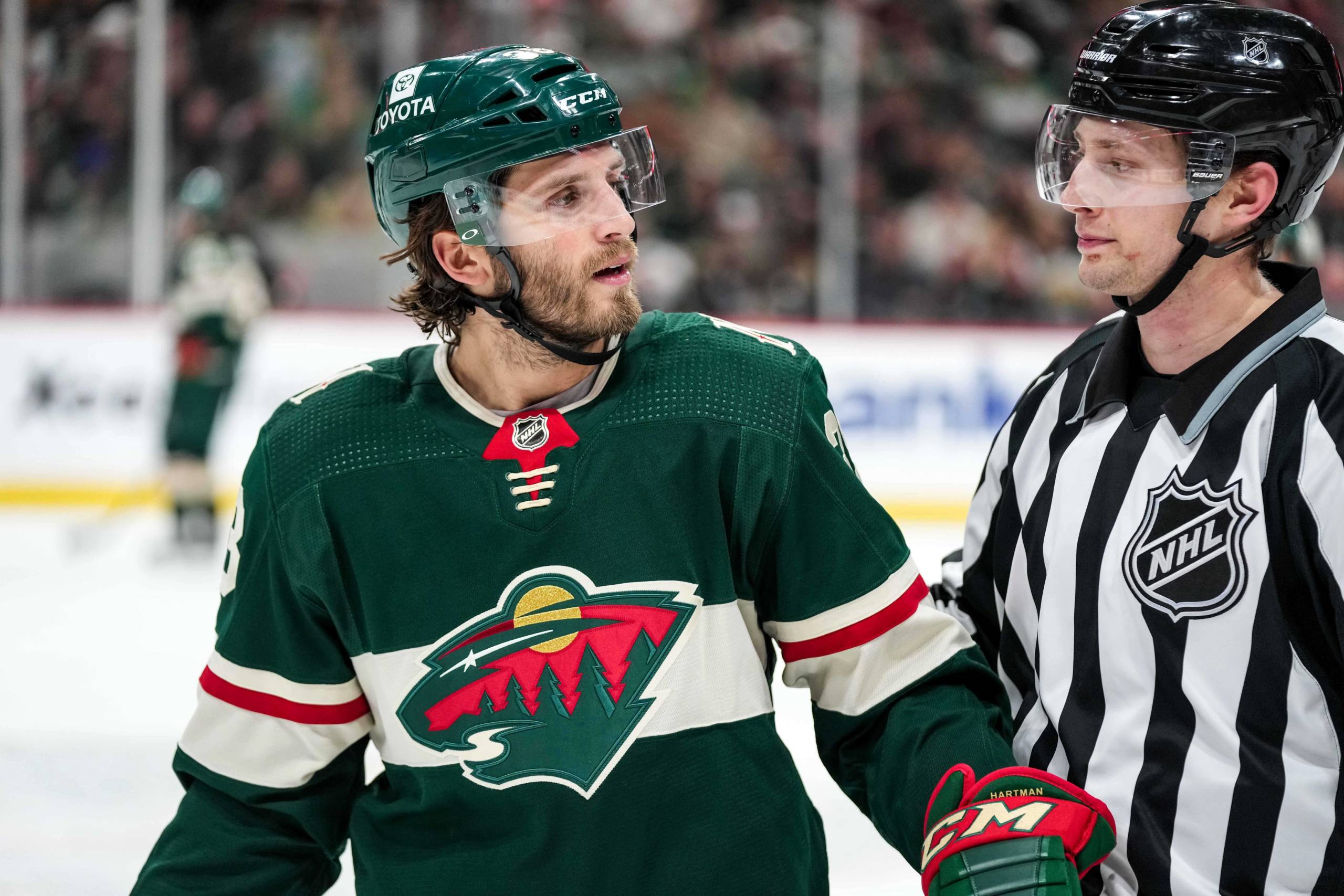 There was a time not so long ago when Ryan Hartman was playing so well, he was arguably the Minnesota Wild's most valuable player. Through his first 36 games, he posted 18 goals and 32 points, but since Jan. 22, his scoring vanished. He put up just one goal in his next fifteen games, a cold streak that forced Dean Evason to start demoting him from the first line. The Wild have been struggling lately but have Hartman's struggles been an underlying factor?
Ryan Hartman was a scoring machine early in the season and a massive part of the Wild's comeback wins. However, with Minnesota playing as awful as they have played recently, it's hard not to blame some of the slumping players.
After the Winter Classic, the Wild went on a roll with nine wins and one shootout loss. Then things went downhill fast after the All-Star Break. Only three wins and nine losses. It's not a coincidence that Hartman's struggles line up with this slump. He hasn't found the back of the net consistently, as he's scored only eight points since Jan. 22. He is also no longer pushing the offense the way a center on the first line needs to succeed.
It looked like MVP Hartman was back during the Wild's recent two-game road trip. He scored two goals against the Philadelphia Flyers in a 5-4 win and one against the Buffalo Sabres in a 5-4 loss. Then on Sunday's 6-3 loss against the Dallas Stars, fans were brought back to the reality of this season-altering slump the Wild can't seem to get out of.
Minnesota managed to win against the lowly Flyers, and one win is often all it takes to get out of a slump. Hartman even decided to shake things up and shave his beard before the game, perhaps an attempt to get things back on track. Maybe it worked, perhaps it didn't, but he still managed to score three goals in two games, and was the first star of the game in Philadelphia.
But on Sunday, the Wild were embarrassed against the Stars. Hartman was at the forefront of the pathetic loss. During the last three minutes, the Wild only showed up when Kirill Kaprizov scored twice to bring Minnesota within one but then predictably surrendered two empty-net goals. Dean Evason decided to rearrange lines to try and turn the game in their favor, and Evason demoted Hartman to a line with Matt Boldy and Connor Dewar.
Hartman still couldn't produce, ending the game with zero points, and was minus-1. Evason scrambled the lines in the third period, so Hartman most likely didn't have enough time to get accustomed to playing with two rookies. Still, Hartman was once seen as the guy to spark comebacks and lead the team to victories. Now, he's not doing any of that.
Evason didn't mince words after the Sunday game. "We are a fragile group right now," he said. Fragile is the only way to describe the Wild these days. Every time they face adversity, they fall apart.
Hartman is minus-12 in all of Minnesota's losses since Feb. 18. If anything, he could be contributing to the losses the most. His primary linemates, Kirill Kaprizov (-5) and Mats Zuccarello (-7), aren't far behind in the plus/minus in the lost games, but Hartman is the top minus leader amongst forwards. That implies that he's been the forward who has been the most negatively impacted during the losing streak.
There's no telling if 'MVP' Hartman will return to form. For that to happen, the Wild will have to start winning games again. Early in the season, he was as clutch as any player in the league, scoring game-winning goals and impacting the team in all kinds of positive ways. Hopefully, he's just in a funk, and the Wild will turn things around soon.
Hartman is on an extremely team-friendly deal, with two years remaining and an absurdly good $1.7 million cap hit. It doesn't hurt to keep Hartman, but it might do him some good to see a change in linemates or even go back to playing on the wing. With the trade deadline fast approaching, the Wild could make a deal and get a No. 1 center to kick Hartman off of the first line. Minnesota could go for guys like Claude Giroux or Toman Hertl, or even go after top college free agent Ben Meyers.
With the way the Wild have been losing, it wouldn't be surprising if they made significant changes soon. Bill Guerin said he liked this team immediately before the losing streak. If the Wild continue losing games, they could put their playoff chances in jeopardy, and Guerin will have no choice but to shake things up. He probably does not like the team in their current state.
While Hartman has been part of Minnesota's early success, he could very well lose his spot as the top center, whether that is via trade, a jumbling of lines, or simply just falling out of favor with the coaching staff. Hartman's going to need to step it up, or the Wild could face falling out of a once-secure playoff position.