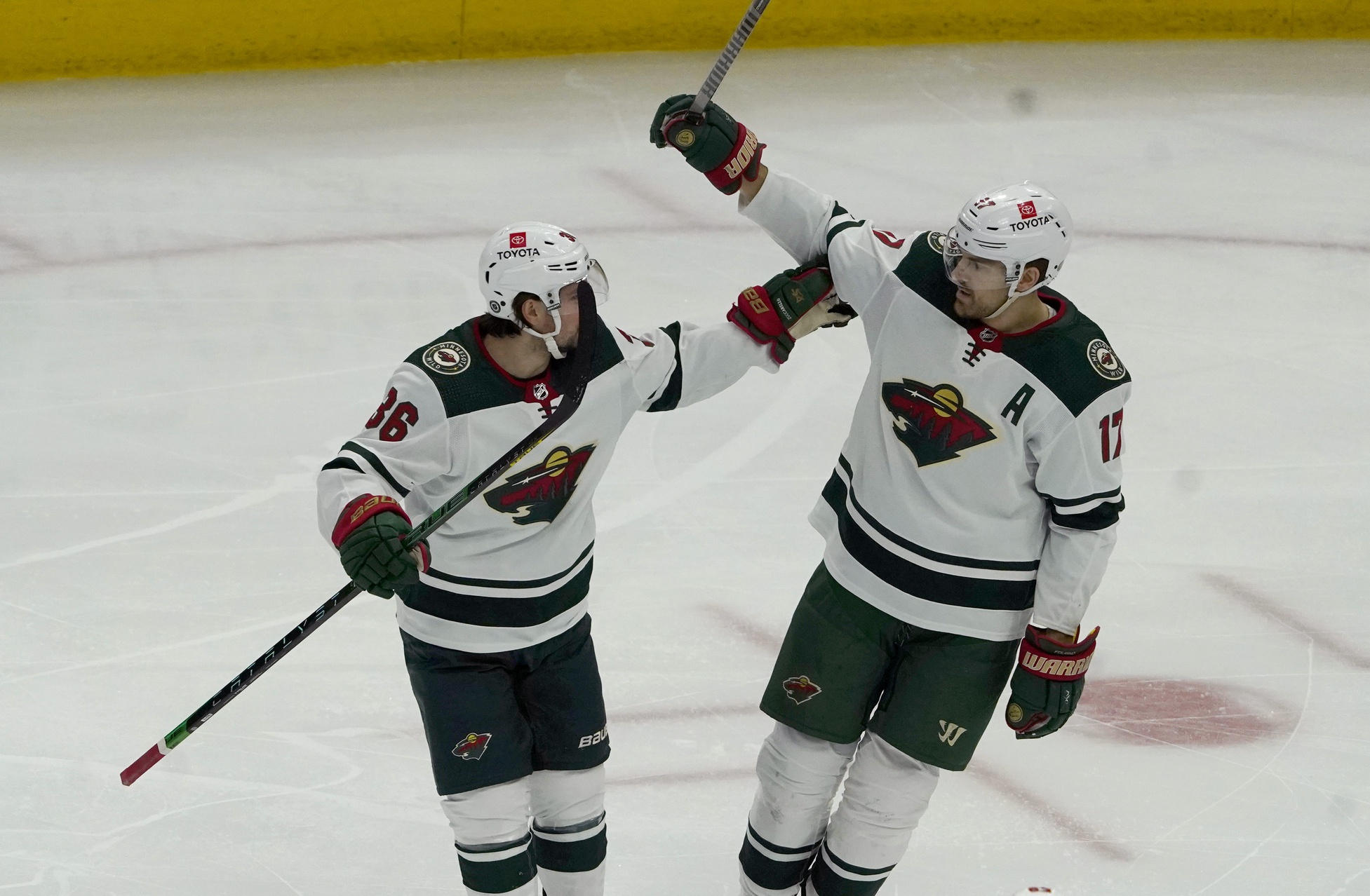 Image courtesy of David Banks-USA Today Sports
$290 million. That's how much Marvel's newest blockbuster, Guardians of the Galaxy Vol. 3, raked in during its first weekend of release this month. And yet we all will groan when Disney announces another superhero movie is in production.
Another one? Really? WHY!?
Because no matter how many superhero movies they force-feed us, people will inevitably pack the movie theatres at 15 bucks a pop to watch. It's an easier return on investment than buying a house. A Marvel movie is more of a sure thing than a bet placed on any Minnesota men's sports team to not win a championship.
When it comes to a return on investment, it's wise to jump on the sure thing. When it comes to aging hockey players in their mid-30s? Proceed with caution.
Even more so when it comes to a duo of forwards entering the final year of their contracts with the Minnesota Wild. Marcus Foligno and Mats Zuccarello will be eligible for extensions this year. And while it's unlikely GM Bill Guerin will do so in the off-season, he's had a penchant for extending players mid-season if they are playing well.
But no matter how good they look at any point during the 2023-24 season, Guerin should wait. Both vets have expressed a desire to continue playing in Minnesota, which is a place many NHLers desire to play for a number of reasons. That's good to have a culture and area where people want to stay. But the message should be clear: If you want to play here beyond next season, prove it in the playoffs.
That might sound a bit harsh, but the reality is that both players have disappeared in the postseason in their time donning a Wild sweater. Especially Zuccarello, whose playoff disappointments have typically followed excellent regular seasons.
With that, let's start with Kirill Kaprizov's best friend and Norwegian linemate. In his three seasons with Kaprizov, Zuccarello has averaged 0.30 goals and 0.95 points per game, including a persona best campaign in 2021-22. In the playoffs during that same span? He has just three goals (0.30 per game) and 13 points (0.68) in 19 games. And that doesn't count the assist in four games Zuccarello had for Minnesota during the COVID bubble or his 31 points in 60 playoff games with the New York Rangers.
In each of the last three postseasons, he remained stapled to Kaprizov's side, barring elimination-game scrambling. Kaprizov has occasionally experienced his own playoff struggles, but it's alarming that Zuccarello's production disappears annually in the postseason.
It's not just his time with the Wild. The Athletic's Dom Luszczyszyn identified Zuccarello as a player who struggled in the playoffs throughout his career. For context, if we treated his career postseason scoring rate as its own season, Zuccarello's 0.57 points per game would be tied for his second-worst full season. Only his rookie year was worse, and his playoff scoring rate is exactly what it was in his first year with the Wild, when his contract looked like a disaster.
It's a trend that can't be ignored, especially now that he hasn't been able to provide any help to the Wild's franchise winger when he needs it most.
What about Foligno? He's never been a regular season point producer like Zuccarello, but he's been a more than capable contributor in a bottom-six role. And his playoff statistics are even more concerning than Zuccarello's. All five of Foligno's trips to the postseason have been in a Forest Green sweater. His 0.07 goals per game is less than half that of his regular season pace, with only two goals total in 28 games. And while "Moose" has averaged 0.39 points per game during his six regular seasons in Minnesota, that number has dropped to 0.25 come playoff time.
Even more alarming? The playoffs are traditionally where big, skilled wingers are supposed to flourish. And whether it's his scoring woes or difficulties with the officials, Foligno has struggled to make a positive impact for the Wild when the calendar flips to April.
This may seem extreme and too short-sighted, given what just happened in the playoffs. But these trends have continued for quite some time.
The Wild might have three more seasons left on Kaprizov's contract. But in reality, they really only have two years (at most) to convince their superstar he can win in Minnesota. It's difficult to imagine the Wild want to enter the final year of his contract without an extension in fear of getting Gaborik'd. So while Guerin may not view this latest first-round exit as a failure, they cannot afford to waste another postseason run on a feeble first-round exit while their superstar is still in his prime and under contract.
For those reasons, no matter how productive of a regular season they are having, Guerin needs to hold off on any contract extension talks. Instead, he needs to use the biggest motivator he has available to him: the carrot of free agency. If Foligno and Zuccarello truly wish to play in Minnesota beyond this season as much as they've expressed, then they need to start producing when it matters most. 
1