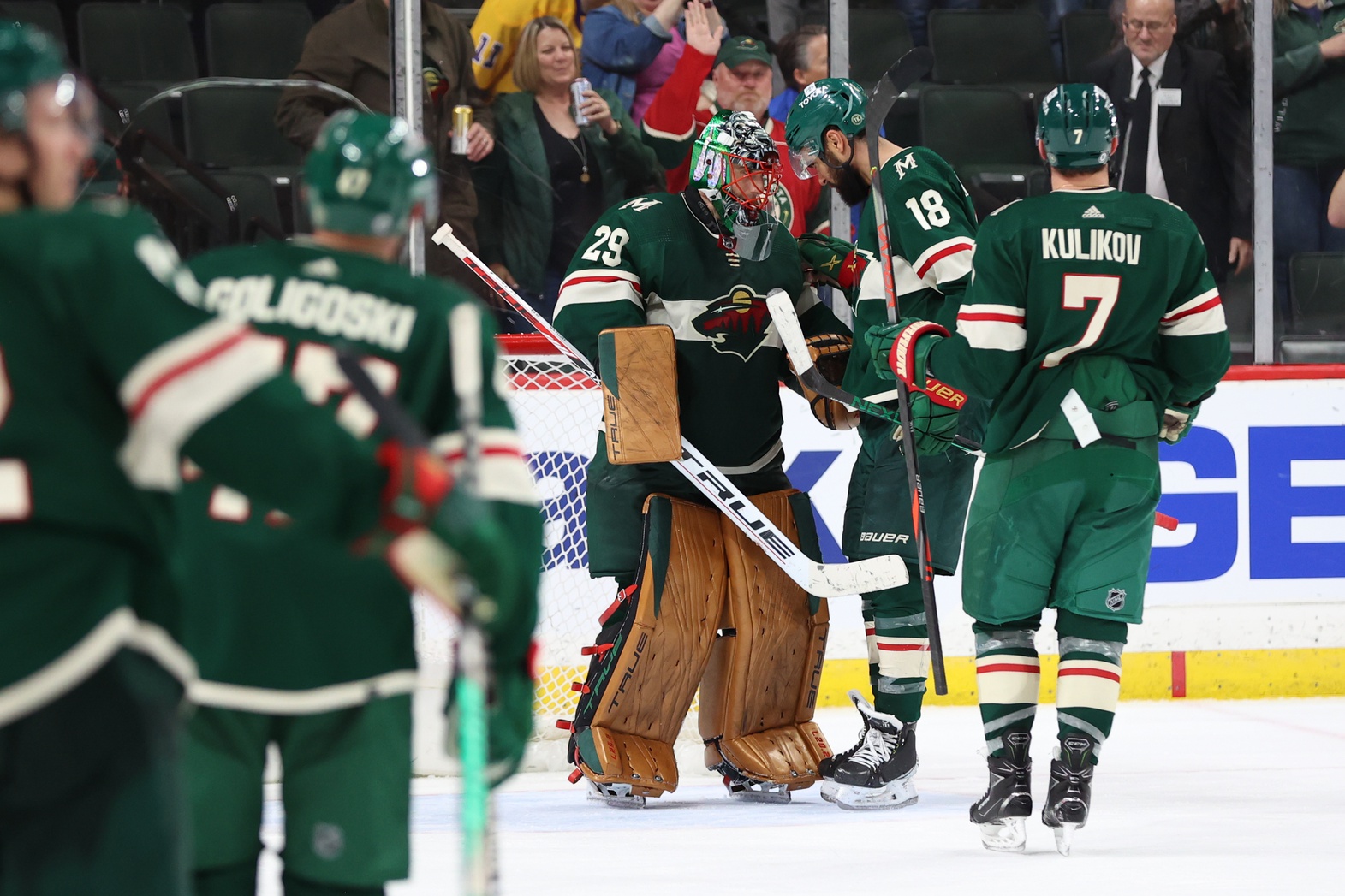 The new additions to this Minnesota Wild squad have been great so far, both on and off the ice. They're a scorching 8-1-3 since the trade deadline, and the vibes in the locker room are immaculate. On Sunday, Jacob Middleton mentioned that he's having the most fun he's ever had playing hockey. Marc-Andre Fleury is bringing a fun, veteran presence to the team.
In the past, trades have not always worked out, and chemistry has been badly disrupted. Not this time. With changes in coaches and the leadership group, they've made it so anyone who comes to Minnesota is welcomed seamlessly into the locker room. The trade deadline acquisitions this year are proving that the Wild are a fun team to play for and a great organization to be in.
It was pretty well known that the Wild didn't have the best locker room atmosphere in the past thanks to some veterans (cough cough Zach Parise and Ryan Suter). Minnesota was previously an organization that players probably weren't too excited to get traded to. Unless they had some Minnesota times, most big names didn't have a second thought about playing for the Wild, unless Minnesota threw money and term at them, like Martin Havlát or Mats Zuccarello.
And sometimes, even Minnesota ties weren't enough. One example is former Golden Gopher Phil Kessel a few years ago. A trade was in place to send Kessel to Minnesota, but he declined the move with his No-Trade Clause, as he reportedly thought the Wild didn't have a good enough roster and wasn't a fan of the young talent on the team.
But it's different this year. The Wild traded for future Hall of Fame goaltender Marc-Andre Fleury at the trade deadline. Years ago, there was no way such a big name would even think of coming to St. Paul. Now, reports suggest Fleury only wanted to come to Minnesota. And the Wild are glad to have him, too. Having such an icon of a player in the locker room is great for the younger players too.
"Growing up, I was a big Pittsburgh fan with him and [sidney] Crosby] and [Evgeni] Malkin," said Matt Boldy. "It's nuts honestly. Just being in the same room as him and getting to know him on a more personal level and just the human being he is and how he treats other people. He's always got time for everyone, he's an awesome person, and he's an unbelievable goalie."
Kevin Fiala also was star-struck with his new teammate. "He's my favorite goalie [of] all time," he said. "I wanted to be a goalie because of him when I was young watching Pittsburgh Penguins all the time. Looking at him now, he's in our locker room. It's not realistic, kind of."
"It's been a whirlwind, honestly. I couldn't ask for anything better." Middleton, who the Wild acquired from the San Jose Sharks at the deadline, said after Sunday's win against the Los Angeles Kings.
"You know, trade deadline, when you wake up and get a phone call at 8:30, you're not sure the grass is always greener, how things are gonna work out. I've called my parents every 48 hours here saying this is some of the most fun I've ever had playing hockey, so I couldn't be happier."
Middleton also said that the first thing he noticed when he arrived in Minnesota was the atmosphere the Wild built. "I walked in this morning and it is tight," he said. "There's a lot of special guys, a lot of camaraderie, that was the first thing I noticed. And the staff, everyone was so welcoming and I'm really excited to be here."
Defining 'tight,' he says, "Whether it's the banter, the honest questions, talking about families, everything in between. It was pretty cool to see how cohesive everyone was."
He also mentioned how relaxed and friendly the new-feel Wild are, saying, "Everyone in there is an unreal guy that I would go for beers with or hang out with any day of the week. So I'm just enjoying fitting in with them."
This feels different than previous teams. It seems like more of a fun, tight-knit group of players who just love playing hockey.
Spurgeon, the team captain, is loving his new teammate as well. "He's a funny guy, obviously pretty easy going. He's always asking questions and talking so that's good."
Nic Deslauriers, who Minnesota acquired from the Anaheim Ducks, spoke about how some of the players called to welcome him to the team even before the trade was announced. "Moose and Spurgey called me right away," he said. "I don't even think it was on Twitter or Instagram and they called me right away."
Excited is apparently an understatement for the team. Tyson Jost, who the Wild got in exchange for Nico Sturm, seemed to be more than happy to come to St. Paul. "I'm really excited to be a part of this team. I'm excited to be here in Minnesota, I know the city a little bit. I have a lot of friends and family out here. It's a great hockey city. I'm really excited for the fresh start and to get things rolling here."
The most common thing players talk about when they come to Minnesota is how great the fans at the Xcel Energy Center are.
Jost played for the Colorado Avalanche for five seasons, so he has been a visitor at the X many times and knows how much energy is in the building."I'm excited to play in front of these fans here too," said Jost, "it's a great atmosphere at the Xcel."
One thing is clear: Players are now raving about how Minnesota is a great place to be. The organization is gaining a reputation as being exciting to play for. It's clear that Minnesota's fresh faces are enjoying their time here. So far, no chemistry has been interrupted, and the Wild have kept their identity.
In the past, poor results in the regular and postseason could be attributed to, for the lack of a better word, the poor locker room vibes. It was obvious that the locker room didn't quite click with each other or was as welcoming as they are today.
Bill Guerin has created a new culture, attracting names like Marc-Andre Fleury to the State of Hockey. The success and atmosphere are making St. Paul an exciting destination. Hopefully, this is a sign of good things to come, as expectations are high going into the playoffs.