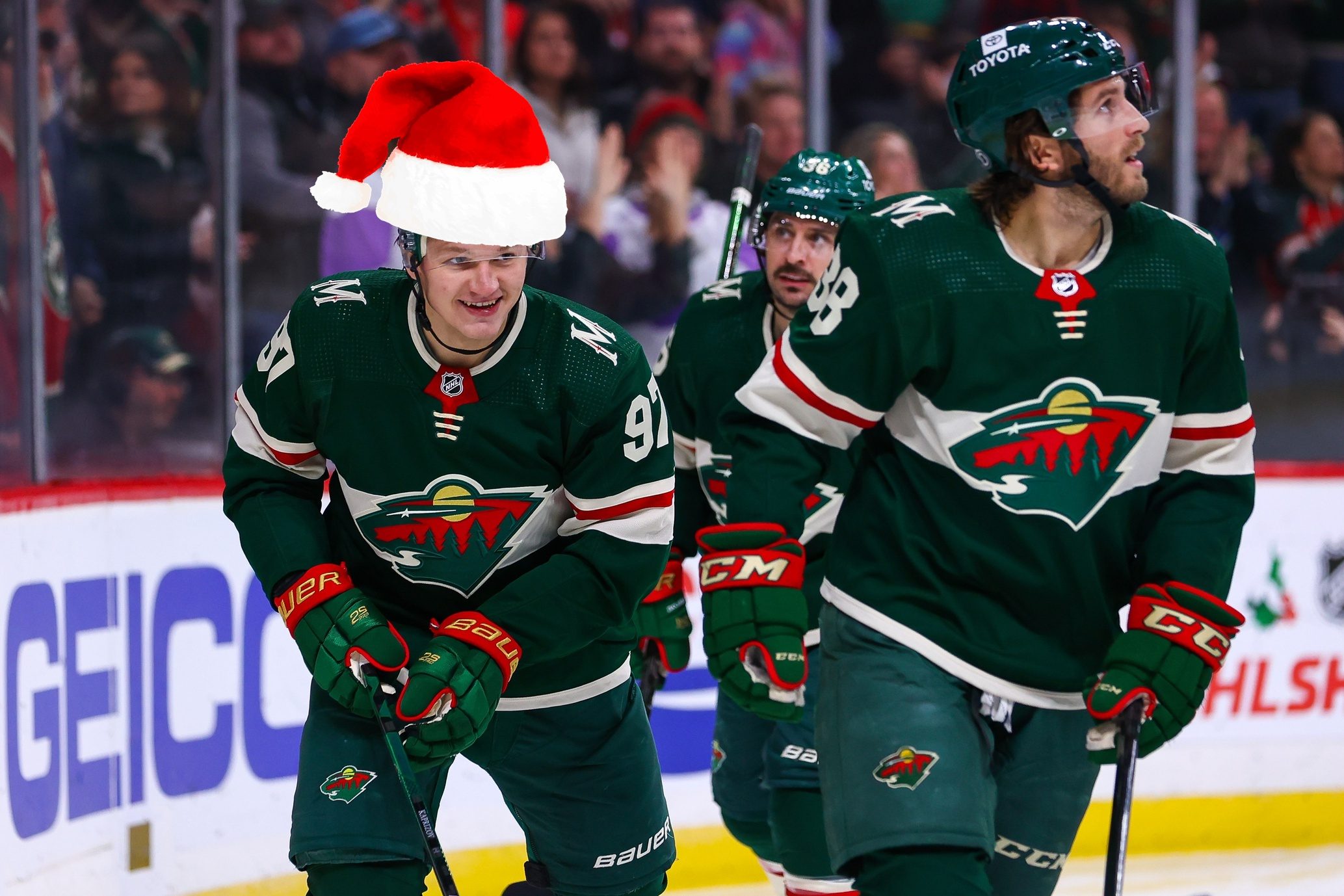 Sure, one particular holiday may get top billing this weekend, but do you know Kirills-mas is approaching? That's right, every Dec. 27th falls 97 days after the anniversary of Kirill Kaprizov signing his five-year contract on Sept. 21, 2021. It's a magical holiday with traditions that 10K Rinks is in no way making up on the spot. For example, Wild fans go door-to-door singing Kirills-mas Carols like "Let's Go Crazy" and "Jump Around." They light lamps all across the State of Hockey. Out-of-town family and friends secretly arrive two weeks prior, waiting until Kirills-mas Eve to announce they'll be at Kirills-mas Dinner.
And of course, Santa's involved in this holiday, too. He gives presents to all the good Wild fans who don't do The Wave at games. The Wild roster will go to bed on the 26th hoping Santa will leave them presents inside their Kirills-mas Net. But what did Wild players wish to receive for Kirills-mas? Thanks to a little investigation and a lot of mail fraud, 10K Rinks has procured some exclusive information.
Kevin Fiala: A Proper Running Mate
One might think Fiala would want a bit more luck, but that's turning around a bit. He's scored 3 times on his last 10 shots, which matches his goal total over his first 87. No, what he wants is his general manager and coach to give him his very own Mats Zuccarello-type linemate. He got a taste of that dream with a successful stint alongside Joel Eriksson Ek and Marcus Foligno. But outside that, he's bouncing all over the lineup, mostly partnered with Victor Rask and Frederick Gaudreau. He doesn't care if it's a trade acquisition or a prospect, just get him any skilled player, please.
CALEN ADDISON: A BEARD
Addison's mustache rapidly became iconic in the State of Hockey. But that mustache hasn't translated into a lot of games in Minnesota. Is it the mustache's fault? Who can say? Even if it was, we'd never want him to shave it. What he needs, though, is a bonafide beard to go with it. The mustache by itself screams "prospect," but anyone with a full beard instantly becomes a veteran, no matter what age the beard bearer is. Santa won't need his until next Kirills-mas, so perhaps he can leave his whiskers in Addison's Kirills-mas Net so he can become an established NHLer.
Jordan Greenway: His Improved Game, But Apart From Eriksson Ek
One of the recurring storylines this season has involved Greenway's future with the Wild. He started out struggling through inconsistent play and injury. But his game and intensity picked up, and shortly after that, Dean Evason placed him with Eriksson Ek and Foligno. Much has been made of how great the big, forechecking line works together.
But with Eriksson Ek out for the near-term future, Greenway will have to find a way to keep things rolling with a new center. Proving he can be effective for a long stretch without Eriksson Ek would go a long way towards him celebrating Kirills-mas next year.
Look, things are going pretty great for Hartman right now. He's got 14 goals, top power play time, and a great gig between Kaprizov and Zuccarello. He's got the luxury to not ask for anything on the ice, and instead, get a pretty cool yo-yo to learn some tricks to impress the locker room with.
If you like watching goals, Pitlick is the most fun player in the NHL right now. When he's on the ice at 5-on-5, teams are scoring 9.1 goals per game, which leads the league. Pitlick's come out ahead, out-scoring opponents 13-12, but his coaches clearly aren't too thrilled about the high number of pucks in the back of his own net. That's more to do with the .896 goaltending he's getting than his own defensive play. If Santa can give him some more saves and make the game a bit more boring for Pitlick, that could be his ticket to more ice time.
MARIAH CAREY: ERIKSSON EK
Not on the roster, but we've heard that all she wants for Kirills-mas is Joel. What can we say? She just loves Selke-worthy defense.
You can't say Dumba's having a bad season. He's on the top defensive pairing with Jonas Brodin and on-pace for about 40 points. What you can say is that his trademark slap-shot might be gone forever. He lost that extra oomph in a pectoral injury that derailed a career year, and so far, it's never come back. Dumba has just three goals this season, one of which was an empty-netter. To get to double digits, Santa's going to have to work some Kirills-mas magic to finally get Dumba's slapshot as good as new.
Freddy Gaudreau and Victor Rask: To Fuse With Each Other
Gaudreau and Rask are perfect opposites, with each containing the solution to the others' fatal flaw. Gaudreau skates incredibly well, giving him scoring opportunities and defensive ability, but can't finish. Rask has the hands to shoot for a high percentage and make strong passes, but can't get to where he needs to be. If only on Kirills-mas Day, they woke up to discover that they've combined into one dominant center.
Marco Rossi: 10 Games
Rossi has worked incredibly hard to get to the NHL after a life-threatening illness derailed his NHL hopes last season. He worked his way back into top shape over the summer after not being able to do any exercise for months. He impressed in Olympic qualifier games and rookie tournaments. But when it came time for him to shine in training camp, it never seemed as if he got put in a position to succeed and grab a roster spot.
Why? No one but the front office can say for sure, but there's no ignoring the fact that the Wild have financial incentive to keep him in the AHL. If he plays nine or fewer games, his entry-level contract will start next season, allowing the Wild to avoid signing him to his second contract until the worst of the Zach Parise/Ryan Suter buyout penalties expires. Rossi really wants to get 10 games this Kirills-mas, knowing that if he breaks the nine-game threshold, he'll get a lot more NHL action than that.
But with Eriksson Ek out, he's earned the opportunity to step in and replace him. He's been the best hockey boy this year. He overcame myocarditis, stepped right into the pros, and became the Iowa Wild's leading scorer with 18 points in as many games. If not for a quirk of the CBA, this wouldn't even be a question. No one deserves his Kirills-mas wish granted more than him.
George Michael: To Give His Heart To Some Team Special
Once bitten, and twice shy. You may have given your heart to the Wild last Kirills-mas, only to see it get stomped on as the Wild gave it (and a playoff series) away to the Vegas Golden Knights. Again, George Michael's not on the roster, but as a giant Wild fan, he's absolutely hoping this team will save him from tears.
Kirill Kaprizov: Kirills-mas Lasting All Year Long
The 97 days since Kaprizov signed his contract have been pretty sweet. Even with a slow start, Kaprizov's now on pace to score 33 goals and 98 points, which is everything fans could expect from their star player. His start is worthy of celebration, now it's just a matter of it lasting through the end of the season and beyond.