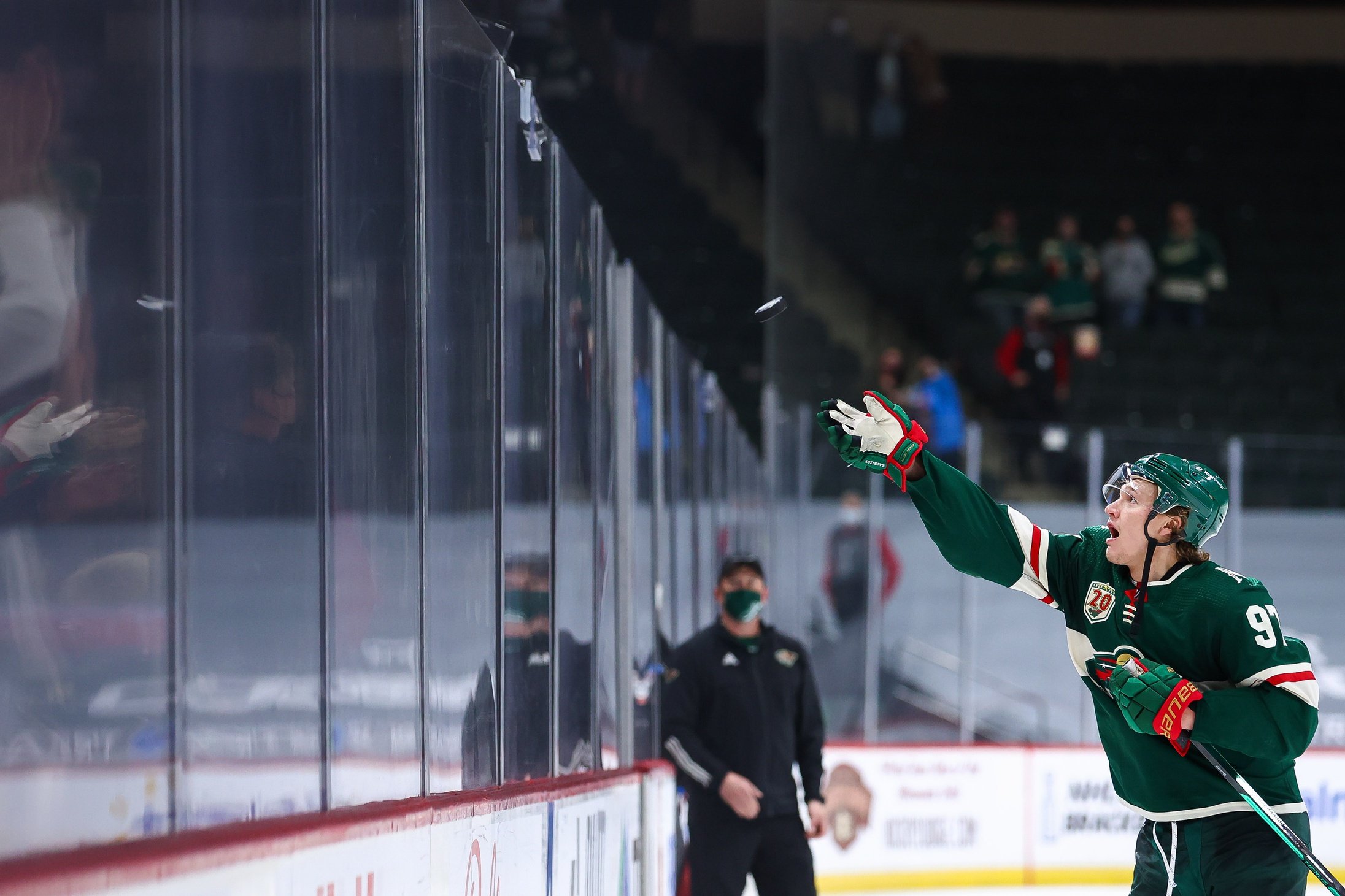 Sure, one particular holiday may get top billing this weekend, but do you know Kirills-mas is approaching? That's right, every Dec. 27th falls 97 days after the anniversary of Kirill Kaprizov signing his five-year contract on Sept. 21, 2021.
It's a magical holiday with traditions that 10K Rinks is in no way making up on the spot. Wild fans all over the State of Hockey will break into their neighbors' houses and loudly demand a traditional Zuccy Pudding. Kirills-mas merry-makers wear a festive green-and-red Kirills-mas hat and throw sticks and rubber discs at children. NORAD tracks Kaprizov all throughout Kirills-mas Eve to ensure Vladimir Putin doesn't steal him. It's the most joyous holiday on the Wild calendar.
And of course, we can't forget the real reason for the Kirills-mas Season: The presents. Yes, the Minnesota Wild organization is waiting eagerly to find out what Kirill will leave them in their Kirills-mas Net this year. What are they hoping for? 10K Rinks found out through extremely real journalism.
Last Kirills-mas, Kaprizov gave a struggling Fiala a brand-new Boldy. Now it's Boldy in line for a running mate. He's performed fine, despite a rotation of solid-but-not-great options. Now, there are internal options available. Ryan Hartman is the newest player to get some run in that spot. Maybe he'll work. If not, Kaprizov could set out to leave a pending UFA rental like James van Riemsdyk or Timo Meier in Boldy's net, as a treat.
Even after a rougher start in a tough game on the second half of a back-to-back, Gustavsson has had a pleasantly surprising season. He comes into Kirills-mas with a .916 save percentage and a Goals Saved Above Expected of 2.57, which means he's stopping the pucks he should, and a few he shouldn't through 13 games.
But there's a difference between having a nice little hot streak and being a permanent fixture in the organization. Just ask Kähkönen, who gave Cam Talbot a run for his money with some hot streaks throughout his tenure as a backup. But not only was he not consistent enough to secure a job, but he also became expendable when the Wild went looking for an upgrade.
[caption id=attachment_140959" align="alignnone" width="766]

Courtesy of Hockey Prospecting[/caption]
Gustavsson's 25, which is about when people expect goalies to start hitting their stride. His history suggests he can become someone like Tristan Jarry, Anton Khudobin, or Jonas Hiller, a solid collection of backups who grabbed starting roles at points in their career. He's gonna want that career for Kirills-mas.
When Foligno and Greenway team up with Joel Eriksson Ek, that's an incredible shutdown line. The problem is, getting them on the ice at the same time, especially since Foligno and Greenway struggle when not on a line with each other and Eriksson Ek.
This season, they've already missed a combined 22 games, with Greenway's long recovery from offseason surgery making up 16 of them. In the past three seasons, the duo missed 28, 17, and 12 games. Even when Foligno was relatively healthy last year, he seemed hampered and hurt down the stretch.
They're going to need to be healthy around playoff time, as their size, speed, and skill is supposed to be an advantage in May. It hasn't translated on the ice, and you have to wonder if health is a factor.
If Kaprizov could give the front office some kind of memory ray gun that would make Gary Bettman say, "Oh, weird, your CapFriendly Page says you have $15 million in dead money for the next two years? Let's just get that little mistake off the books," it'd be the best Kirills-mas since 2011 when Wild fans asked Kaprizov to bring them Parise and Suter in the first place.
Reaves is valued in the locker room for making the rest of the team feel inches, or even feet taller than they are. But what Reaves could make them feel even taller than that? It's a foolproof plan.
With the Wild rolling, these three find themselves on the outside of a healthy lineup. It's a bummer of a situation for them, as Duhaime was having a solid year before sustaining an injury. Walker had a great four-game cup of coffee, and Rossi has 11 points in 11 games with a not-super-talented Iowa team, but no obvious path back to the NHL.
Unless Kirill can make the NHL adopt four periods. With that, there's more ice time for these three players to play a regular role in the NHL. At least, in theory. Without the need for a fifth line, they may have to wait a while to draw back into the lineup.
The State of Hockey: A Second Playoff Round
Minnesota hasn't seen one of these for like eight years, now. Come on.
Kaprizov: Last year's second half
Hey, who says Kirill can't leave a little somethin'-somethin' for himself? In each of Kaprizov's seasons, he's finished extremely strong after good-but-not-jaw-dropping starts. In 2021, he scored 10 goals and 25 points through 30 games before finishing the year with 17 goals and 26 points in his final 25 games. And on Kirills-mas last year, he had 12 goals and 36 points in 30 games, on pace for "just" 33 goals and 98 points.
This year, Kaprizov is in mid-season form, already with 19 goals and 43 points through 33 games. That's awesome. That's on track for 47 goals and 107 points, about where he was last season.
But what if he repeats his incredible second half from last year?
From Kirills-mas to the end of last season, Kaprizov racked up 35 goals and 72 points in 51 games. Staple those totals onto his final 49, and we're talking 54 goals and 114 points. He'd join the likes of Jaromir Jagr, Connor McDavid, Joe Sakic, Mario Lemieux, Wayne Gretzky, and nine others as the only players to do it over the past 30 years, per Stathead.
That's the kind of video game kind of stuff I want to see on Kirills-mas.
All data via Evolving-Hockey, unless noted otherwise.