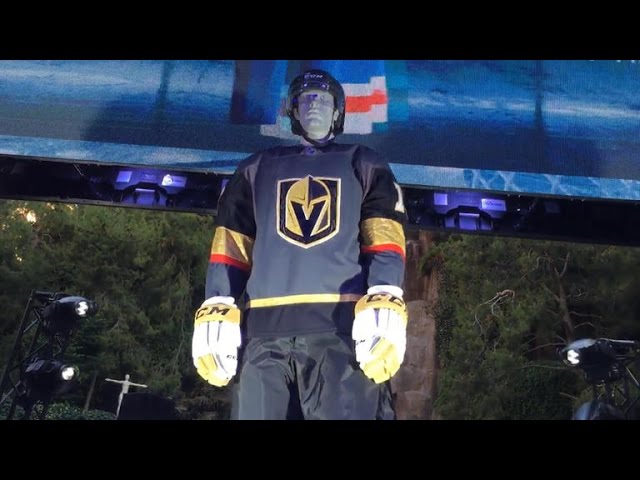 At long last, the day of sweater reckoning was upon us. Adidas has taken over the NHL jerseys in full, and some redesigns and otherwise tweaks were promised across the board. Giles and The Goalie, the foremost Minnesotan Hockey Jersey aficionado podcast, broke it down.
It's hard not to say that the transition wasn't a little disappointing for us, as we were promised mass changes to several teams and only the Wild really delivered a real marked change. Also, these collars on the Adidas jerseys are somewhat of an eyesore, as they've been seemingly enlarged to become the focal point of the top of the jersey, which for some teams, isn't a particularly good look, not to mention how they handled teams that wanted collar lacing, since the lacing has strangely become not a part of the collar, at all.
Anaheim Ducks
Giles: When does the Eggplant and Jade comeback? 
Ben: This jersey is like when the Team USA Flying V ran into all the Icelandic players playing Red Rover.
Arizona Coyotes
Giles: Well at least they have black armbands to honor the memory of Shane Doan! 
Ben: The shoulder patches seem to have migrated north a little bit.
Boston Bruins
Giles: Was really hoping for a Ray Bourque-era throwback, but I guess not. SAD! 
Ben: We were promised change and got nothing. Sounds familiar.
Buffalo Sabres
Giles: I like these, except the numbers on the front. Maybe Phil Housley can bring back the royal blue jerseys? 
Ben: Still with those chest numbers... to quote Nancy Kerrigan- "Whyyyyy?"
Calgary Flames
Giles: A much cleaner red jersey for Calgary. Solid look. 
Ben: Was hoping for throwbacks, but at least they dumped the gross Reebok piping.
Carolina Hurricanes
Giles: A little black did these jerseys good. Now if they can just dump the inflamed anus logo. 
Ben: Canes adding black back to their uniform, symbolizing their mourning fans.
Chicago Blackhawks
Giles: Me: It's impossible to ruin these jerseys. Adidas: Hold my beer 
Ben: Blackhawks ones of the notable victims of the Adi-collar debacle.
Colorado Avalanche
Giles: Congrats to the Avs organization on finally making a good move. Now if the hockey ops department can just follow suit... (Editor's note: Yuck)
Ben: One of the biggest upgrades. Went back to classic from Reebok extremes.
Columbus Blue Jackets
Giles: Pretty similar look for the Blue Jackets. They can still do better. 
Ben: Huge opportunity missed. They've branded around that cannon, but their logo is still very blah.
Dallas Stars
Giles: I've never gotten used to these "Victory Green" jerseys.  
Ben: We were promised changes, but apparently the new Mooterus jersey is staying in the closet.
Detroit Red Wings
https://twitter.com/DetroitRedWings/status/877370154144768000
Giles: Did we really expect Detroit to change it up? 
Ben: No changes. (thumbs up emoji)
Edmonton Oilers
https://twitter.com/EdmontonOilers/status/877346724292902912
Giles: In the name of God why did Edmonton dump the 80s look for orange uniforms? Woof. 
Ben: My eyes.
Florida HC
https://twitter.com/FlaPanthers/status/877345333377994752
Giles: Ben's favorite, Florida HC! 
Ben: No changes for Florida HC, who also sport a disappearing waist stripe.
Los Angeles Kings
https://twitter.com/LAKings/status/877345449866215424
Giles: No change for the Kings. Would like them to clean up the piping a bit. 
Ben: Slight stripe change. Sure, fine.
Minnesota Wild
https://twitter.com/mnwild/status/877350713336111105
Giles: It's a solid look, but it's weird to see the stripe not go all the way around the back. The 'M' on the shoulders is a great touch, and it might even be the best shoulder patch in the Wild's history. The red stripe on the white armbands is an interesting touch. I'm indifferent on it at the moment, but it feels like over time that will grow on me. It's a solid home jersey for the Wild. Still thought the alternate greens from the last seven years were better (sans the shoulder piping), but it could have been worse. They could have been red.
Ben: You scrolled straight to this one, didn't you? So the promise of cream trim turned out to be true, and the thick Canadiens stripe doesn't go all the way around. Couple that with the goofy Adidas collar and there are some improvements to be made.
Montreal Canadiens
https://twitter.com/CanadiensMTL/status/877345359240056832
Giles: Blah blah blah, Original Six, blah blah blah 
Ben: After the radical change of adding laces two years ago, no changes were made this summer.
Nashville Predators
https://twitter.com/PredsNHL/status/877349208726155266
Giles: While these jerseys are pretty bland, this is an upgrade over what Nashville was previously wearing.
Ben: I'll listen to the jersey having lost some personality, but let's not pretend that piping looked good. Also a strong joint promotion for Despicable Me 3.
New Jersey Devils
https://twitter.com/NJDevils/status/877361414335328260
Giles: Not a bad look, but was it really worth changing from a decent jersey for? 
Ben: A green inner collar! I guess these changes count as a complete overhaul in New Jersey.
New York Islanders
https://twitter.com/NYIslanders/status/877348365251485696
Giles: Get your John Tavares Adidas Islanders jerseys! Good for one year only! 
Ben: No Brooklyn black jerseys. Upgrade.
New York Rangers
https://twitter.com/NYRangers/status/877345360372314112
Giles: Not sure what's going on, on the collar, but it bothers me. 
Ben: Somehow I'm surprised the inside of the collar didn't reference Messier's Guarantee Game
Ottawa Senators
https://twitter.com/Senators/status/877345567130742790
Giles: Ottawa missed a golden chance to go with the alternates from the outdoor games. Not good.
Ben: If anyone needed an overhaul, it was the Sens. This doesn't count.
Philadelphia Flyers
https://twitter.com/NHLFlyers/status/877345515976798208
Giles: Nothing new here. Move along. 
Ben: I'm fine with no changes here.
Pittsburgh Penguins
https://twitter.com/penguins/status/877345345767788544
Giles: When are the Flyers going diving in our dumpsters for old colors again? 
Ben: Had they made any changes, I may have taken a bus to Pittsburgh...
San Jose Sharks
https://twitter.com/SanJoseSharks/status/877347034734272512
Giles: No change with the exception of a new alternate logo on the shoulder. Not bad. 
Ben: I feel like the Sharks could've used a few tweaks, especially to celebrate the 42nd anniversary of Jaws.
St. Louis Blues
https://twitter.com/StLouisBlues/status/877349852258160640
Giles: Did not like the change of numbers from yellow to white. Otherwise a good jersey. 
Ben: The put the flag of St. Louis inside the collar, the first time the Fleur de lis has ever been on a hockey jersey, I checked.
Tampa Bay Lightning
https://twitter.com/TBLightning/status/877356325658689536
Giles: Thank God we are free from the black 'BOLTS' jerseys! 
Ben: They ditched lacing, but that's probably an upgrade, all things considered.
Toronto Maple Leafs
https://twitter.com/MapleLeafs/status/877351447821725696
Giles: Toronto always has one of the best looking jerseys in the league. Well done
Ben: We knew no changes were coming after they debuted the 'Leaf with a butt' rebrand last year.
Vancouver Canucks
https://twitter.com/Canucks/status/877359441338695680
Giles: When does the flying skate return? 
Ben: Bring back the Flying Skate!
Vegas Golden Knights
https://twitter.com/GoldenKnights/status/877343682013216768
Giles: Take away the red stripe, and these are solid jerseys for the NHL's new team. They gray/black/gold look is solid in my books, but the small red stripe just looks out of place. I guess this could have been much worse. 
Ben: The red stripe is symbolism for doing something regrettable in Vegas.
Washington Capitals
https://twitter.com/Capitals/status/877353458055204864
Giles: A golden chance to wear the alternates from the past three seasons went to waste.  
Ben: I'm beginning to think the Capitals are disappointing their fans out of sheer habit now.
Winnipeg Jets
https://twitter.com/NHLJets/status/877351851687129089
Giles: Same jerseys for the Jerts. 
Ben: The Selanne-era jerseys aren't coming back, so I guess these will do.
---
Never Miss an Episode of Giles & The Goalie!