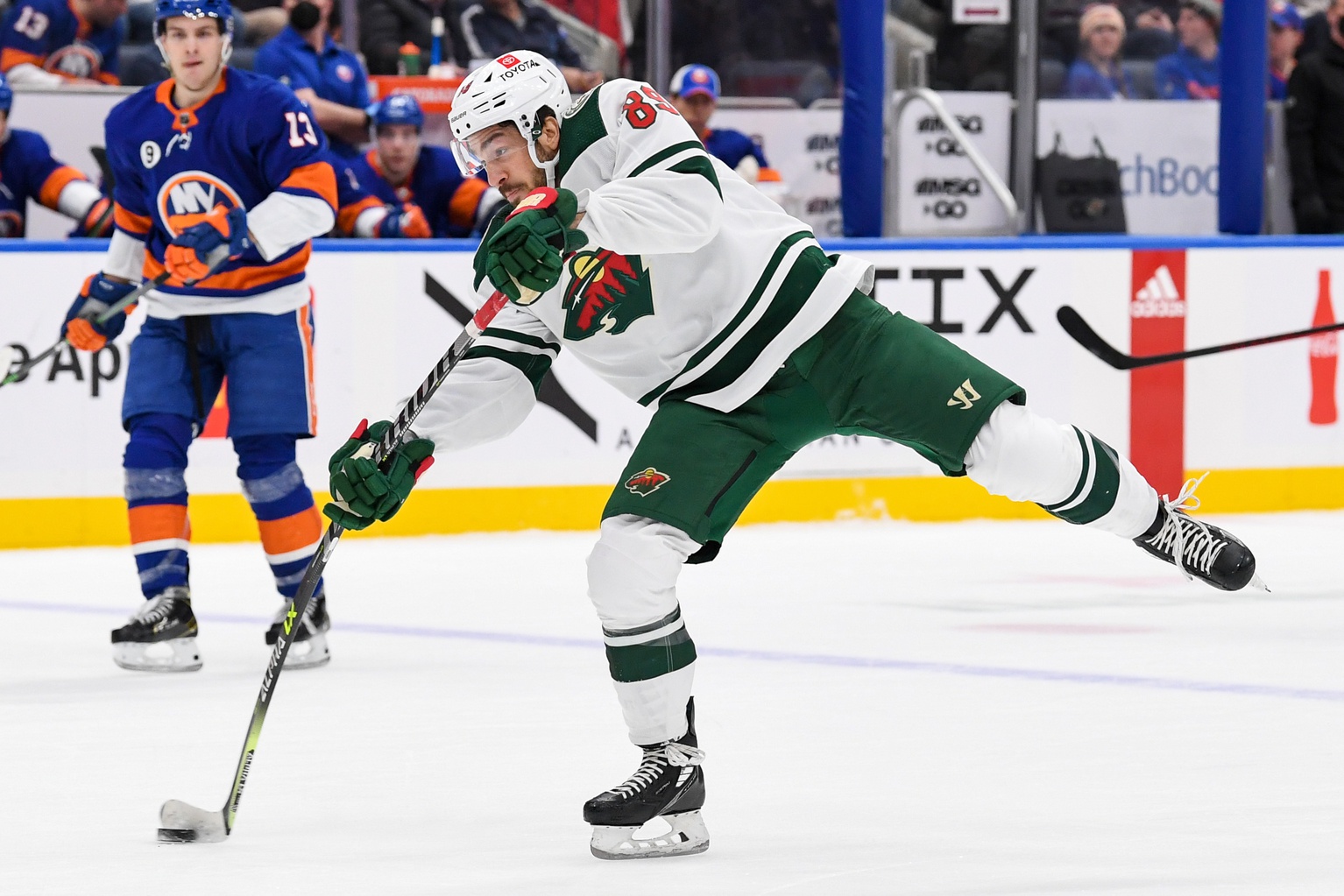 The Minnesota Wild had a horrendous Canadian road trip, going 2-1-1 to split against non-contenders in the East. Them they had a disappointing end to Mikko Koivu's number retirement night. During the last month, just about everything that could go wrong has for the Wild. They went from being in the driver's seat for second place in the Central to a potential wild card team in less than 30 days. The feeling around the team shifted drastically in a short amount of time.
Of all the issues plaguing the club, Freddy Gaudreau's play is not one of them. In the last few weeks, Gaudreau has been one of Minnesota's better players. The Wild brought Gaudreau in as a cheap depth option last offseason. Now he is seizing the opportunity to play in a top-six role alongside the sensational wing duo of Matt Boldy and Kevin Fiala.
Gaudreau, 28, has spent most of his career bouncing between the AHL and NHL. Early in his career, he played for Dean Evason in AHL Milwaukee, where he played a few games alongside Fiala. Since then, Gaudreau has played for the Nashville Predators and Pittsburgh Penguins. In Pittsburgh last season, he impressed in limited action, and former Penguins GM Bill Guerin must have noticed.

However, it took a while for Gaudreau to find his footing in Minnesota. Gaudreau had only 10 points (2G-8A) through his first 21 games this season. Gaudreau primarily played alongside Fiala, who had a similarly lackluster 15 points (3G-12A) during that time.
But both of their fortunes would change once the Wild called up Boldy. Since Boldy debuted in Boston on Jan. 6th, Fiala's 82-game pace is 91 points (33G-58A). Boldy's is 72 points (36G-36A), and Gaudreau's is 51 points (18G-33A).
In 25 games together, the trio has an expected goal rate of 54.2% and is outscoring opponents 19-12 when all three are on the ice. While Boldy and Fiala deserve the lion's share of credit for the offensive output, Gaudreau's defensive contributions to the line cannot get overlooked. He plays the reliable, defense-first style that allows Boldy and Fiala to play a more creative, risk-taking game further up ice.

The Carolina Hurricanes game in mid-February was Gaudreau's coming-out party this year. He scored and assisted Fiala on a great effort play.
That was the first of several convincing performances for Gaudreau lately. He added another goal in Toronto and netted a huge goal in Philadelphia a week-and-a-half later.
There's not much to smile about in Minnesota right now, but Gaudreau's turnaround is something to savor. He went from a replacement-level depth forward to a vital member of the Minnesota top-six. His underlying numbers leave much to be desired, but his recent play suggests they'll improve before the end of the season.

It looked like Minnesota would target a high-end rental before the trade deadline next Monday, but the growing sense is that's no longer the case. It also doesn't appear that Guerin won't promote Marco Rossi anytime soon, so the fix to the team's issues will have to come from the current roster. That means that Gaudreau will have to sustain his solid play, perhaps more, if the Wild want to make any sort of playoff run this spring.
Does Gaudreau have the profile to center a top-six scoring line deep in the playoffs? Probably not. But as long as there's no other capable center to plug in between Fiala and Boldy, it's his job to keep.
Yes, the season outlook is rather bleak. The Wild were punching above their weight class for most of the season. Now it's finally catching up to them. If there's a silver lining, it's that Gaudreau has emerged as a reliable option in a below-average center corps. He'll have to continue his strong second half, and he will undoubtedly have to elevate his game even more before the season ends.