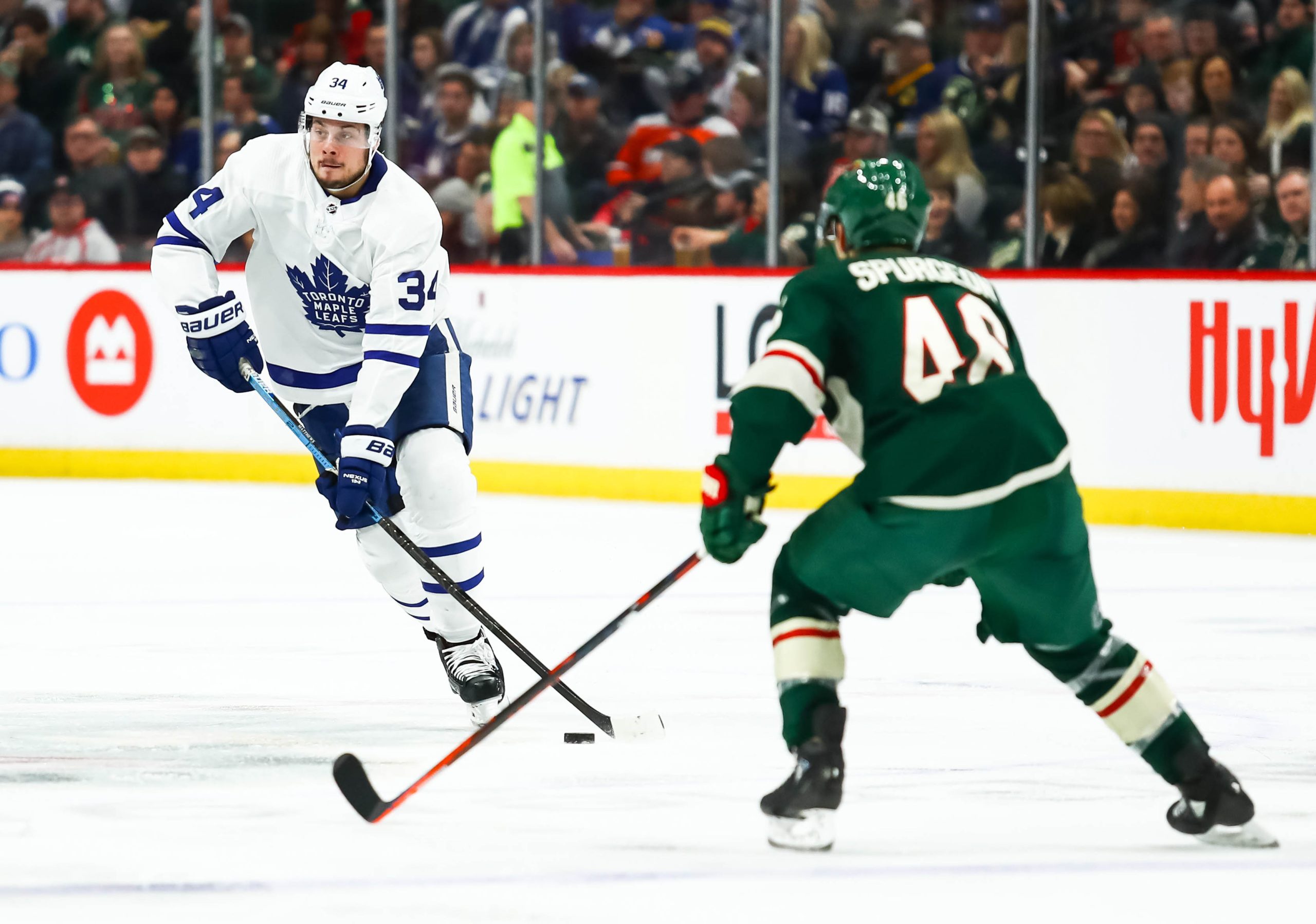 As the offseason draws nearer which would bring trade season upon the NHLJared Spurgeon could be on the move this summer as he currently stands as Minnesota's most valuable trade asset heading into the offseason.
Spurgeon, 30, is entering the final season of his four-year contract extension that he signed back in 2015. While Spurgeon has made it clear he would love to remain in Minnesota beyond this final year, he also could net Minnesota and general manager Paul Fenton a decent haul of assets that could help facilitate the Wild's retooling of the roster.
Say Fenton does decide to entertain offers on Spurgeon, who would be the most likely candidates to come calling? Let's take a look at the teams most likely to take a run at the Wild's right shot blueliner.
Toronto Maple Leafs
After another first-round playoff exit, the pressure is cranking up in Toronto to win with their exciting roster. The one glaring omission on this Leafs team is atop the depth chart of right-shot defensemen, which Spurgeon no doubt would fill.
Toronto boasts a great young crop of forwards and could use the likes of William Nylander and/or Kasperi Kapanen to entice the Wild into trading Spurgeon. Toronto is without their first-round pick in 2019 as they used their pick in the Jake Muzzin trade. If Minnesota was also looking for another first-rounder in the deal they would get one from Toronto in 2020 or beyond.
New Jersey Devils
Another team that poses to be very exciting up front -- especially after drafting Jack Hughes next month -- but is lacking a number one defenseman on the right side. The Devils will no doubt be in the market for finding one, whether that is through trade or free agency.
The problem for the Devils and the Wild will be New Jersey not wanting to part with center Nico Hischier, who no doubt will be asked about from the Wild's point of view. New Jersey does have some other good forward prospects -- Jesper Boqvist, Joey Anderson, Michael McLeod -- but will the Wild value them highly enough to warrant a trade for Spurgeon?
Philadelphia Flyers
Aside from the obvious fact that current Flyers general manager Chuck Fletcher was the one who picked Spurgeon up off the scrap heap nearly 10 years ago when he was in Minnesota, the Flyers are another potential suitor for Spurgeon's services.
Philadelphia is in need of a right shot defenseman and currently has just two defensemen signed past 2020. The Flyers have one of the deepest prospect pools in the league, and if they felt the deal was right could also dangle the No. 11 pick in a potential deal with the Wild -- who draft right behind them at No. 12 -- as ownership is getting anxious for a winning team.
Edmonton Oilers
No, Connor McDavid or Leon Draisaitl won't be in any trade package, but you can bet new general manager Ken Holland would love to give his blueline a facelift as the Oilers again finished in the bottom third of the league in goals allowed this past season.
The Oilers don't have much to give the Wild back of players who are currently on the NHL roster, but they could use Evan Bouchard -- a 19-year-old right shot defenseman -- or Kailer Yamamoto as a starter in any deal. Again, the Oilers might not be the most compatible team with Minnesota, but don't rule them out for taking a run at the Edmonton native Spurgeon.
***
Again, it's not a certainty that Spurgeon would be traded this summer. But as the most valuable asset Fenton has at his disposal he certainly could pull the trigger if the right offer came along -- you would hope more than just a hockey trade. Spurgeon's desire to stay might sway the Wild general manager to give out an extension over trading the defenseman, but you never know.
Also in trading Spurgeon, the Wild would have Matt Dumba elevated up to top pair on the right side -- a place he was played this past season anyway -- but would leave a hole in the top four as Nick Seeler or Greg Pateryn suddenly would be elevated up to that spot.
There would be work to do for Fenton on filling Spurgeon's shoes, which he could certainly address in a trade should he go that route.
---
Never Miss an Episode of Giles & The Goalie!