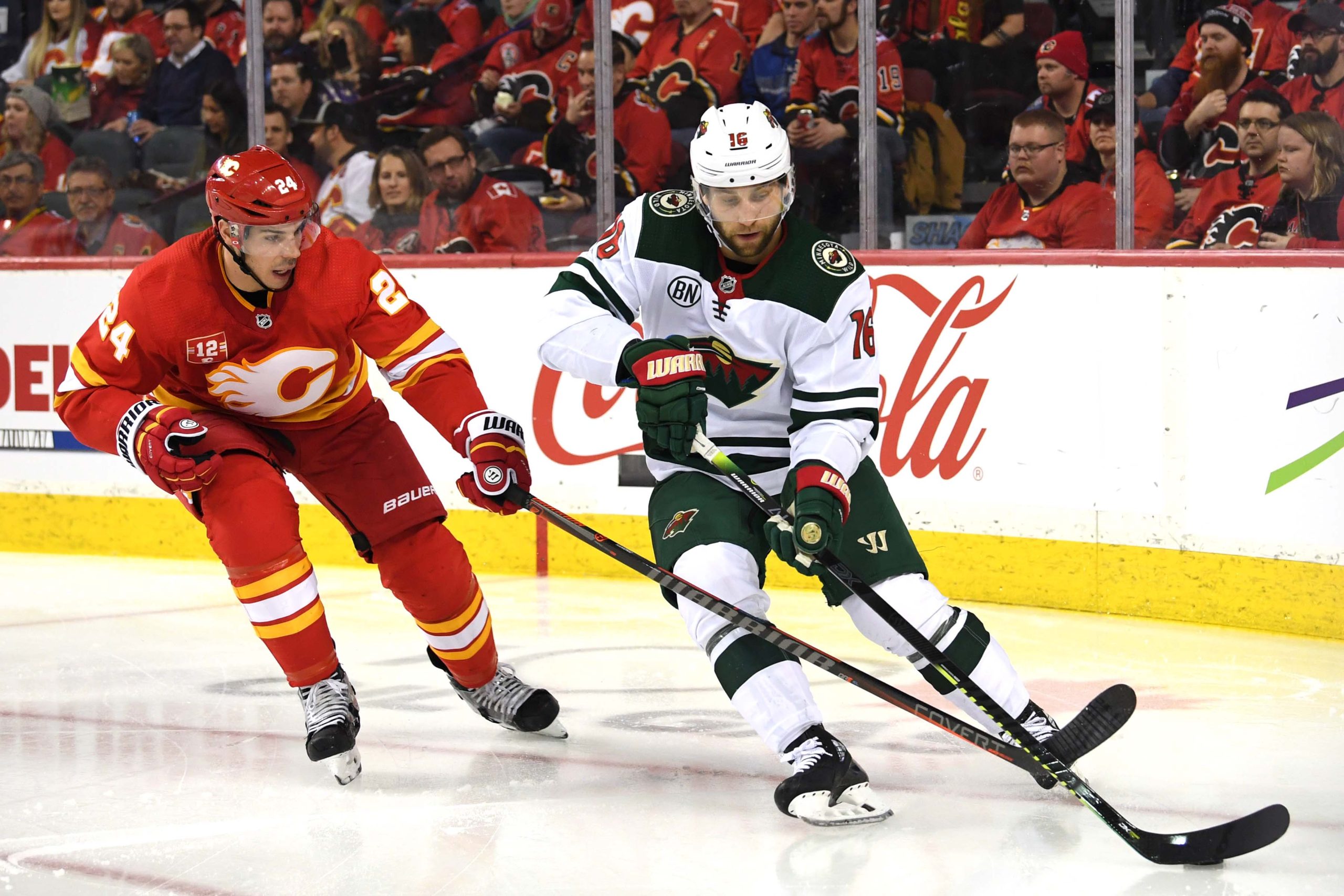 As mentioned earlier it appears that it is not a matter of if Jason Zucker will be traded from the Minnesota Wild, but when. While general manager Paul Fenton has already tried on three occasions to trade Zucker, he will no doubt unload the 27-year-old winger before his modified no-trade clause kicks in on July 1.
Who are the teams that could step up and make the trade for Zucker before July 1? Let's look at some possible options.
Pittsburgh Penguins
Pittsburgh has been out front already as trying to trade for Zucker when a trade between the Wild and Penguins fell apart last month due to Phil Kessel vetoing the trade. The trade may have been thought to be dead but TSN's Bob McKenzie speculated on his most recent podcast that Zucker to Pittsburgh may still be revisited in a one for one deal with Kessel. Pittsburgh is in need of a scoring left winger like Zucker so don't rule out the Pens as coming back into the mix.
Calgary Flames
Again, this is another team that already publicly nearly traded for Zucker at the last trade deadline, but still could be in the mix to acquire the winger again. Per The Athletic's Michael Russo, the Wild and Flames have talked about Zucker in a deal with Michael Frolik and/or Sam Bennett. Calgary finished second in the league in goals scored this past season and adding Zucker would be an embarrassment of riches for them.
Vancouver Canucks
There has not been a direct link between the Canucks and Wild for Zucker, however, Vancouver certainly appears to be one of the more active players in the trade market this summer. Vancouver is reportedly in the market for a defenseman but could look to add another scoring winger up front to complement Brock Boeser. Zucker's 21 goals and 42 points this past season would have finished fourth on the Canucks, a team that finished in the bottom third of the league in goals scored this past season.
Vegas Golden Knights
It seems strange that the Knights are in the mix here, but as long as the Vegas native Zucker plays, it's possible there would always be interest in bringing him home to Sin City. The Wild have reportedly talked to Vegas about Zucker, but there would have to be some other moves on the Knights' part to free up some cap space as they enter the offseason already over the $83 million cap for 2019-20. Jonathan Marchessault is reportedly the player Vegas could send in return, which would free up a spot in the top six for Zucker at left wing with his hometown team.
Arizona Coyotes
It was an almost for Arizona this past season, as they finished just four points outside of a playoff spot in the West after going down to the wire with Colorado. A big need for the Coyotes this summer is goal scoring, as the team finished 27th in the league in goal scoring. What better way to upgrade your goal-scoring department by acquiring Zucker, who has tallied 21-plus goals in four of the past five seasons. Zucker's 21 goals this past season would have lead Arizona, who would no doubt instantly slot him in as their top line left wing.
---
Never Miss an Episode of Giles & The Goalie!
http://zonecoverage.com/wp-content/uploads/2016/05/itunes.jpghttp://zonecoverage.com/wp-content/uploads/2017/05/Podcast-header-Image-City-1.jpg