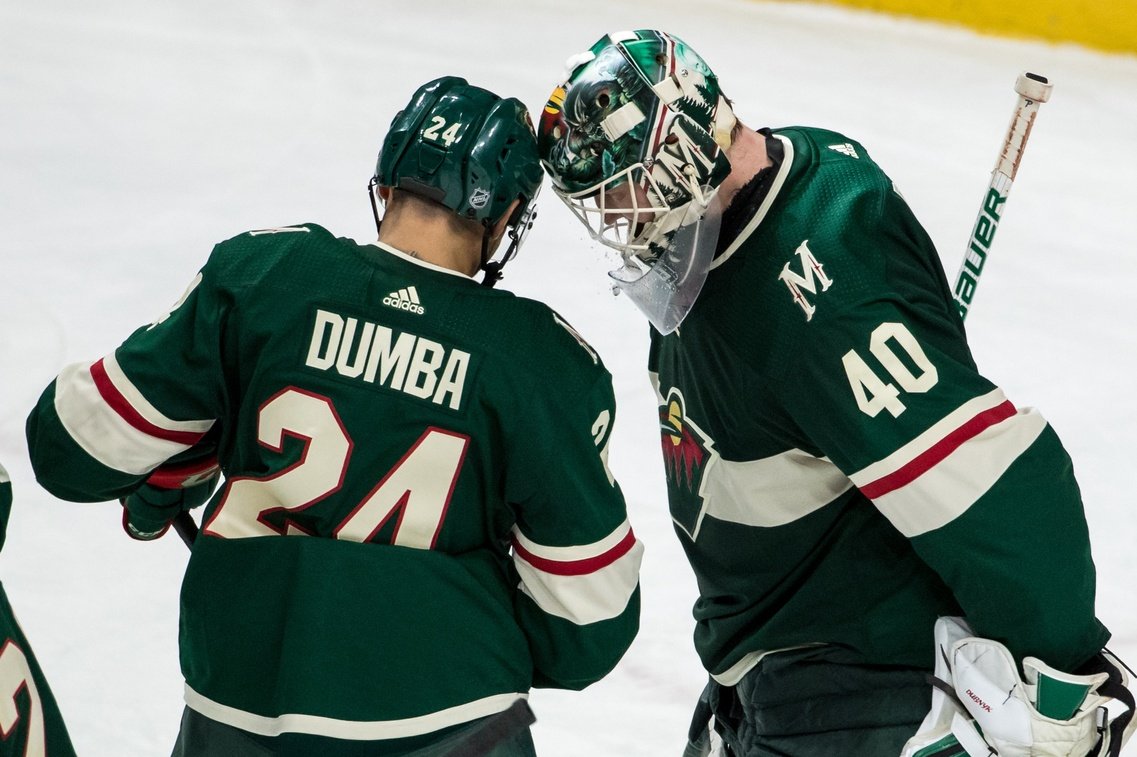 If you have been reading the pundits (including this so-called pundit), the Wild are not being given much of a chance against the Winnipeg Jets in their playoff series.
But let's be real, it is playoff hockey and there is always a chance.
[insert so you're telling me there's a chance-dot-gif here]
So if the Wild want to have a chance to upset the mighty Winnipeg Jets, you will be told by the head coach -- and he is right -- that it is a team effort. But looking more closely, here are five players on the roster who need to make big impacts in this series to help move the Wild along.
This one is blatantly obvious but it has to be said anyway. Devan Dubnyk will need to win this series for the Minnesota Wild.
Dubnyk only started two games against the Jets of the four this season -- Alex Stalock started the others -- and he was able to collect the only win for the Wild against Winnipeg this season. The win had Dubnyk stop 32 of 33 shots as the Wild cruised to a 4-1 win thanks to two Matt Dumba goals.
That performance on Jan. 13 by Dubnyk will need to be emulated in every game this series.
The Jets are an offensive juggernaut. They were second in the NHL in goals scored this season (277) and have incredible depth throughout their forward lines. Shots will be coming in often at the Wild goaltender, as speed and skill in this series favor Winnipeg.
To summarize, Dubnyk will need to pull a Jake Allen -- circa 2017 postseason -- in this series to give the Wild hopes of winning.
Ryan Suter is out. Jared Spurgeon is questionable for Game 1, and his overall health for the series even if he plays is skeptical. Those are the bonafide top two defensemen on the Wild depth chart.
So who comes in behind them?
Everyone's favorite blueliner, Matt Dumba!
Dumba will take hold as the number one defenseman for Minnesota in this series, and he needs to step up in a big way to fill Suter's shoes -- as discussed on the Giles and the Goalie podcast -- alongside his partner Jonas Brodin.
Even before the injury to Suter Dumba had been logging 26-plus minutes per night as he filled in on the right side of the top pair in Spurgeon's absence. In the final 19 games of the season -- spanning March and April -- Dumba tallied 16 points (4G-12A) and was easily the blueline's top scorer.
Sure, he makes an occasional turnover, but everyone does. Just hope he doesn't have a repeat performance of this:
ALSO READ: Confirmation Bias & Matt Dumba
This was also brought up on the Giles and the Goalie podcast, but Joel Eriksson Ek will need to play a big role in this series.
With the vast depth that Winnipeg has at forward, the Wild bottom six is going to get stuck out there against some unfavorable matchups at times and they will need to get some production in this series.
Enter Eriksson Ek, who can clean the slate after an up and down regular season.
Mainly centering the bottom line with Marcus Foligno and Daniel Winnik, Eriksson Ek did pick up his game in the final 32 games as he tallied nine out of his 16 points during that stretch. The line of Foligno-JEE-Winnik also picked up their game in the final two weeks of the season and Bruce Boudreau is rewarding them heading into the playoffs by not splitting them.
The bottom line needs to have a strong series, and it starts with Minnesota's 2015 first-round pick.
He started out the season rolling out of the trunk of his SUV and now he is a critical player in the Stanley Cup Playoffs.
After missing half the season with back surgery, Parise has cranked his game up a few notches since March 1 rolled around. The Bloomington native tallied 10 goals in March and added two more in April, giving him 12 goals in the final 18 games of the season.
With a great goaltender in the net for Winnipeg -- Connor Hellebuyck -- during the series, the Wild need Parise to continue his torrid goal-scoring pace as he makes his living parked out front of goaltenders.
Because of the injury to Brodin is now the de facto No. 1 left shot defenseman on the Wild. Brodin will also not be split from Dumba, as the pair has been really solid from November on this season.
So what that means is that when Jared Spurgeon plays in this series, either Carson Soucy or Nick Seeler will be paired alongside him. And both will need to be razor sharp, as Spurgeon might not be at 100 percent.
Bruce Boudreau has spoken very highly of both since their separate recalls from Iowa, and will give the 6-foot-5 Soucy the Game 1 nod next to Spurgeon -- should he play. But should Soucy falter, Boudreau could very well bump up Seeler to Spurgeon's left side.
Both are more of the defensive type, but they also have been great at moving the puck up the ice as well. Also in a series against Winnipeg, things could get a bit more physical which play into the strengths both players.
---
Stay up to date on the Wild with the Giles & the Goalie Podcast!