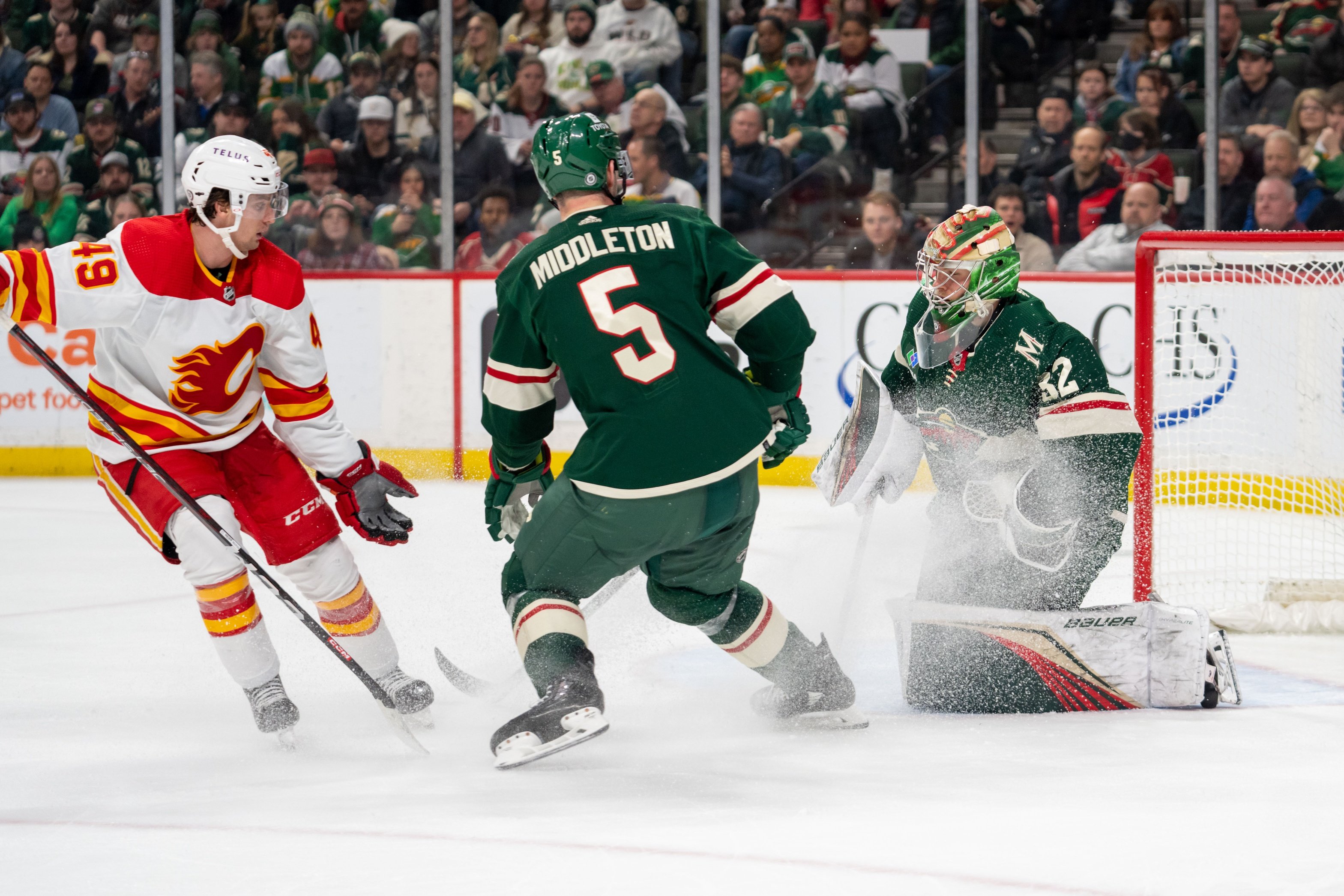 Image courtesy of Image courtesy of © Matt Blewett-USA TODAY Sports
Filip Gustavsson has been something else for the Minnesota Wild this season. Coming in as a once-highly regarded goaltending prospect and the trade return from the Ottawa Senators for veteran netminder Cam Talbot, the expectations several months ago was just someone that can adequately support Marc-Andre Fleury as the backup.
Well, it turns out he just took over the starting role and is now having one of the best seasons in Wild history from a goaltender. With his well-deserved .932 save percentage and 2.01 goals against average being both the second-best markers in the entire NHL, he has burst onto the scene as one of the best at just 24 years old.
Minnesota is getting buckets of wins with him in between the pipes and even if it was a little nerve-racking at times, they got another one against the Chicago Blackhawks on Saturday afternoon.
This recent streak of not playing so well against teams at the bottom of the standings — they lost in a shootout to the Flyers the game before — has not fazed Gustavsson one bit and he believes this team just welcomes the challenge of better teams, like when he stood on his head against the Devils last week.
"The New Jersey game we played against a really good team," he said of Tuesday's wild 47-save win. "It's weird. It's like we play a little better against better teams. So, I think we should be fine on Monday against Seattle. I think we're going to be back in our groove and the right mindset."
The Wild have a tough stretch of games to close out the regular season. Six of their nine remaining games are against teams currently in a playoff spot and that includes a back-to-back against a Vegas Golden Knights team that have won eight of their last 10, facing the Colorado Avalanche, and even the non-playoff teams include the ever-annoying St. Louis Blues and Nashville Predators; two teams that are not just backing down.
They are at least currently first in the Central Division, but who knows for how long.
It is good that Gustavsson is feeling ready to take on any team in the world, and he credits the team in front of him for that.
"I feel like I've played good," he said. "(Some) of my best hockey probably (as of) late. It's fun to play in front of this team. It feels like they help with my weaknesses a little bit. Give up some rebounds, they're always there. They steer the guys to the right angles for me. It's fun to play in front of them.
"I played against Minnesota last year, when I was in Ottawa and I knew how good of a team it is. Being a goalie, probably 90 percent mindset and it's all about the mental game. If you can not have a ghost in your head, it's fun to be a goalie and it's easy."
Maybe the phrase goaltending is easy isn't the best way to put it, but playing being the Wild is certainly easier than other positions around the league.
According to MoneyPuck, the Wild have allowed the sixth-fewest expected goals against at 5-on-5 this season, and when going on a per-hour basis, Minnesota shoots up to third-fewest. They are simply above-average in almost every defensive category you can find.
But even with the built-in defensive capability this team has, Gustavsson has been saving a whole lot of extra scoring chances that an average goaltender would not.
For more visual learners, that's a whole lot of blue (which is good). Essentially, when Gustavsson is on the ice, there have been a total of 88.6 expected goals so far this season, as he's faced 1,397 unblocked shot attempts, according to HockeyViz. That is still a lot of shots and chances that could have ended up in the back of the net, but Gustavsson has allowed just 67 total goals and especially is way above league average when it comes to high-danger chances around his net. Among goaltenders this season that have played at least 13 games, Gustavsson ranks seventh in high-danger save percentage (.856).
To put it simply, he's been very good and it is not just because he's playing behind the Wild defense. It helps, but it is not everything.
With the remaining games ahead of them, Minnesota just needs Gustavsson to keep on doing what he is doing and he seems pretty ready for the challenge.