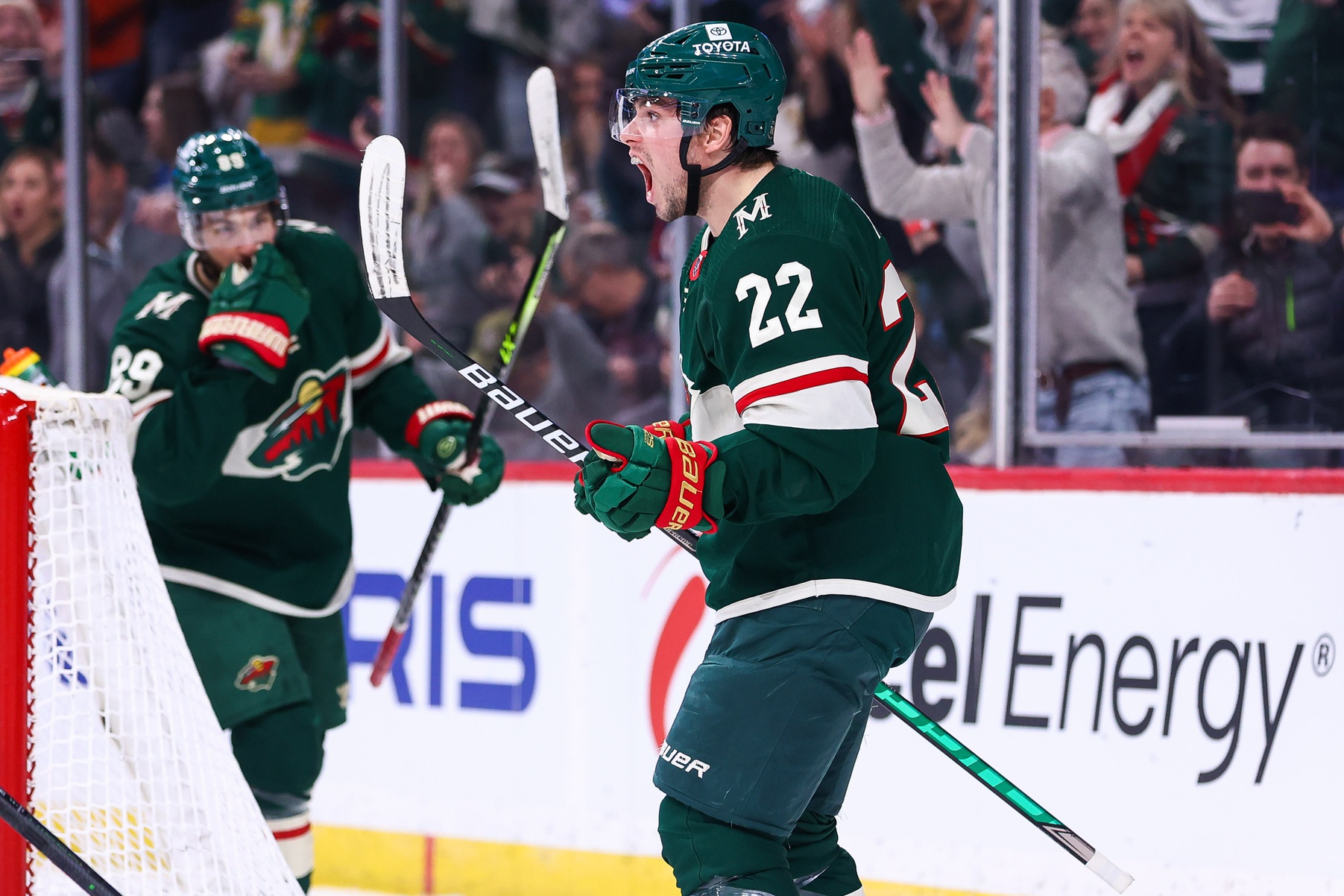 Bill Guerin must do whatever it takes to keep Kevin Fiala in St. Paul this offseason. It may not seem like it right now, but the Minnesota Wild can compete for a Stanley Cup during the three seasons of dead cap. The team is young, talented, and has a war chest of prospects to integrate into the squad over the next few seasons. But trading away arguably its second-best player makes legitimately contending much more difficult.
In most cases, a player with Fiala's skill and pedigree wouldn't have much trouble getting an extension. Yet, the general sense is still that his days with the club are limited. Last summer, Guerin was reluctant to sign Fiala long-term, taking the unconventional route of club-elected arbitration before eventually landing on a one-year extension to keep him as a restricted free agent this coming summer. It's not just Guerin who seems to treat Fiala strangely. Dean Evason also appears to apply a different standard to Fiala than other players.
Most Wild fans know that Fiala is a talented player. The general consensus going into the season seemed to be that he's a good player but that his inconsistent play, lack of defensive output, and hypothetical asking price this summer are not worth the long-term commitment.
But just how good is he actually? According to Corey Sznajder's AllThreeZones project data, he may be the only truly elite forward not named Kirill Kaprizov on the team.
Sznajder's data differs from other analytical websites because it's not based on expected goals, goals above replacement, or any other statistical model. Sznajder hand-tracks "mircrostats" like zone entries, chance creation, and high-danger passes, and plots the results on digestible charts.
So what do these scatter plots tell us about Fiala's game? And more broadly, how do they tell us Fiala is worth a hefty payday?

As expected, Fiala and Kaprizov are the only two Wild forwards above the league average in both shots and primary shot assists per 60. For some comparison, players with similar numbers to Fiala include Mikko Rantanen, Filip Forsberg, Kyle Connor, and William Nylander. The Wild create very little offense in terms of pure volume without either Fiala or Kaprizov on the ice.
But volume doesn't necessarily equate to quality right? So let's change that chart to scoring chances created.

Fiala and Boldy are in some elite company in chance creation. Only Vladimir Tarasenko and Auston Matthews generate more chances per 60 than Fiala. That's even more impressive considering the rotating cast of linemates Fiala had to begin the season. Since Matt Boldy came into the mix, they've been spectacular. Sure, Boldy has looked downright bad lately, but they're still Minnesota's most productive line most nights.
What about his transition play? Let's take a look at some important transition microstats.

Yet again, Fiala and Kaprizov are the only Wild players above league average in both metrics. For some comparison, Fiala's 77.1% controlled entry rate is higher than Connor McDavid, Leon Draisaitl, Johnny Gaudreau, and Sasha Barkov -- all exceptional play-drivers in their own right.
It's not just that Fiala is successfully creating zone entries, it's that those entries are leading to chances for as well. Fiala averages 5.3 entries that lead to a scoring chance for every hour this year. That's in the league's top-20 and right around where Trevor Zegras and Jack Hughes are.
One of the main criticisms of Fiala is the giveaways, particularly in the neutral zone. The truth is that most elite offensive players turn the puck over often. This season, Fiala's 24 five-on-five giveaways are good for 60th among all forwards (per NaturalStatTrick). Some great players, including Kaprizov, are far ahead of him in this regard. When Fiala creates as much off the rush as he does, the turnovers are something you have to live with.
The bottom line is that the Wild have to find a way to keep Fiala in Minnesota, even if that means paying him closer to Kaprizov money than Eriksson Ek money. Losing one of the most productive and talented forwards means taking a big step back, even with Marco Rossi becoming a full-time NHLer next season.
There are very few ways to win a Fiala trade. Just look at the return the New York Rangers got for Pavel Buchnevich, Fiala's closest comparable, this summer. Instead of allocating the $5.8 million to sign him, they traded him to the St. Louis Blues for Sammy Blais and a 2022 second-round pick. Blais is a replacement-level player and the pick will likely end up a late second. Buchnevich is having a career year in St. Louis, while the Rangers are an Igor Shesterkin injury away from being a sub-500 team.
Trading Fiala would signal a major step back to both the team and its fans. It's just not feasible to replicate what he brings to the offense, especially with $12+ million in dead cap.
In his latest batch of player cards, The Athletic's Dom Luszczyszyn has Fiala's market value at an estimated $8.6 million. If Fiala is willing to take a long-term deal in the $6-7 million range, Guerin should be all over that. Whether he will do that is a different story, but you simply cannot lose a player of Fiala's caliber for spare change, even if that means losing a depth piece or two. So much of the Wild's offense springs from Fiala's stick, and the Wild can't afford to lose it.