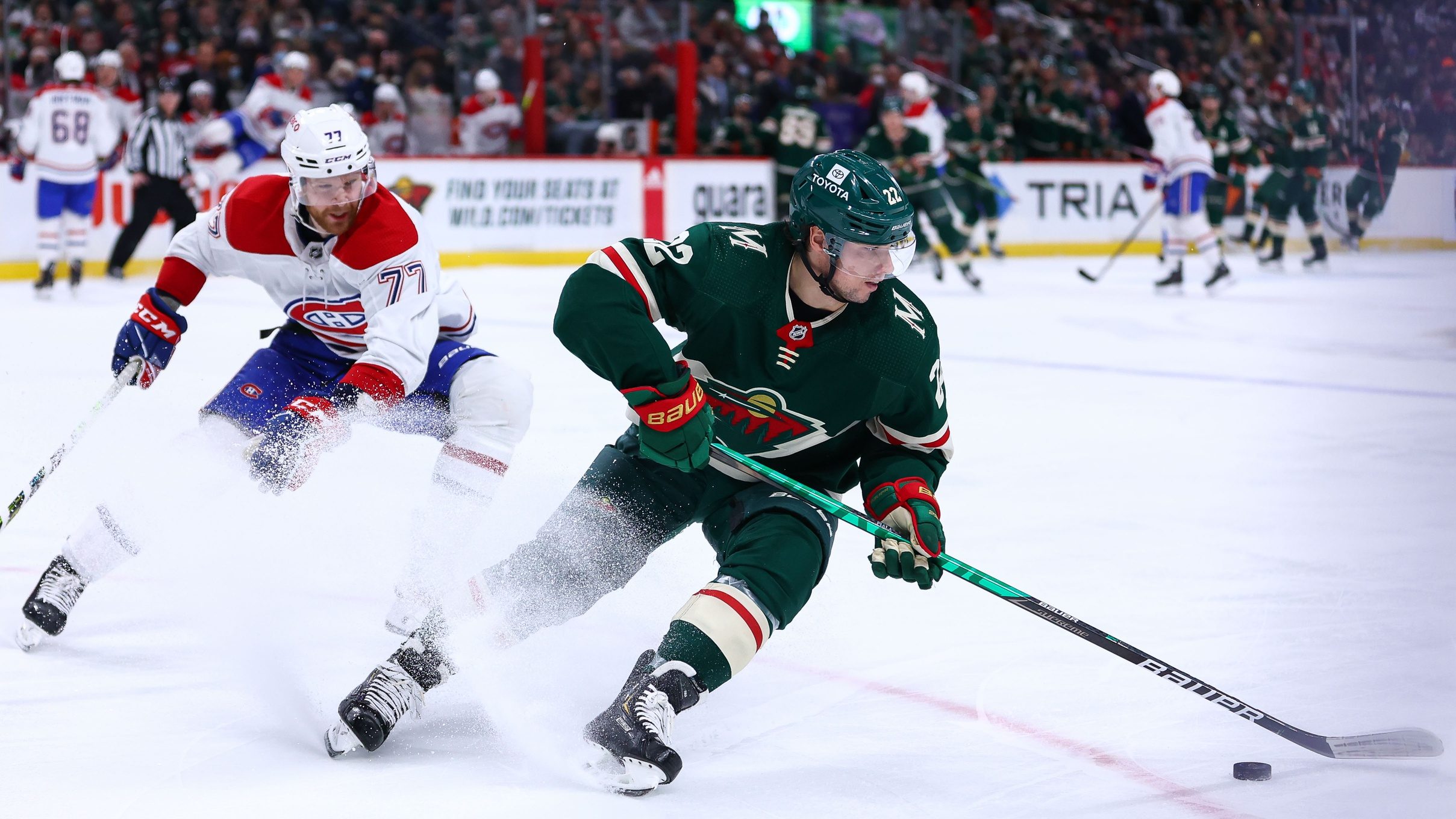 Kevin Fiala came into this season hungrier than ever before. He led the Minnesota Wild over the previous two regular seasons with 43 goals and 94 points. Despite that, the Swiss native narrowly avoided arbitration last off-season by accepting a 1-year, $5.1 million deal. With a proven history of goalscoring, and Stanley Cup Final experience to boot, Fiala was undoubtedly hoping for a longer-term deal and more money.
After signing his extension, he saw Kirill Kaprizov sign a 5-year, $45 million deal after only 55 career NHL games. Beyond a doubt, the seven-year veteran had to feel a bit slighted.
With this chip on his shoulder, Fiala struggled to keep his frustrations in check throughout his early-season droughts. He started the season on the right foot by recording a goal and two assists in the first three games. After that, Fiala simply struggled to find the back of the net consistently. He failed to record his second goal of the year until the 12th game of the season. Keep in mind that he is a shoot-first forward that has averaged 0.83 points per game the last three seasons.
Fiala's inability to score wasn't for lack of trying. His scoring chances were plentiful regardless of which linemates were beside him. So much so that he led the Wild in shot attempts for the first few weeks of the season. He just couldn't sneak the puck past the netminder on any given night.
Even after he tallied that second goal against the lowly Arizona Coyotes, the goals continued to be few and far between. In the first 25 games of the season, Fiala collected 15 points on three goals and 12 helpers. The winger sat third on the team in total individual shots on goal with 87. Only Kaprizov and Ryan Hartman attempted more over that span.
Three goals on 87 shots equate to a rather lackluster 3.4 shooting percentage (Sh%), which is well below his career average of 10.9%. Had his career shooting percentage held up in those 25 games, Fiala would have been expected to score about 9-10 goals.
Fiala picked up seven points over his next seven games, but his turning point appeared to truly come on Jan. 8 against the Washington Capitals. A lot went wrong through the first two-and-a-half periods of that matchup before things went right. With Wild down nine starters due to injuries and COVID absences, Fiala made it more difficult by committing three reckless penalties within a stretch of 4:27 toward the end of the second period.
As a punishment, Dean Evason planned on benching Fiala for the entirety of the third period. It wasn't until Fiala apologized to Evason and showed his commitment to his teammates that he could rejoin the action.
This is when things seemingly started to click for the talented winger. With under a minute left in regulation, Fiala won the faceoff that led to Mats Zuccarello's game-tying goal. He previously had seen nine faceoffs all season and was the winner of only two. In addition to that helper, he also added a goal in the shootout that helped seal the win.
After the game, Evason suggested Fiala may have taken that next step in his development by taking responsibility for his mistakes. Not only was Fiala continuing to mature in front of our eyes. But he was about to develop a level of chemistry with a linemate that has been missing since the Wild swapped Mikael Granlund for him in 2019.
Both Fiala and Matt Boldy have been electric since they started playing opposite each other. Boldy has since racked up eight goals and eight assists in 16 NHL games, including his first hat trick. Fiala has nine goals and 19 points over that stretch; Boldy was involved with eight of those points.
Heck, even Freddy Gaudreau, who is centering this line, has joined in on the fun. He has 10 points over this stretch, but only 10 in his previous 26. The addition of Boldy to the Fiala and Gaudreau duo has raised their collective game. However, something has clearly been different with Fiala ever since.
Fiala has been playing with a confidence and swagger that has eluded him throughout most of the season. It's easy to ooze with confidence when you score the 100th goal of your career while tying a franchise record by tallying a point in 12 straight games.
His luck is also rebounding. Over that stretch, Evolving-Hockey's expected goals stat estimates the Swiss native should have scored four goals in his last 16 games. Amazingly, he's more than doubled that amount. He's clawed his way out of an awful start, now with 16 goals on 14 expected goals. It's hard to score 30 goals in a year where you start with three in 25 games, but Fiala might just do that.
Wild fans are undeniably thrilled that the game-breaking winger has finally found his game. The rumblings that Bill Geurin should actively attempt to trade Fiala before the deadline are gone. Now the chatter mainly focuses on the fact that he may be pricing himself out of a respectable offer from Minnesota in the offseason due to their impending dead cap space from the Ryan Suter and Zach Parise buyouts. Regardless, the Wild will gladly ride this productivity for as long as the streaky forward can keep his current pace.