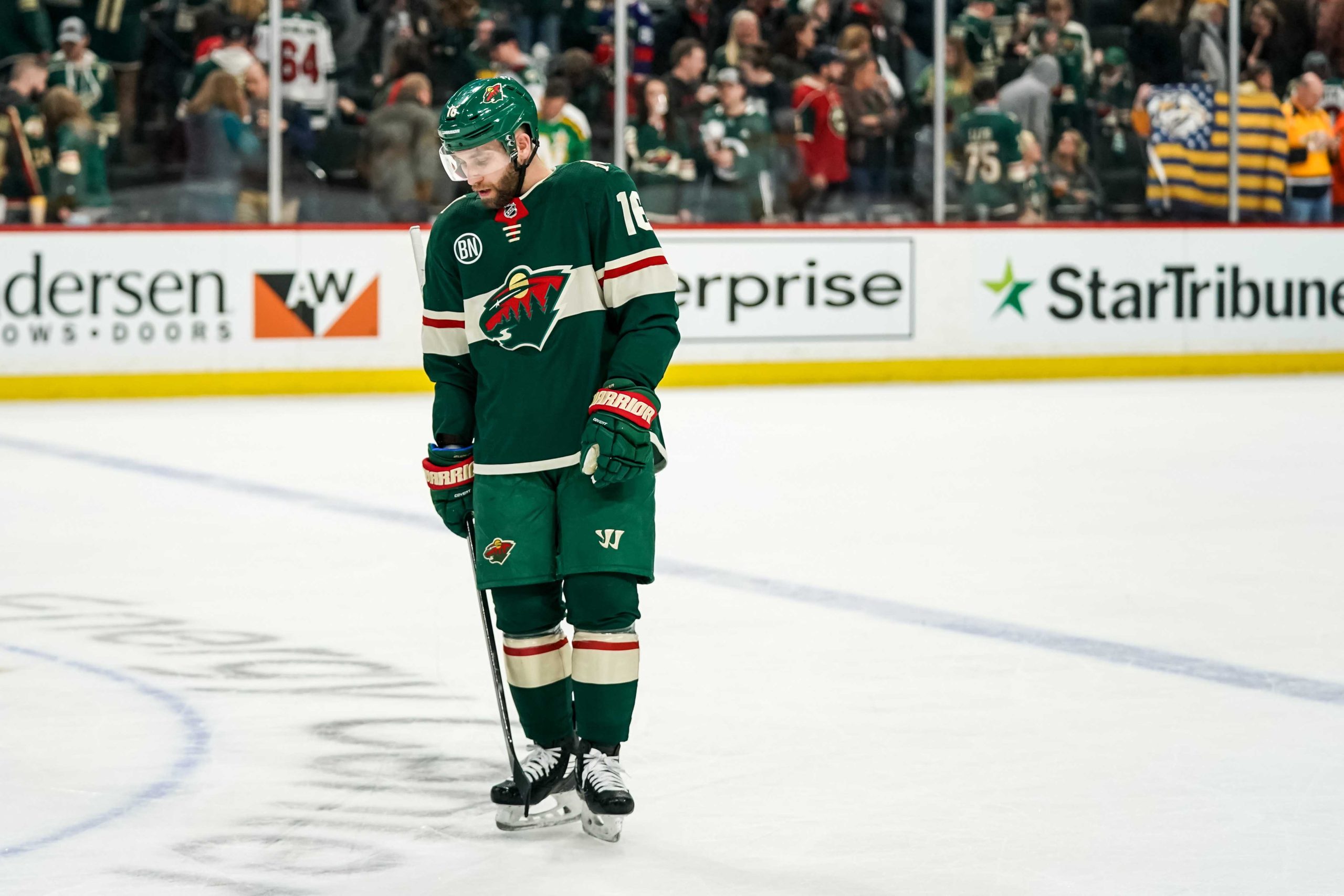 It has been no secret that Wild general manager wishes to trade forward Jason Zucker. After signing a five-year extension last summer, Zucker has been shopped for a majority of the past year despite GM Paul Fenton giving the forward said extension at a $5.5 million AAV.
Fenton was almost able to pull off a deal as Zucker was nearly dealt at the trade deadline this past February to the Calgary Flames in a highly scrutinized deal that would have seen Michael Frolik and a draft pick come back to Minnesota. The deal fell apart minutes before the deadline for an unknown reason and it led to Zucker closing out the year with the Wild.
Now as the Wild move into their offseason, it is highly likely that Zucker could once again be on the trade block as Fenton looks to continue his shakeup of the Wild roster.
Speculating on a radio hit Friday on Sportsnet 960 in Calgary, NHL Insider Elliotte Friedman said that the Flames and Wild could revisit the deal involving Zucker in the summer once again despite it falling apart back in February. "I think it's possible," Friedman said in regards to both teams coming back to the table.
If the Wild do indeed go back to the table in regards to Zucker, Calgary is not a great option. Certainly not if it involves Michael Frolik, who has only eclipsed the 20 goal mark twice in his career -- both in his first two seasons in the league back in 2009 and 2010.
Friedman speculated in that spot that the Flames could look to dangle a defenseman -- a point of depth for the team -- in order to maybe acquire some help up front. Unless the Wild go on and trade Jared Spurgeon, they appear to be set with their top two defensive pairings for next season.
Calgary is also going to be strapped to the cap -- due to having restricted free agents Sam Bennett, Matthew Tkachuk, and David Rittich needing new contracts -- and cannot afford to take on any salary in a trade. Heading into the offseason Calgary currently sits at $69.3 million on the cap with a projected $83 million cap next season. So if Zucker and his $5.5M AAV are to come to the Flames, the Wild would have to be getting almost equal salary in return so that Calgary could make ends meet.


[caption id=attachment_48767" align="alignnone" width="1588]

via Capfriendly.com[/caption]
The Flames are also looking to perhaps move on from bigger AAVs on their cap like James Neal or Frolik. Negotiations would seemingly start there and that is not an ideal situation for Minnesota, who badly needs scoring. The Wild finished the season with a lethargic offense and unloading one of their quicker more skilled wingers for aging players like Neal or Frolik would be another massive loss for Fenton, who has taken some big trade losses already in just one season at the helm.
Fenton is well within his right to try and trade Zucker before his limited no-trade clause kicks in on July 1. But he needs to try and create a market, which should be easy considering Zucker is just one year removed from a 33 goal season. Teams are always interested in a fast winger that has the potential to pot around 30 goals per season.
Would a team like Edmonton that has two 100+ point centers but no other offense whatsoever have an interest in Zucker? Pittsburgh appears to be on the verge of a shakeup, would they have interest in adding the winger? Though unlikely, Vegas could always come calling too if they felt so inclined.
The point is, Fenton needs to work the phones on this -- and if he handles that like he talks to the media, then Wild fans need to worry big time -- and drive the absolute best possible deal he can get for Zucker. Making another one for one trade, as he loved to do this past year, or go back to the well with Calgary would be another big loss for the Wild.
Outside of Spurgeon and Matt Dumba, Zucker shapes up to be the Wild's most tradeable asset this summer. Whiffing on a deal for him would further set back a roster that already has taken many this past season.
Just say no to Calgary.
---
Stay up to date with the Wild offseason
by listening to Giles and the Goalie!