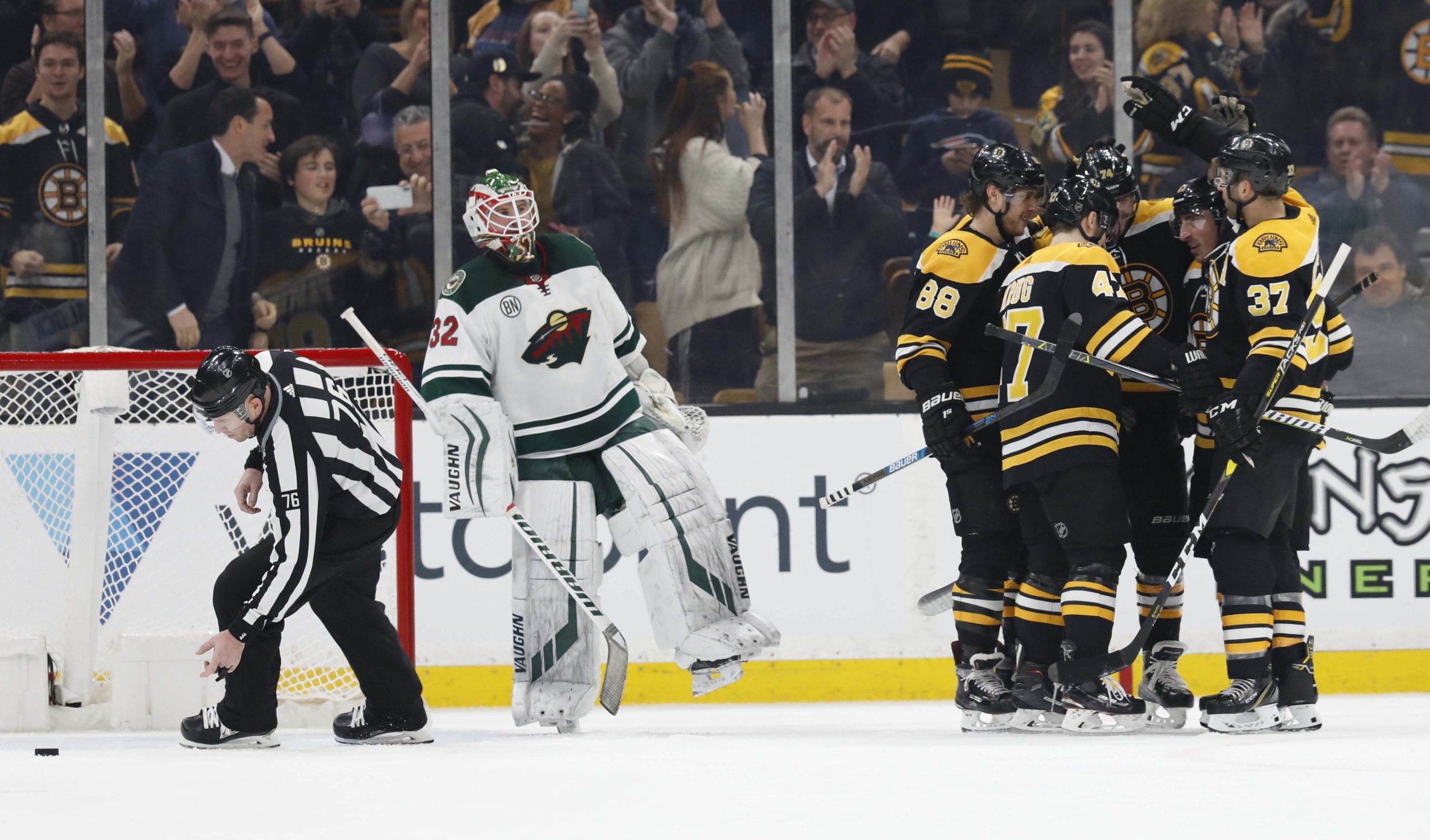 If you watched Tuesday night's Boston Bruins rout of the Minnesota Wild and thought to yourself, 'This team is no way making the playoffs,' you probably are not alone in thinking so.
But for as torrid as their stretch has been since the middle of November, the Wild were still holders of the final Wild Card spot in the Western Conference entering play Wednesday.
Anaheim gained a point Wednesday night putting them in the driver's seat of that final spot.
And while Tuesday night's game can probably be blamed on some travel issues, the Wild did have an otherwise successful road trip winning three of four games out East -- including a come-from-behind win against high powered Toronto.
They made up some crucial ground in the playoff picture, including inching their way back into a playoff spot.
Beginning Thursday night against Winnipeg, the Wild play eight games in a 14-day stretch before they get their break for the All-Star Game. In that crucial stretch of games, the Wild play some opponents they need to beat along with some teams they should be taking two points from easily.
Here is their schedule over the next two weeks:
Thursday, Jan. 10 vs. Winnipeg (first place in Central Division)
Sat., Jan. 12 vs. Detroit (third-worst record in Eastern Conference)
Mon., Jan. 14 at Philadelphia (second-worst record in Eastern Conference)
Tues., Jan. 15 vs. Los Angeles (worst record in Western Conference)
Thurs., Jan. 17 vs. Anaheim (in second Wild Card spot, one point ahead of MIN)
Sat., Jan. 19 vs. Columbus (third in Metropolitan Division)
Mon., Jan. 21 at Vegas (second in Pacific Division)
Wed., Jan. 23 at Colorado (first Wild Card Spot)
"I think we need to buckle up and play these eight games hard and have no excuses at the end of it," Jason Zucker told The Athletic after Tuesday's game.
Playing hard is one thing, but getting wins is another. The Wild need wins -- at least five out of eight would be preferred -- over this stretch as they try and secure their playoff spot in the West. They have the advantage of playing more games at home -- a place they typically play well -- and they also get some opponents who are getting close to looking to the draft rather than worry about a playoff chase.
The game against Anaheim on Jan. 17 will have the most implications on their playoff chase as the Wild and Ducks are neck and neck for that last Wild Card spot in the Western Conference. The Ducks have been eviscerated by injuries this season, and are currently in a rut as they have lost nine of their past 10 games going into Thursday.
Colorado -- Minnesota's opponent in the final game before the break -- has slumped recently as well and has dropped to the first Wild Card spot now only sitting three points ahead of the Wild with Minnesota having a game in hand. The game could also have huge implications if the standings hold as they are now with both teams battling to hang on for playoff spots.
[caption id=attachment_46104" align="alignnone" width="2460]

Via NHL.com[/caption]
Minnesota has not fared well in Denver in recent seasons, so hold on to your hats if both teams enter the game with similar records.
The truth is, this stretch is crucial for Minnesota. If the Wild can have success and hold/solidify their ground in the playoff picture, they can get eight days off and come back refreshed and ready for the stretch drive in a very favorable spot.
To get a good stretch, Devan Dubnyk will have to be the Wild's savior once again while players like Jason Zucker and Nino Niederreiter need to bounce out of some prolonged slumps that they are currently in. Minnesota has gotten more of a balanced attack offensively as of late, but they will need all hands on deck to be successful in the next two weeks -- and the remainder of the season.
If they flounder during this stretch and lose ground, then they come back from the eight-day break needing to scratch and claw their way back into the playoff picture. Again. You can only scratch and claw your way back in so many times in this league.
Also crucial during this stretch will be the fact that general manager Paul Fenton will more than likely make some final decisions on what he wants to do with his team prior to the trade deadline. A bad couple of weeks and Fenton may look to sell prior to the deadline. Sure, he still might not have much to sell but he would still probably sell what he can to start putting his mark on the team.
More to the point, with a good stretch in the final two weeks, the Wild can make their move for securing a seventh consecutive playoff appearance. For their trials and tribulations this season, the Wild have caught a little bit of luck thanks to some teams falling off the map in the past weeks -- looking at you Edmonton, Anaheim and Vancouver -- and can now capitalize with their "veteran" experience on the roster.
Whether you want the Wild to make the playoffs or not, they can make their serious push to get there once again starting Thursday night against Winnipeg. One way or another you will probably look back on this stretch as a make or break run for the Wild this season.
---