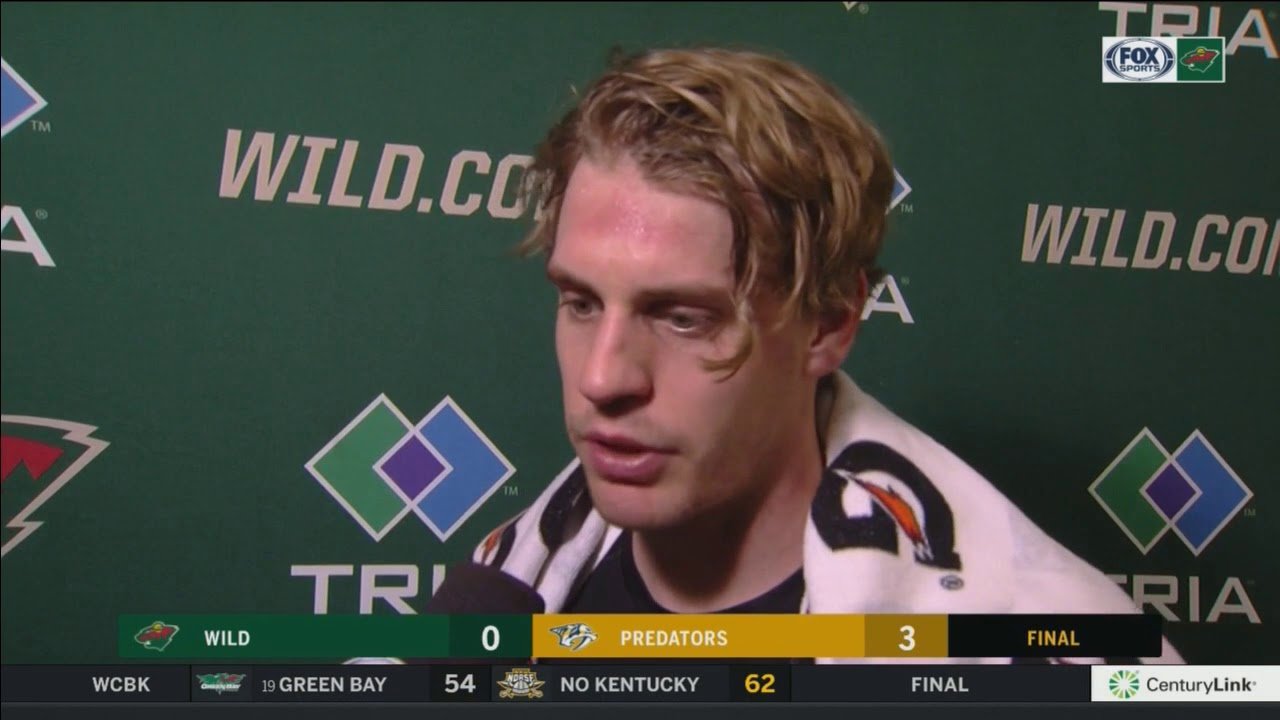 Zach Parise is slated to make his season debut on Tuesday night. Nino Niederreiter is expected to return to the lineup later this week after recovering from an ankle injury.
With these two players finding their way back into the Minnesota lineup this week, the Wild will be at full strength for the first time in 2017-18.
As Minnesota opens play Tuesday night, it does so nearing the halfway mark of the season. The Wild also do so just sitting one point out of a wild-card spot in the Western Conference, a place they have consistently been all season.
Consistency has not been the name of the game for Minnesota at all this season. Twice this season the Wild have reeled off four straight victories, only to suffer losing stretches -- four of six and four of five in separate streaks -- after those winning streaks came to an end.
Wild head coach Bruce Boudreau echoed those thoughts on consistency following Monday's practice when he was asked on his big takeaway of Minnesota's first half. "Inconsistency," Boudreau said about what has plagued the team. "Not being able to get any traction where we go through a 10-game segment 8-1-1. Things like that."
To even further the inconsistency, the Wild looked like they were turning the corner at the end of November and early December, when they won six of seven games, only to follow it up with losses in five of the next eight.
Plain and simple, this team has just gotten zero traction in an upward trajectory this season.
But with the return of Niederreiter and Parise this week, the Wild are finally bolstering a lineup that has been lacking in depth all season. The bottom six -- an area of weakness for Minnesota -- will no doubt benefit from these returning players as quality players will get pushed down a spot in the lineup and help bring some depth to the lineup.
The impact was already felt on Monday as Zack Mitchell was placed on waivers after 21 games in the hopes of getting back down to Iowa. Other players who have had severe stretches of inconsistent play -- like Chris Stewart, Marcus Foligno and Daniel Winnik -- will now have to battle their way into the lineup nightly and not just expect a guaranteed lineup spot.
While all this is good sounding in theory, the fact still remains: the Wild lineup -- sans Parise, and others who have spent time on the injured list this season -- has yet to put a consistent stretch of winning together.
Injuries have been used as the excuse for the lack of consistency from Minnesota this season. With the return of Parise this week -- after missing the entire season to date with a back problem -- and to a lesser extent Niederreiter, that excuse has run its course.
If the Wild can't put together a consistent stretch of winning that most know they are capable of, then it becomes quite clear that this is the team's identity: Inconsistency and being a bubble playoff team.
That's not exactly what you wanted to see the identity of this team be, as the slogan "Good is not good enough" was tossed around in training camp for a team with Stanley Cup aspirations.
As mentioned on the new Giles and the Goalie podcast, the Wild have a very favorable schedule this week to accommodate the returns of Parise and Niederreiter. Matchups with Florida, Buffalo (the team that annually sparks Minnesota's season) and at Colorado give hope that with a lineup at 100 percent, this could be the week that springboards the Wild season and gets them back up in their rightful place in the standings.
If they cannot take advantage of this schedule in the next week, then the spotlight turns to the man who built this roster -- general manager Chuck Fletcher.
That is a place that a general manager, who is in the final year of his contract, does not exactly want to be while seeking a new deal.
If the Wild are going to find consistency, this week is where they will find it. If they don't, changes in more ways than one could very well be on the way.
---
Never Miss an Episode of Giles & The Goalie!