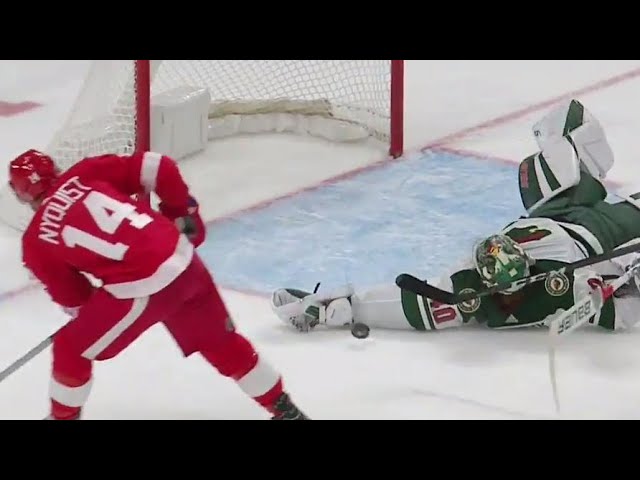 It has not exactly been a stellar week to open the season for the Minnesota Wild. A pair of road losses -- one in regulation, one in overtime -- to two non-playoff teams last season is how the Wild have begun 2017-18.
They are now also battling injuries, mainly to forwards Zach Parise and Mikael Granlund, something the team had relative luck with last season. With the Wild in a salary cap bind -- they have just over $200,000 of cap space according to Cap Friendly -- they can't afford to call up another forward to replace the injured Granlund and Parise. Because of those injuries, the Wild had to roll out a lineup with 11 forwards and seven defensemen on Saturday night against Carolina, and will be doing so again Thursday night against Chicago.
With the team unable to send down defenseman Gustav Olofsson without clearing waivers and unwilling to send down Mike Reilly -- who had a stellar preseason and earned his spot in the lineup -- the Wild appear to be committed to the 11 forwards and seven defensemen until either Parise or Granlund return.
While putting out a lineup with seven defensemen isn't the end of the world, it doesn't exactly show confidence either as the head coach will often just juggle the fourth line instead of actually using a defenseman there, like Bruce Boudreau did Saturday. If you also saw the Wild play Saturday, they didn't exactly instill confidence with their "loose" play.
This slow(er) start for the Wild is familiar ground -- at least with Boudreau, who is now in his second season as Wild head coach.
The Wild went through a bad start last October. You might not remember it, as their 6-2-1 record doesn't exactly scream "bad start." So what exactly saved the Wild's bacon during that sluggish start last October?
Simply, it was their goaltender -- Devan Dubnyk.
In the first month of hockey under a new head coach, the Wild suffered horrible growing pains. They were the worst puck possession team in the league at 5-on-5, and they were outshot in seven of nine games that month. But, they were still winning thanks to other-worldly play from Dubnyk (also credit: an insane 13.7 shooting percentage at 5-on-5 that month). Dubnyk posted a goals-against average of 1.43 and .952 save percentage, both easily putting him atop the league leaderboard.
https://www.youtube.com/watch?v=kTdxll8kSVY&w=560&h=315
Dubnyk also posted three straight shutouts, including 183:16 of not allowing a goal -- both team records.
What made Dubnyk's play that month more impressive was that he did not have a history of playing well in October. Before last season, Dubnyk was sitting at a career .901 save percentage in the month of October -- a number that didn't exactly inspire confidence.
That is the Dubnyk the Wild will hope to see if their struggles continue.
Minnesota will need to get the Dubnyk of last October -- the goaltender who guided them out of muddy waters and kept the team afloat -- again this month. They will need him to do the same, as the team continues to battle injuries and puts out a roster that has fewer than 12 forwards on a nightly basis. Mikko Koivu said it best last October, "The way he's been there for us when we haven't played the way we are supposed to play, I think that's the key."
With the injuries and shuffling lines on the roster, the Wild will need Dubnyk at his best until the team can get back up to full strength -- or close to it. It wasn't exactly a great start last Thursday against Detroit, but he can right the ship, beginning Thursday night against Chicago.
When Dubnyk goes, this team goes. When he is not on, it's usually followed by the word "swoon."
If they don't get a sharp Dubnyk, October will turn into a long month for the Wild. And a bad start is exactly what this team didn't want, especially in the wake of their playoff exit last spring.
---
Never Miss an Episode of Giles & The Goalie!