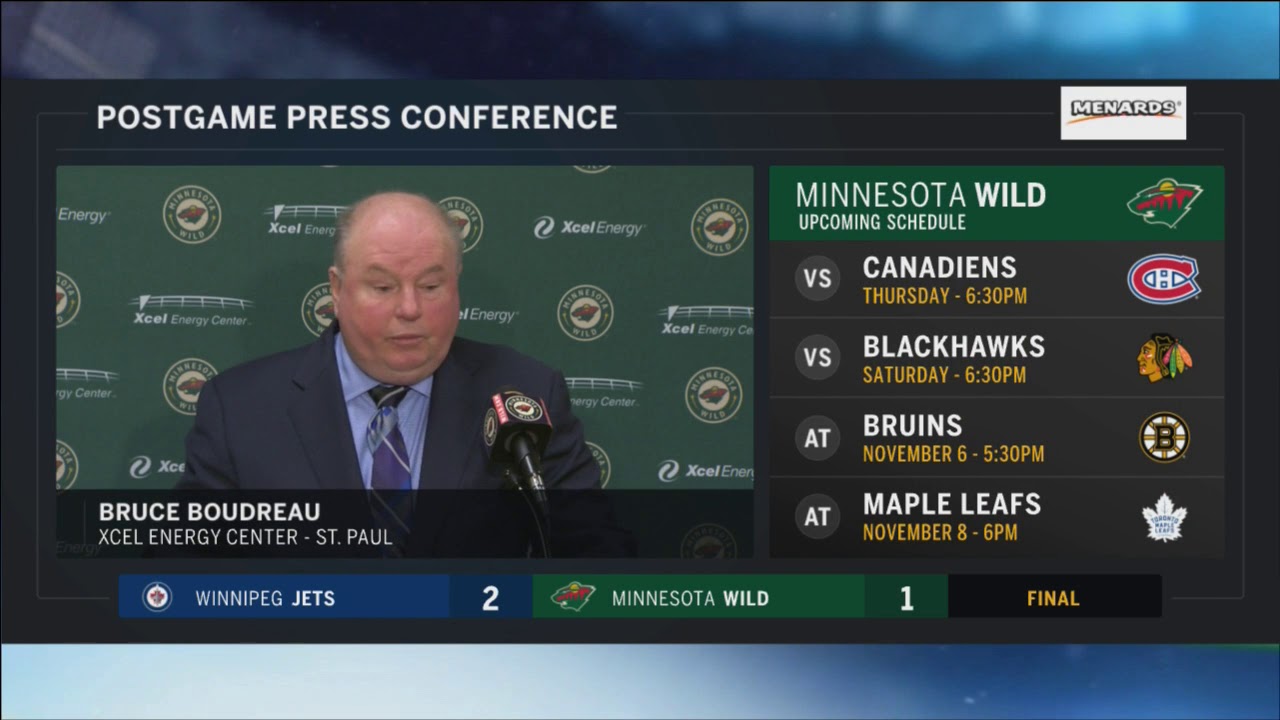 If you are a Minnesota Wild player, coach, executive or fan -- the month of October could not end soon enough for you.
With a 4-4-2 record -- good enough for last place in the Central Division -- the Wild limped and sleepwalked their way through the month of October. Injuries piled up early on while inconsistent efforts plagued the team throughout, despite the fact the team was without some of its best players for a significant period of time. As head coach Bruce Boudreau said after Tuesday's 2-1 loss to Winnipeg, "Self-preparation hasn't been there for a few games now."
Even rookie forward Luke Kunin offered up after the loss to the Jets, "We weren't prepared as we needed to be."
Despite the fact Minnesota won three of the last five games to close the month, that self-preparation factor reared still reared its ugly head. A loss to the lackluster Vancouver Canucks -- in which the Wild offered very little bite to the home crowd in the final 30 minutes -- and a loss to the division rival Winnipeg Jets, which saw the Wild play very sloppy, flat, and had little response to the Jets are what Boudreau is referring to when he talks about self-preparation.
Boudreau's line can also be applied to the team's power play, which is in a drought of its own right now. The Wild's man advantage has now gone without a goal for the past four games, with the last being Chris Stewart's goal in Calgary on Oct. 21. For those counting at home, that is now 17 -- including the last one in Calgary -- consecutive trips to the man advantage without a goal for Minnesota. While the team is still ranked No. 13 in the league on the power play (17.6 percent) their long streak of inept play with the man advantage has proven costly in some games.
When asked about the struggles of his team's power play, Boudreau said, "You need five guys thinking as one and we have five guys thinking as five guys and so nobody can read what [they] are supposed to be doing. We do have a plan in place and we have to get the guys to [execute] the plan. When you're trying to be cute and just pick very little corners, it doesn't work for you. Unfortunately when your not scoring, as an individual, you tend to be that cute because you want to make the perfect shot rather than say, 'Im going to get seven shots on net.'"
Perhaps no Wild player during the first month of the season has been a prime example of this 'self-preparation' -- or lack thereof -- than defenseman Matt Dumba.
Dumba, 23, has not gotten off to a good start by any means this season, and Tuesday night against Winnipeg was his worst outing of the season. Just three assists in the first 10 games is how Dumba -- an offensive type of defenseman -- has started the season, with horrific lapses defensively frequently mixed in there.
His season, perhaps, can be summed up by this giveaway to Winnipeg's Nik Ehlers on Tuesday night:
Following Dumba's worst performance of the season, in which he was benched for the remainder of the game after that giveaway to Ehlers, Boudreau said this on his young blueliner: "He just hasn't been playing that well. He's a good player that maybe I've set the bar pretty high for him. But he just hasn't reached that bar. He's been in this league four years now, he's gotta do what he does when he's playing good. There's a lot of guys [that fall] in that self-preparation, and he's one of them. He has to come to the game better prepared."
With no definitive superstar scorer on the roster, the Wild have to be a team that works hard for 60 minutes to win. They have done it before, as referenced by their team record 106 points -- second-best in the Western Conference -- under Boudreau last season. However, they are not a team that can afford to come into a game not prepared and expect to show up only for a period or two to win. They do not have the talent, like other teams do, to get away with that.
As the calendar now flips to November, Boudreau, Dumba and the Wild need to wipe the slate clean and start anew. They'll need to rediscover what made them one of the best teams in the league last year, forgetting about their problems -- mainly, a lack of preparation -- from October. With the team having a full slate of games this month -- meaning no long layoffs like we saw in October -- there will be little time to practice and work out these flaws.
On what his team can do to make them more successful, Boudreau said, "Our goal is to hit the net and crash the net, and when we do that we're a pretty good team."
---
Never Miss an Episode of Giles & The Goalie!