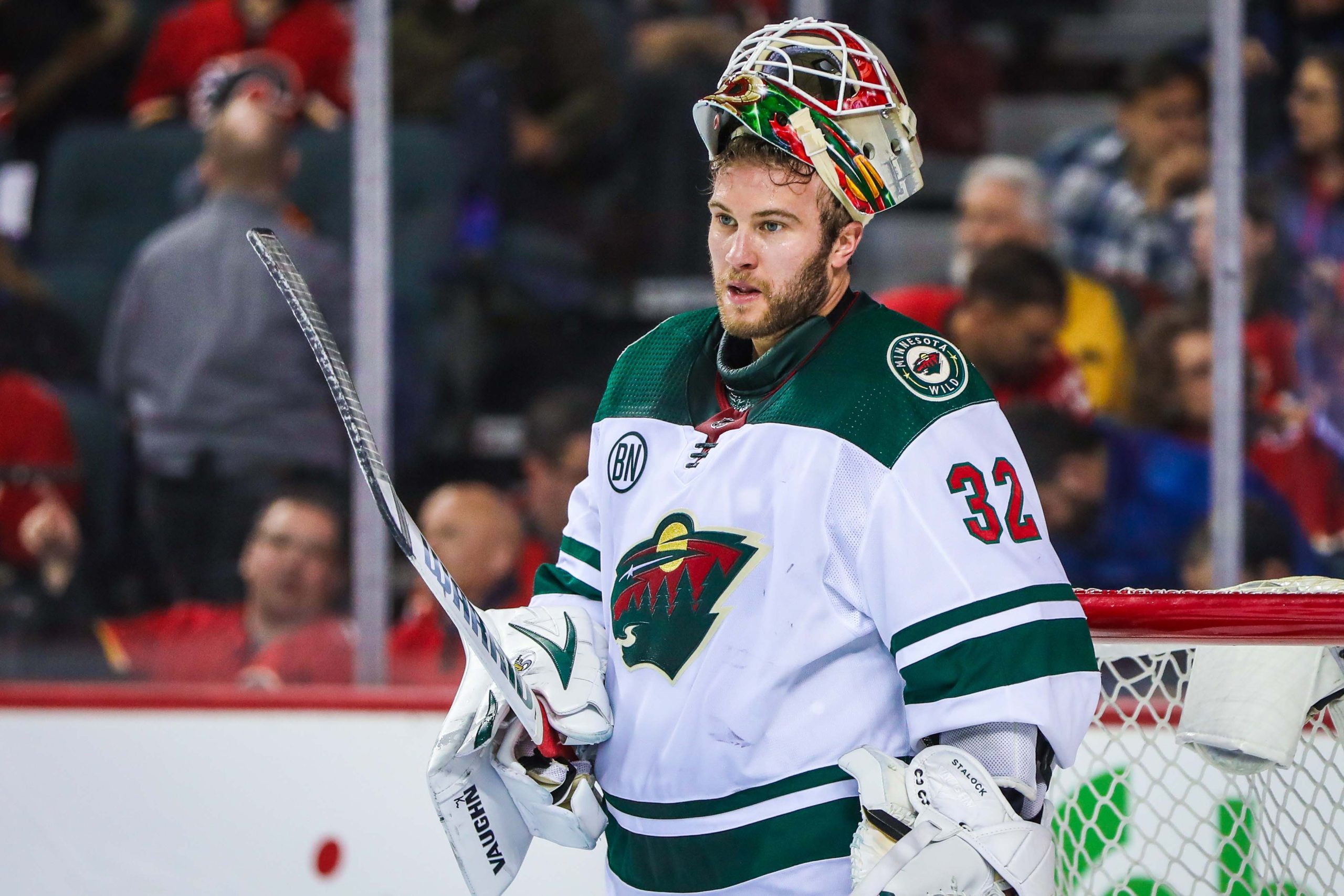 As the 2018-19 season nears the halfway mark, it is getting close to the time when general managers start to really assess if they want to try to re-sign some of their pending unrestricted free agents or perhaps dangle them on the trade market as rentals prior to the trade deadline.
The Minnesota Wild have just five players on the NHL roster presently who are set to have their contracts expire at the end of the season, with the most notable one being Eric Staal who has been a tremendous asset for the Wild since signing in 2016.
One of the other players Minnesota has on an expiring contract this season is back-up goaltender and former University of Minnesota-Duluth Bulldog Alex Stalock, who has held the position of No. 2 to Devan Dubnyk since the beginning of the 2017-18 season.
Michael Russo of The Athletic speculated on Monday that a contract extension between the Wild and the 31-year-old Stalock could be in the very near future, as Paul Fenton looks to keep his goaltending duo of Dubnyk-Stalock intact for at least a couple more seasons.
Locking up Stalock, among the other unrestricted free agents on Fenton's roster, should be the least of the GM's concerns right now.
Not to distract from the fact the Wild won just four out of 13 games in the month of December, but the roster itself needs more attention than just addressing the backup goaltender position.
But since we are talking about the backup goaltender position, let's take a look at why re-signing Stalock at this point on the calendar is just too soon.
If you take a look at goaltender stats for the NHL this season, and you filter out goaltenders who have played a minimum of 10 games this season -- like Stalock has -- you find the St. Paul native to not be far up the list of goaltending stats, even among just the backups in this league.
To start, just among the 62 goaltenders that have played in at least 10 games this year, Stalock's .903 save percentage ranks 42nd.
[caption id=attachment_45936" align="alignnone" width="1798]

Courtesy of NHL.com[/caption]
If you look even closer at Stalock's 5-on-5 save percentage, his .906 mark ranks 48th in the league among 66 eligible goaltenders who have played at least 300 minutes.
Not exactly contract extension worthy stuff.
While the Wild do not have an in-house option ready -- yet -- to take the reigns as back-up goaltender, they easily could find someone on the free-agent market this summer. A few of the names that fit the bill of back-up goaltender in the league who could become available on July 1 include Robin Lehner, Curtis McElhinney, Jimmy Howard and Brian Elliott.
Toss in the names Casey DeSmith of Pittsburgh and Mikko Koskinen of Edmonton to the list, but both have done well in various situations that have resulted in both taking the starting job on their squads. Seeing their results have them highly unlikely to hit the market, or if they do, they could be the marquee names behind Sergei Bobrovsky and Semyon Varlamov.
Fenton also needs to consider exploring other options for the backup spot in order to spell Dubnyk more nights off during the season. In his season and a half, Stalock has never really gotten the full confidence of head coach Bruce Boudreau and it has led to Stalock mainly getting starts in back to back situations only.
Dubnyk -- who has started 31 of 38 games for Minnesota this season -- is on pace to start 66 of the Wild's 82 games this season. If that pace holds, that would be the highest starts total he has had in a season -- with 2015-16 -- and it would mark the fourth consecutive season where the Wild starter has played in at least 60 games during the season.
Getting a reduction in the workload for Dubnyk needs to be a priority for Fenton, as the solution to his struggles at times simply cannot be 'keep starting him and hope he figures it out.' The Wild need to be able to turn to a more reliable backup goaltender who could spell multiple games in a row off for Dubnyk should he need it.
As the stats and general play cry out, nothing special is happening with Stalock right now to warrant a contract extension. But even more importantly, there are plenty of options for Fenton to explore in the offseason where he could upgrade his backup goaltender in order to provide more depth and stability to that crucial position that this team currently relies on so heavily.
Perhaps the increase in starts during the second half of the season is an audition for Stalock to warrant a possible extension. But for now, there should be no rush to get him one.
There should be a rush, however, to maybe find some increased goal scoring for Fenton's squad to supplement said goaltending...
Stats in this post via NHL.com, Hockey-Reference, and Corsica. Free agent information via Cap Friendly.
---