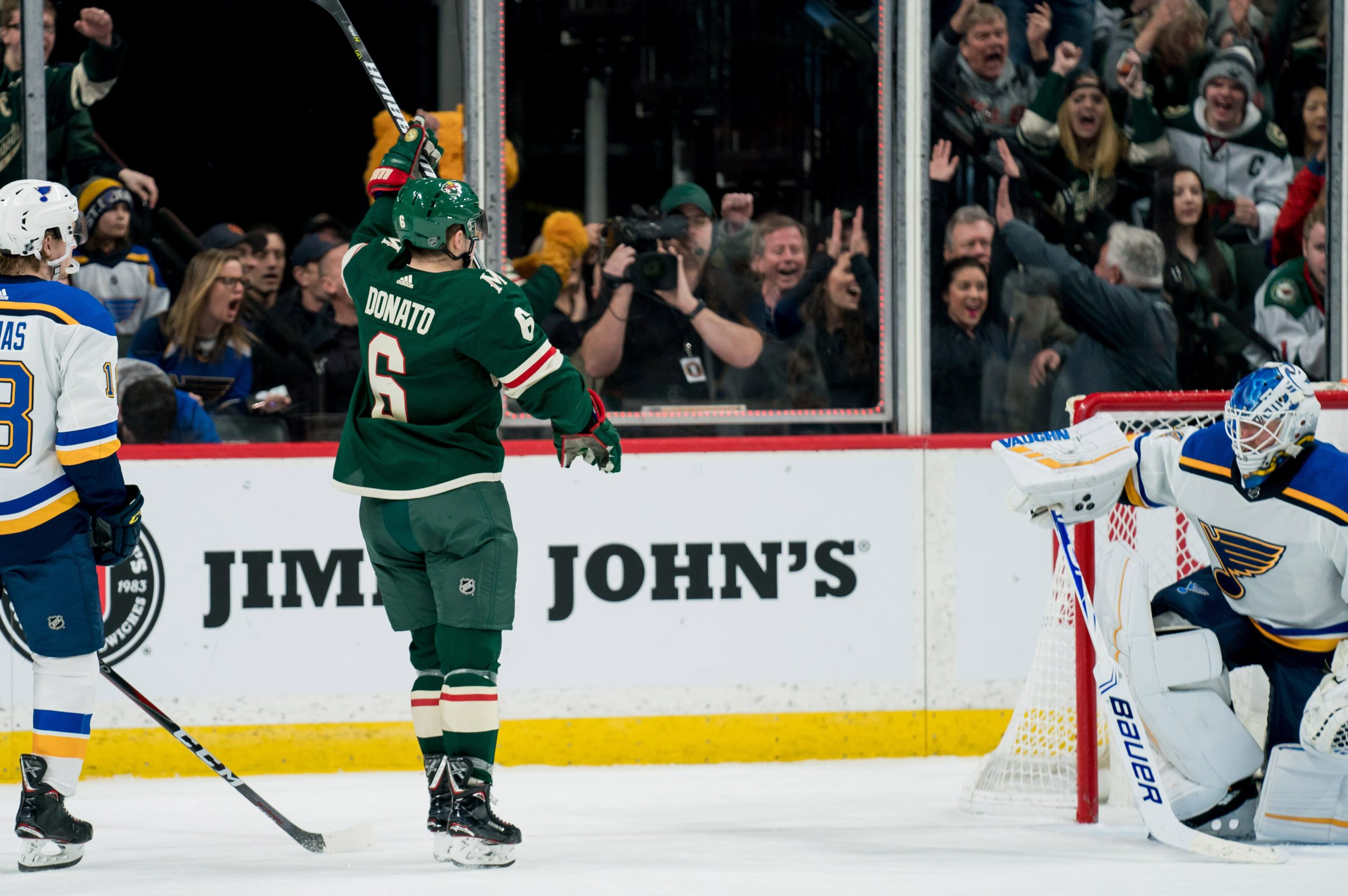 My podcast cohort Ben Remington retired back in May, leaving the keys to the Zone Coverage hockey department all in my hands.
Ben did a mailbag monthly, and since we are in the dead of the NHL offseason, we are going to revive his mailbag on a weekly basis until hockey news starts flowing in. I threw out a mailbag question on Facebook and Twitter, so let's see what our mailbag brings this week.
"Who do you see taking the biggest step forward in their career this year for the #mnwild? What about backward?" - @B_Marsh92
A good question from Brett right off the top. One could go many ways with this question, given the level of unknowns on the Wild roster for next season. Personally, I think Ryan Donato will take the biggest step forward. He was never given a chance to crack into Boston's top six, was constantly raved about before coming to the NHL, and in his brief stint with the Wild last year showed a glimpse of his offensive prowess.
[caption id=attachment_47640" align="alignnone" width="876]

NHL rookie scoring leaders from February 21 through the end of the season, via NHL.com[/caption]
The player I think will take a big step back next season is Mikko Koivu. He was not having that great a season last year before tearing his ACL. At 35, that is a rather significant injury to come back from. If you thought Koivu might be slowing down before the injury, then he certainly is not going to gain any of that back after it.
https://twitter.com/OhHiTony/status/1147209116911382528
"With Trouba coming in at $8m. Do you think Spurgeon is worth that for 5,6, or 7 years (no way!).
And if not, where's there left to trade him?" - @DJ23420117
I am really wary about giving players seven-year contracts in the NHL, especially when it comes to free agents. Personally, I think the NHL needs to get closer to the NBA style of contract structure where the max term is five years (for players re-signing). With that said, I think Jared Spurgeon is worth every cent of that $8 million cap hit should he be given it. I'd max out at six years with him, but if he was willing to come down on price I can hear an argument for a seventh. The guy is just so good and has been the Wild's best defenseman for a few years now.
There are two questions though with offering him a contract that big: 1) Will he want to stay here? and 2) will Ryan Suter accept being the second-highest paid defenseman on the roster?
"Is Fiala the real deal or will he be a bust?" - @kylerulz4h
Paul Fenton was right to trade for Fiala at the trade deadline. The problem was that the Wild general manager gave up Mikael Granlund for him straight up. More probably should have come back for Minnesota's leading point scorer of the past two seasons.
Fiala probably won't be the game-changer Fenton envisions him to be, but that doesn't mean he will be a bust. I think his ceiling is 50-60 points and he still has some work to do to get there. He will be given every chance to hit that ceiling here, so in reality, he will probably become just a useful middle-six winger.
"Why is Fenton still GM?" - @StefanM8782
Craig Leipold pays him to be the general manager and believes he is the right choice to turn the ship around.
"1. What in the actual f***? I mean... seriously.
2. Based on offseason moves by the Wild, which bourbon would you recommend for the upcoming season?
3. Why do my children watch Fuller House all day?" - Bryan R.
Great questions, Bryan.
1. Yes.
2. All of them.
3. I'm guilty of a good Netflix binge too so I'm probably the last person to ask.
"Why are the Wild taking so long releasing their new third jerseys that are just North Stars replicas?" - @benremington
What's that sound? My god, that's Ben Remington's music!
Honestly, at this point, I'm just convinced that the Wild third jerseys that did not pass the TV test that Michael Russo has mentioned were just a recreation of these North Stars jerseys that never got up off the drawing board in the early 90's when some owner wanted to rebrand.
[caption id=" align="alignnone" width="555]http://content.sportslogos.net/logos/1/34/full/xt6ggjbrtdmee9ifsrv352pwv.gif via sportslogos.net[/caption]
Yeah, that's not exactly a great option either.
"Can the Wild trade Jason Zucker for a proven closer for the Twins?" - @benremington
Fenton would trade him for Matt Capps.
"What are the numbers to win the lottery?" - Jamie D.
If I had those, I wouldn't be writing this.
"Is Leipold's public pressure to win simply for the fans, or is he really not willing to take a step back this season to build for the future?" - Joe B.
He cares about the almighty dollar, and rebuilding would hurt his bottom line. If memory serves me correctly, the Wild were losing money in those non-playoff seasons of 2009-12, so that is probably why Leipold is very hesitant to greenlight a full-on teardown. Personally, I think he should accept a few bad seasons for the sake of building a contender, but I'm not a billionaire/NHL owner, so what do I know?
"What's your best sandwich that you can make?" - Joe B.
I love a good turkey and cheddar sandwich with lettuce, tomato and mustard. I decided to put that in a lettuce wrap this past week and cut down on bread, so there's that. Also, yes Bryan, a hot dog was considered for this sandwich question.
"What does LFC have to do this year to have you consider it a successful campaign? EPL title, UCL Cup + top 2 finish, etc?" - @ZackRask
Ah yes, my pride and joy, Liverpool Football Club. They need to win more silverware this season, with an emphasis on English leagues. So perhaps a domestic double of the Premier League and FA Cup? I do believe this is the year for the Reds in the Premier League, as Man City seems to have that thirst to win the Champions League -- which Liverpool won last season -- after back-to-back exits in the quarterfinals. Anyway, some kind of English silverware with another long run in the Champions League should be a great year for Liverpool. Everyone is in their peak years, so you have to shoot big this year.
Just to remind everyone, Liverpool is the reigning champions of Europe.
"This is Giles Ferrell's mom. Congratulations to Ben Remington and wife!" - Jill F.
Thanks mom for outing yourself. And yes, congratulations to Ben and Roz on the birth of Frank last week. He is an adorable lad, whom I one day will try and poison his mind with skol chants before his dad gets to him.
---
http://zonecoverage.com/wp-content/uploads/2017/05/Podcast-header-Image-City-1.jpg