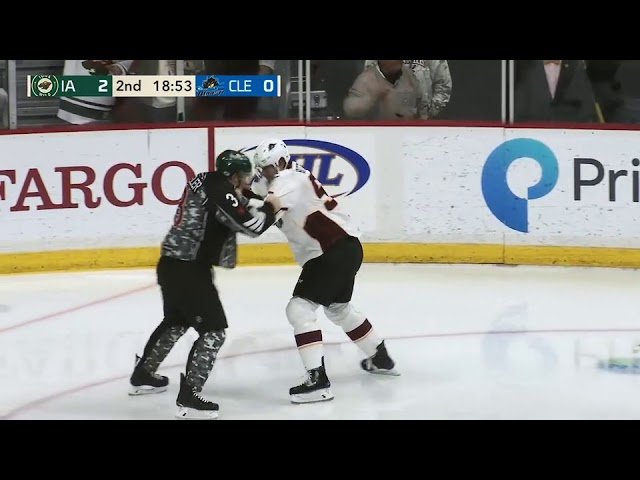 It nearly took a month, but the Iowa Wild are finally hitting their stride.
Coming out of the month of October, Minnesota's AHL affiliate was just 2-5-2 and at an all-too-familiar place at the bottom of the Western Conference standings. The results had been more of a byproduct of Minnesota needing several key players from Iowa due to the extreme amount of injuries they suffered early on in October.
The likes of Zack Mitchell, Justin Kloos, Cal O'Reilly, and Landon Ferraro all were recalled at some point -- and in some cases several times -- to Minnesota during the month of October.
But when the calendar flipped to November, and with Minnesota returning to almost full health, the Iowa roster resembled that of what it was meant to be when the season started. At that point, the team has started clicking.
Iowa has won four of five games to open the month. The Wild are slowly but surely climbing their way back up the standings -- now sitting 10th in the Western Conference with a 6-6-2 record. "It's good to [finally] get over the hump of winning back to back games," said Iowa head coach Derek Lalonde after finally being able to win back to back games [and eventually a third Saturday night].
Another big reason for Iowa's success in the month of November has been special teams play. The penalty kill has been a rock for the Wild all year, sitting at an AHL-best 89.6 percent on the season. "Being a great penalty-kill team would be a great identity [for Iowa] moving forward," said Lalonde.
The power play -- which got off to a rocky start -- has been hitting the mark lately going 7 of 15 (46 percent) this month and has provided some big goals for the team when needed. "It was only a matter of time before our power play started clicking," said Mitchell of Iowa's red hot man advantage. "Special teams is a big part of today's game. I expect more of [this play] all season."
Also making improvements in the month of November has been the team's goaltending. It was a shaky start for Niklas Svedberg -- who was recalled to Minnesota last week when Alex Stalock returned to Minnesota due to the birth of his child -- but he has won two of three starts this month.
Steve Michalek made his first starts of the season during Svedberg's recall, winning both while making at least 30 saves in each of those starts. "Stevie's game is much more comfortable [right now]," Lalonde said.
Mitchell tallied nine points over four games.  Kloos had a five-game point streak. Pat Cannone registered a goal in three of four games. The contributions are coming in across the board from Iowa, to get back up to where the team expects to be. "I like our balance. We are getting some continuity from our lines," said Lalonde.
"It's great, but we are not content with that," said Mitchell.
The test will now come for Iowa, as it opens up a stretch of playing 12 of the next 16 games away from the friendly confines of Wells Fargo Arena -- where Iowa carries a 6-4-1 record. The team has yet to win a game away from Des Moines, but will be heading into this stretch of road-heavy games with a lot of confidence. "We're starting to figure some things out and be much improved," said Lalonde.
When asked on the team's play, Lalonde expressed some excitement on his squad moving forward. "What's exciting is this was the vision we had with our team," he said.
A vision that no doubt includes Iowa finally breaking through and making the playoffs for the first time since the team relocated to Des Moines.
---
Never Miss an Episode of Giles & The Goalie!