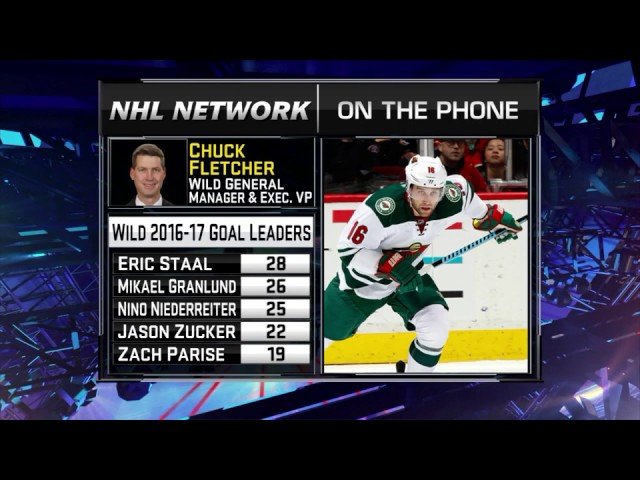 Heading into the offseason, Wild general manager Chuck Fletcher had a lot on his plate.
Following the Wild's first-round exit to the St. Louis Blues, he declared that there would not be wholesale changes to his team that tallied a franchise-best 106 points in the regular season. While he was looking at making some minor changes, he was not going to gut the team, like some out there had suggested.
But, while Fletcher was looking at keeping the team primarily intact, he did have some big things ahead of him. He first had the expansion draft in June, where the Vegas Golden Knights were going to take a good player from the Wild roster no matter who Fletcher ended up protecting.
Then shortly thereafter came the NHL Draft, where the Wild did not hold many picks (thanks to the Martin Hanzal and Chris Stewart trades), but it was suggested that there was going to be a plethora of trade activity among teams.
As always, July 1 follows the draft a week later, where free agency kicks off and teams can also begin negotiating contract extensions with players who are entering the final year of their deals. While the Wild only had one player -- Mikko Koivu -- who fell under the extension category, Fletcher had to get notable restricted free agents Erik Haula, Mikael Granlund, and Nino Niederreiter signed before he could even begin to think about that.
Clearly, there was work to be done, as Fletcher wanted to keep his team intact and make some minor changes to keep them competitive in the wide-open Central Division.
Now that all is said and done in the offseason, let's take a look back and grade the moves/events that Fletcher took part in, and then grade the summer as a whole.
Expansion Draft (June 21):
Like all other 30 teams, the Wild had to submit their protected players list for the Expansion Draft on June 17. The next day, the lists were revealed to the public. The most notable protection on Fletcher's list was Jonas Brodin, as he edged out Matt Dumba for the third defenseman spot on the list -- along with Ryan Suter and Jared Spurgeon. Brodin had reportedly been getting trade interest in the week leading up to that point, so Fletcher thought it best to hold onto Brodin and see if he could use him in a trade later on.
But with notable players like Dumba and Eric Staal exposed, Fletcher had to swing a deal with Vegas GM George McPhee to keep his more valuable assets. So who became the player Fletcher was trying to swing a deal for McPhee to take? Haula, one of Fletcher's key RFAs in the summer.
Haula negotiated a three-year deal with Vegas, and Fletcher sent key prospect Alex Tuch to the Golden Knights in exchange for making Haula their selection in the Expansion Draft. There seemingly was going to be no easy place for Haula on the roster, as he trailed Koivu and Staal on the depth chart, and now had youngsters Joel Eriksson-Ek and Luke Kunin on his tail for a center spot on the roster. Also, with the Wild seemingly going to be crunched to the salary cap, Haula was not going to fit in with his new salary.
Grade: B+
A key defenseman and Staal were going to be the most notable players on the unprotected list. But Fletcher clearly wanted to keep Staal, so Tuch ended up being the price -- or most of it, at least. The questionable part here was protecting Brodin over Dumba. At this point in his career, Brodin is what he is -- a defensive defenseman with limited offensive production.
Dumba still has a much higher ceiling and tallied a career-high 34 points last season -- 10th best by a defenseman in team history -- as a 22-year-old. Nothing ever materialized again on the Brodin trade front, as all rumors stopped with the expansion draft. This was a good result for the Wild, but losing a young guy like Tuch might hurt them down the road, too.
NHL Draft (June 23-24):
With no pick until Round 3, it was a quiet Friday and early Saturday for the Wild draft table. It was expected to be a busy Friday in terms of trades, but outside of the Blackhawks, it was pretty quiet. Not even a pick in the first round was moved until the 31st pick was sent to St. Louis for Ryan Reaves (woof).
Fletcher and company did not make a move on Friday, and they watched the Coyotes use their pick in the first round -- it went to Arizona in the Martin Hanzal trade. Bruce Boudreau even attended the draft on Friday night, and well, he looked a tad bored.
The Wild had six picks on day two, and ended up using them all. Most of the players drafted were more high-skill types, something the Wild badly need in their pipeline. There were no trades from the Wild, or the rest of the league in general, as teams were more apt to just use their picks in this draft -- a down year in terms of players available -- and hold onto their assets for 2018.
Grade: C
This draft had no energy. No drama. The most notable trades on either day came hours before teams were at the United Center. The Wild, needing to make some kind of move as teams were clearly eyeing one of their defensemen, stood pat here. Not great when the most exciting thing to come from the draft table was watching the table runners bring the group lunch. High marks for the players selected, but no improvements to the NHL team here.
Trade with Buffalo (June 30):
The day before free agency opened, Fletcher once again picked up the red phone with Buffalo. On the other end was new GM Jason Botterall, who took over for the recently-axed Tim Murray. Both sides got together and this was the result of the trade: Jason Pominville, Marco Scandella and a 2018 fourth-round pick was sent to Buffalo in exchange for forwards Tyler Ennis, Marcus Foligno and a 2018 third-round pick.
On the surface, this looked like a decent trade for Minnesota as it was freeing itself of the final two years on the Pominville contract -- $5.6 million cap hit each year -- and getting rid of Scandella's hefty $4 million per year deal as well. But Ennis, a productive player when healthy, has missed considerable time the past two seasons and Foligno has never amassed more than 23 points in a season while being more of a 'grinder' type player -- including 279 hits in 2016-17. Foligno was also a restricted free agent without a contract, so that was being added to Fletcher's to do list this summer.
Grade: D
The Wild were going to move a defenseman this summer, and this was how they did it. While Scandella was the most logical one to move, as he has struggled for two seasons in a row, you are just left with the feeling of 'could they have done better.' Pominville was very productive for the minutes he was getting last year, but the high salary along with not enough scoring was always a detractor in his time here.
Ennis and Foligno are a gamble. Injury concerns play a huge part with Ennis, especially considering the Wild cannot afford to have players miss serious time this year. If he can stay healthy, great. But that is a big if at this point. Foligno is seen by some as a positive acquisition due to the type of game he plays and the fact the Wild have no one who can play that way. But the question is raised: Did they really need a player of that type? Factoring in the contract he got two weeks ago, that's quite the expensive acquisition.
Free Agency:
July 1 ended up being a busy day for Fletcher, as he signed seven players, six of whom will more get time in Iowa as depth for Minnesota this year. But the most notable one on that day, curiously, was signing 32-year-old defenseman Kyle Quincey to a one-year deal worth $1.25 million. Other notables from that bunch included former Gophers player Kyle Rau, forward Landon Ferraro and goaltender Niklas Svedberg.
The only big signing Fletcher made came in mid-August, when Matt Cullen turned down a chance at three-peating with the Pittsburgh Penguins to return home for one last season with Minnesota. Cullen had been with Nashville and Pittsburgh since his last stint with the Wild, and figures to be a key cog in the Wild's bottom-six as he can move around to wherever the team needs him to play -- either at center or wing.
Grade: B+ 
Adding those six players on July 1 as depth will be great for both Minnesota and Iowa. The Quincey signing, or at least signing him so quickly at that cap hit, was a bit of a question mark, but the Wild can always scratch him in favor of Mike Reilly or Gustav Olofsson if he falters. Cullen was big, as his ability to move around in the lineup will help the Wild during the season.
Maybe his recent playoff success will help the Wild next spring?
Re-signing Nino Niederreiter (July 30):
After a career year of 57 points, Niederreiter was going to cash in on a new contract -- and he certainly did. The winger signed a five year, $26.25 million deal days before an arbitration hearing. The deal figures to get him a bit more ice time, as he is one of the higher-paid forwards on the team, and he gave the Wild some flexibility if they so choose down the line by not including a no-trade clause in the deal.
Grade: A
Niederreiter is one of the most productive forwards on the team, and the Wild locked him up for five more years. A very good cap hit ($5.25 million AAV), and he was so kind by giving Fletcher a pass on a NTC/NMC in this deal. Look forward to watching Niederreiter continue to flourish in a Wild uniform.
Re-signing Mikael Granlund (Aug. 1):
With Niederreiter out of the way, Fletcher turned his attention to Granlund, who was also nearing an arbitration hearing. Both sides were able to strike a deal beforehand, as Granlund signed a three-year, $17.25 million deal. Granlund, like Niederreiter, was coming off a career year in which he scored 69 points to lead the Wild. The deal gives Granlund a chance to cash in later on if he can sustain his point production like last year, and it allows the Wild to have a bit more cap flexibility due to the smaller than expected AAV ($5.75 million) that he received.
Grade: A
This is another solid deal, as the Wild did not lock Granlund down for too long after just one solid season. If he can produce at this rate, the deal will be a steal for the Wild, and they'll have to decide in three years if they want to keep him around longer.
Mikko Koivu's Extension (Sept. 18):
With training camp underway, Mikko Koivu was entering the final year of the seven-year deal he signed back prior to the 2010-11 season -- also the same offseason the Wild signed Cullen the first time. Koivu, 34, made it clear he did not want to talk extension during the season, so there was a bit of pressure on Fletcher to see if a deal could be reached before the season got underway.
In perhaps the most painless negotiation of all-time, Koivu and the Wild inked a two-year extension worth $11 million. The deal will take Koivu to age 37, where he will more than likely be the Wild's all-time leader in most, if not all, major offensive categories.
Grade: A- 
As pointed out by Tony Abbott at Hockey Wilderness, if you aren't signing John Tavares next summer, you might as well stick with Koivu as the center market is just not good. Koivu is still productive for his age, as the NHL seemingly is becoming a younger league year after year. The AAV might be a tad high, but that's the going rate for good centers these days. It's a good deal nonetheless, but still risky for a player who will be 35 when the deal starts.
---
Overall offseason grade: C
As he said he wanted to at the beginning of the offseason, Fletcher was able to hold on to the majority of his team that finished second in the Western Conference last year. It was not an overly difficult task, and at least he didn't want to push the blow-it-up button like Stan Bowman did.
Fletcher was able to handle the expansion draft as well as he could, and then seemingly whiffed on his big trade of the summer. The trade could still work out for the Wild, but right now it does not look all that great. It was said the Wild weren't going to have space under the cap for Haula, but yet they are paying Foligno ($2.8 million) more than Haula is getting from Vegas ($2.75 million).
Hmmmm...
You can't really complain about the contracts handed out to returning players, as all of those deals were very favorable for the Wild.
Maybe the fresh faces, including Cullen, will do the Wild good this year? Ultimately, they'll be judged solely on the postseason alone, as good is no longer good enough.
But good, wasn't even a good enough adjective to describe the Wild general manager's offseason.
It was just average.
Something he hopes his team is not in 2017-18.
---
Never Miss an Episode of Giles & The Goalie!