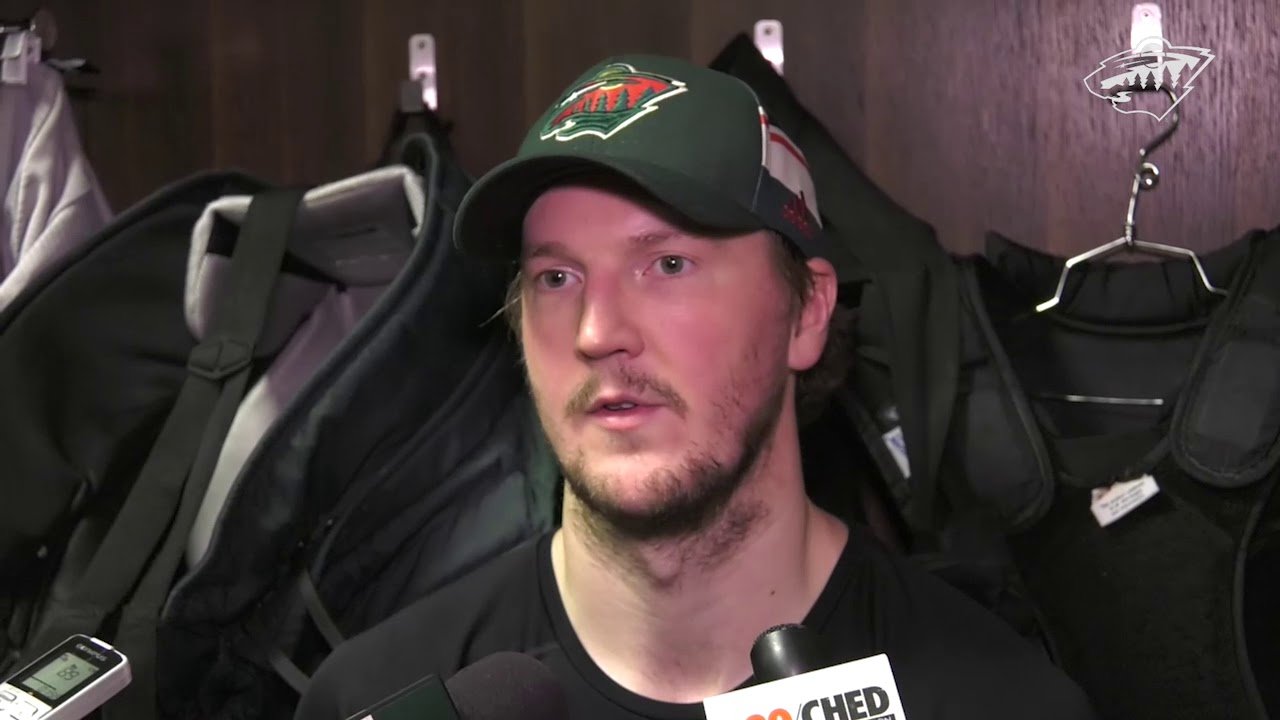 It seems foolish to have to ask whether a professional hockey team is giving it their all on a nightly basis.
When you have an 82-game season that is more a marathon than a sprint, there are going to be some nights where the team is just bad and they have no answer for it. Even the best teams in the league have a few of these nights.
But with recent losses to Arizona - twice - and Edmonton there has been of an uptick in the number of folks asking if the Wild play down to their opponents. Minnesota has been one of the best teams in hockey since December, but losing to some of the league's bottom feeders does make one wonder if there is some merit to that question.
To help us answer this question, we are going to use this handy Minnesota Wild head to head chart (via Hockey-Reference) this season.
So when trying to examine the results here, let's break down the rest of the league into some groups.
There are 'playoff teams' - the teams who are for sure going to the playoffs at this point as they are one of the best teams in the league.
Playoff teams are Tampa Bay, Nashville, Vegas, Boston, Winnipeg, Toronto, Washington, Pittsburgh, San Jose and Philadelphia.
Then we will have the 'bubble teams' - who are those fighting to get in the last couple playoff spots here on March 14.
Bubble teams are Los Angeles, Dallas, Colorado, Columbus, New Jersey, Florida, Anaheim, St. Louis, and Calgary.
Finally, we have those teams who are out of playoff contention and are looking to win the Rasmus Dahlin sweepstakes in May. We will call them 'lottery teams', and these are the teams we will look at closely to see if they have indeed given the Wild trouble this season.
The lottery teams are Carolina, New York Islanders, New York Rangers, Chicago, Edmonton, Detroit, Montreal, Ottawa, Vancouver, Buffalo, and Arizona.
But before we deep-dive into how the Wild have fared this season, let's look at how Minnesota has performed this season against the playoff teams and bubble teams groups.
Minnesota Wild vs Playoff Teams: 22 games played, 12-10-0, 60 goals for, 2.72 GF/game, 61 goals against, 2.77 GA/gm, 47.4 Corsi For %
Minnesota has actually fared pretty well against the playoff teams this season if you subtract Winnipeg - the team they are projected to play in round one if the playoffs start today - and Washington from that list. The Jets and Capitals have smoked the Wild in their meetings this season -- a 7-2 loss in Winnipeg back in November comes to mind here -- and bring their stats back down to earth.
It will be interesting to see if the Wild can make it a season sweep of Vegas on Friday night, as the team makes their first ever trip out to Sin City.
Minnesota Wild vs Bubble Teams: 22 games played, 11-7-4, 67 goals for, 3.04 GF/gm, 75 goals against, 3.40 GA/gm, 47.8 Corsi For %
Division rivals Colorado and St. Louis has really sent the Wild's goals against average in these games into orbit - be careful for the space force when up there. But besides those two teams and their insane amount of goals, the Wild have been just alright against bubble teams. They still have games to play against Dallas (x2), Los Angeles, and Anaheim (x2) so there still could be some change in the stats here.
Minnesota Wild vs Lottery Teams: 26 games played, 16-7-3, 90 goals for, 3.46 GF/gm, 67 goals against, 2.57 GA/gm, 46.3 Corsi For %
You think that 16 wins in 26 games against some of the worst is bad, but when you realize how much parity is in this league you think this is actually decent.
Sure, you should win every game against a non-playoff team when you have lofty goals for yourself, but you can't win them all.
The Wild swept away five of the Eastern Conference's worst teams -- Buffalo, Montreal, New York Islanders, New York Rangers, and Ottawa -- and have a points percentage of .500 or higher against nine of the 11 teams who are considered a 'lottery team'.
The thing that looks funny here is the Wild's Corsi percentage -- shot attempts per game at five on five -- take a small dip compared to the playoff and bubble teams. It's not a large dip -- just one percent -- but that can probably be more put on the fact the Blackhawks have just mopped the floor against the Wild - Minnesota has a 38.5 percent Corsi in five games against Chicago - in that department.
Minnesota is not exactly a model of puck possession numbers this season, but it was worth taking a look to see if those number
So, when all is said and done, do the Wild really play down with their opponents?
They have done a good job of taking care of business against the lesser teams this season, it just comes back to the recency bias of losses to Arizona and Edmonton that linger in one's head. So no, they really have not.
But maybe this has more to do with the fact that these teams - Edmonton, Arizona and yesterday's opponent Colorado - are full of youth and speed, and the Wild are a bit older and not as agile. Maybe this is the problem we should be focusing on now with the playoffs right around the corner.
Puck possession numbers in this post courtesy of Natural Stat Trick
Stay up to date on the Wild with the Giles & the Goalie Podcast!