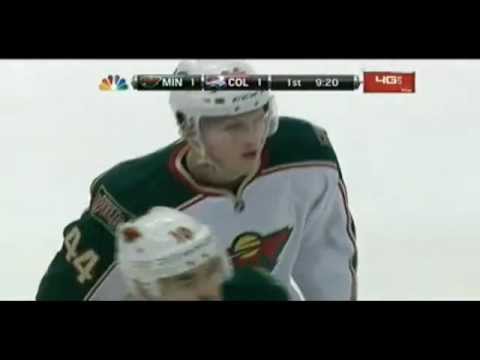 August is not exactly a month hockey fans love. By now, most, if not all of the general managers in the league have set sail for some exotic resort or their cabin in Canada as they have done most of their business for the next season. So naturally, the month of August is pretty lacking in hockey news.
There was that one summer when everyone in the sport dumped a bucket of water on their heads. That was pretty exciting. Or there was that time when Patrick Roy said "To hell with it, I'm out" and stepped down as head coach from Colorado. You may get a random signing or two -- like the Nate Prosser signing in St. Louis -- but for the most part, anything of actual substance is not going to come in the month of August.
This, however, had me wondering: what signings have the Wild made in August previously? I tried to go into the old archives of the internet in hopes of finding the answers. Here is what I could find, as records pre-2004 get pretty hazy.
August 20, 2007 - Wild sign F Serge Payer
Man, how could you forget the Wild tenure of Serge Payer? He was coming off a five-game season the year before with Ottawa, and did not register a single point. Doug Risebrough clearly saw something in him worth taking a flyer on, but lord knows what that quality was. The tenure of Payer was just about as short as Anthony Scaramucci's time as the White House Director of Communications, as he never actually suited up in a game for Minnesota. He later went on to go play in Germany.
August 6, 2010 - Wild sign C John Madden
Looking to just get some more depth at center following the signing of Matt Cullen earlier that summer, the Wild signed John Madden to a one-year deal. Madden had just won a Stanley Cup with the Chicago Blackhawks and was one of their cap casualties as they had to purge seemingly half the roster. Madden did prove useful, tallying 25 points in the 2010-11 season for the Wild. But the only really noteworthy thing for him, and the Wild for that matter, to happen that year was receiving his Stanley Cup ring.
August 1, 2014 - Wild sign D Justin Falk
A little over a year after being traded to the New York Rangers, Justin Falk found himself back in Minnesota as he signed a one-year deal to provide the team a little bit more depth on the blue line. The big blueliner had played in 108 games for Minnesota before getting moved to the Rangers on draft day in 2013 (Minnesota netted a sixth-round pick for Falk). But on his return trip to Minnesota, Falk played in just 13 games that season, as he spent most of his time down in Iowa (AHL). He ended up getting dealt at the trade deadline to Columbus, in the deal that brought Jordan Leopold back to Minnesota (something about a letter goes here).
Well there it is, that is the list. It's just as exciting as the month of August truly is for hockey fans. So while the Wild try round out their roster for the 2017-18 season, any signing of value might not come until September when players get really desperate for a contract and lower their asking price. Or it could just depend on if a certain center, previously out of Moorhead, decides he wants to play one final season in the National Hockey League.
---
Never Miss an Episode of Giles & The Goalie!