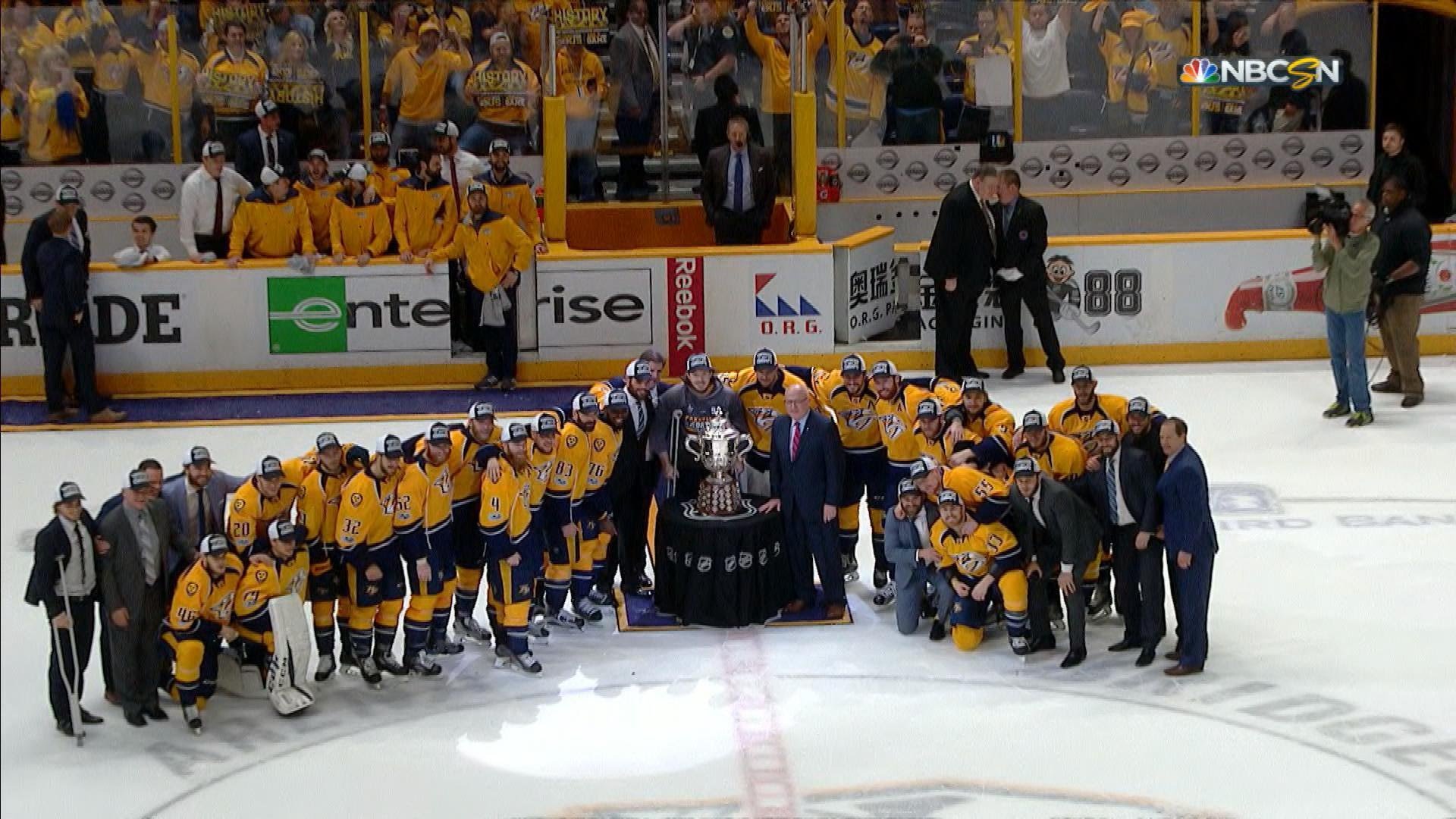 We're back at the prediction table again today! If you missed Tuesday's Eastern Conference picks, check them out here.
Today, we predict the West, a conference in which you might have better odds drawing names out of a hat rather than actually trying to guess who finishes where. Let's get after it!
Pacific Division
8. Vegas Golden Knights - Welcome to the league, Golden Knights! It appears your strategy this summer was to build long-term instead of trying to win right out of the gate. It's a good strategy, just don't go all Edmonton on building long-term and turn it into a decade-long nightmare. Take good care of Erik Haula for Minnesota fans.
7. Vancouver Canucks - Speaking of building long-term, here is another team that is trying to do so. The opening-night goaltender is Jacob Markstrom, which tells you all you need to know about this squad. The Sedins are in their final year, and who knows if they really want to stick around. Rioting in the streets might be more entertaining than watching this team this season.
6. Los Angeles Kings - Overpaying players who contributed to Stanley Cup runs have really come back to bite the Kings. They have a new GM - Rob Blake - and head coach - John Stevens - but not sure they will be able to solve the depth issues that this team has. But don't worry, Dustin Brown and Marian Gaborik are locked in on this team until 2021!
5. Arizona Coyotes - This was one of the league's biggest movers over the summer. They got Derek Stepan and Antti Raanta from the Rangers, then got Niklas Hjalmarsson from Chicago an hour later. The acquisition of Jason Demers last month gives the 'Yotes one of the better blue lines in the conference. The question is, can their young guys pick up the goals to complement the back end?
4. San Jose Sharks - When thinking about the Sharks' window, just watch the final scene in Cheers when Sam Malone says, "Sorry, we're closed." Patrick Marleau is gone and Joe Thornton opted to come back for one final go-round -- or so it seems. Yeah, they have one of the best defensemen in the game -- Brent Burns -- but this is a team on the way down. San Jose is a bubble Wild Card team in 2017-18.
3. Calgary Flames - If you can look past the hot mess that is the Calgary arena issue, you will notice that the Flames have put together a solid squad. What's that you hear? Why...that's Jaromir Jagr's music! Someone finally pulled the trigger and signed Jagr! The Flames will be a fun watch this year, and we can look forward to them going blow for blow with their Alberta rivals for the next few years, at least.
2. Edmonton Oilers - Edmonton is a trendy pick to win the Pacific, West and the Cup. Sure, they have that McDavid guy and word has it he is an above average hockey player. But their bottom six and defense is questionable, and if they are going to run Cam Talbot out there for another 70-plus game season they might be in for a rude awakening, as goalies can get tired. McDavid will have no problem roasting the bottom feeder teams in this division, but it's just hard to buy them as a Cup contender right now.
1. Anaheim Ducks - Winners of five consecutive Pacific Division titles, the Ducks will make it a sixth in 2017-18. They just edge out the Alberta teams, but they somehow get it done once again with Randy Carlyle behind the bench. But ultimately, their season will get judged on postseason success, which sounds eerily familiar to a team in the Central Division.
Central Division
7. Colorado Avalanche - Congratulations to Joe Sakic on having the most useless offseason by a GM in NHL history. He did not sell off either Matt Duchene or Gabe Landeskog, players who were heavily named to get moved at the trade deadline last spring. Sakic is essentially bringing back the same team that was one of the worst in the history of the league. You can put it in stone that the Avs finish last this year.
6. St. Louis Blues - Here's another team that had a completely underwhelming offseason. Brayden Schenn and Chris Thorburn won't fix what ails this team. Now with Robby Fabbri out for the season, the Blues took a huge hit to their top-six, and depth is really going to hurt them now. It's just hard to see this team in the playoffs given the competition of the division/conference.
5. Winnipeg Jets - On paper, the Jets are an absolute scary bunch. They have young guns up front, decent defense, and they may have figured out their goaltending problem with Steve Mason. Mason will be the key. If he goes, the Jets are a sure lock to make the playoffs. It will be as a Wild Card, but they make it.
4. Chicago Blackhawks - GM Stan Bowman promised big changes after their playoff exit and oh boy did he make big changes. But his changes seemingly did more harm here, as the Blackhawks have an atrocious blue line now and their forward depth relies on young players and players on their second tour of duty with the team. A big step back is in the works for Chicago this season.
3. Dallas Stars - Another trendy pick in the West this year is the Dallas Stars. New head coach, another scorer and a goaltender who can stop pucks! However, the defense still remains a question mark, and Ben Bishop needs to prove that last year was a fluke. Ken Hitchcock guides the Stars back into the playoffs, where they will be a very tough out in the Spring.
2. Nashville Predators - The Cinderella team from last year comes back with a very similar squad in 2017-18. Forwards and defense will be solid, but this team will go where Pekka Rinne takes them, as seen by last season's playoff run. Do they have another long playoff run in them this season?
1. Minnesota Wild - A few tweaks -- some questionable -- to the roster, but Minnesota returns a very similar bunch this season. They have a coach who has nothing but regular season success, so Minnesota is able to hang another banner in the Xcel Energy Center rafters. However, this team will be solely judged on banners hung from postseason success this season. Will they get any?
Playoffs:
Anaheim (P1) vs Winnipeg (WC2)
Edmonton (P2) vs Calgary (P3)
Minnesota (C1) vs Chicago (WC1)
Nashville (C2) vs Dallas (C3)
Western Conference Final:
Calgary over Dallas in 7
Stanley Cup Final:
Toronto over Calgary in 6 (Congrats Canada on ending the Cup drought. Condolences to NBC, as no one in the USA tunes into the Cup Final)
---
Never Miss an Episode of Giles & The Goalie!