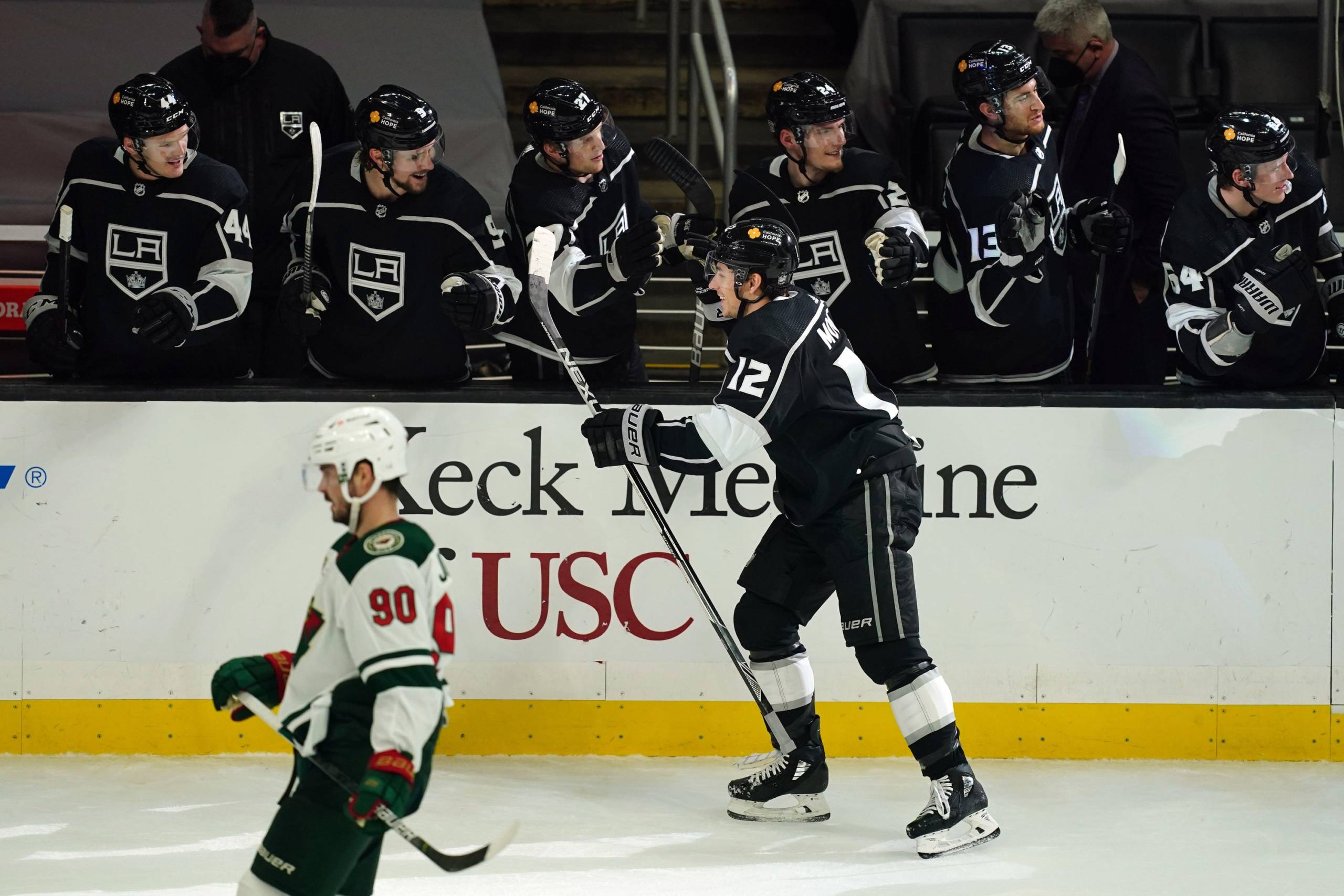 Ready or not, the Minnesota Wild were back on the ice on Tuesday night, and it became quickly apparent that they fell towards the "not" end of that scale. The Wild got shut out by the Los Angeles Kings 4-0, out-skated and out-classed by one of the league's worst teams.
Considering the circumstances, it's completely understandable. Minnesota may have been off for two weeks, but for many players, it was hardly restful. Joel Eriksson Ek, Nick Bjugstad, Marcus Foligno, and Marcus Johansson returned to the lineup shortly after recovering from the coronavirus. Matt Dumba and Ryan Suter were the only defensemen playing that were on the opening night roster, requiring huge minutes from both.
It might not get better soon, either. Jared Spurgeon will make his return tonight, but he's dealt with an injury on top of his illness. It's hard to imagine he'll instantly play 22-plus minutes a game right away. Jonas Brodin and Cam Talbot are foundational players for this team and are still on the COVID list.
When can we expect to see Minnesota fully recovered and ready to go? It's hard to say. The New Jersey Devils won their first game back after a massive outbreak, but it was against a not-good New York Rangers team. The Dallas Stars started hot after having 17 players on the COVID list before the season, but they're 1-3-4 after a 4-0 start.
Coronavirus hits everyone differently, and any respiratory illness can affect a player's endurance. Some players might be good to go in short order, others might take longer to get to 100%.
While it's expected and understandable that the Wild wouldn't be at their best right now, they can't afford a slow start. Tuesday's loss to Los Angeles dropped Minnesota to .500 and allowed the Kings to leapfrog them in the standings.
The Wild are now in last place with 12 points in 12 games.
It's not doom and gloom yet. The Arizona Coyotes hold the West's final playoff spot with 16 points in 15 games. The Anaheim Ducks have 15 points, but Minnesota's got four games in hand on them. The San Jose Sharks and L.A. are still expected to be pretty bad, and are only one point ahead of the Wild.
The problem with games in hand is that for them to matter, Minnesota has to win. Their next two games are in Anaheim, who can jump to seven points ahead of the Wild with a sweep.
You hate calling Games 13 and 14 of the season must-wins, but it's pretty close. Going pointless in Anaheim will put them at least five points out of a playoff spot, and probably more, with just 42 games left to play. While that may seem like a lot of time to make up ground, think of it another way: If the Wild were five points out of a playoff spot 40 games into an 82-game season, how would you feel?
The schedule is going to be tough down the stretch. Minnesota's got five more games against the Colorado Avalanche and eight versus the St. Louis Blues and Vegas Golden Knights. Those three are probably among the 10 best teams in hockey, and the Wild play half their remaining schedule against them. Add in eight games with Arizona, who are showing they're not pushovers this year.
The biggest reason for this crisis situation? Minnesota couldn't bank points with an easy schedule in their first 11 games. They squandered five power play opportunities and a 26-save night from Talbot in a 1-0 loss to Anaheim. They dropped another game to San Jose by surrendering a Brent Burns goal in the final two minutes. The Wild also looked punchless in 2-1 losses to both L.A. and a Nathan MacKinnon-less Avalanche.
That's four winnable games, or at least games with a loser point within reach. Four to eight points left on the table. Points they could sure use while the team recovers and faces down a tough schedule.
It's a tough situation for Minnesota. A lot of things they're going through are out of their control. It's hard to control an outbreak. They can't control how quickly players recover, or how long they adjust back to 100%.
At the same time, the Wild had a lot more within their grasp before the outbreak hit them. They couldn't take advantage, and it puts them in a tough spot today.