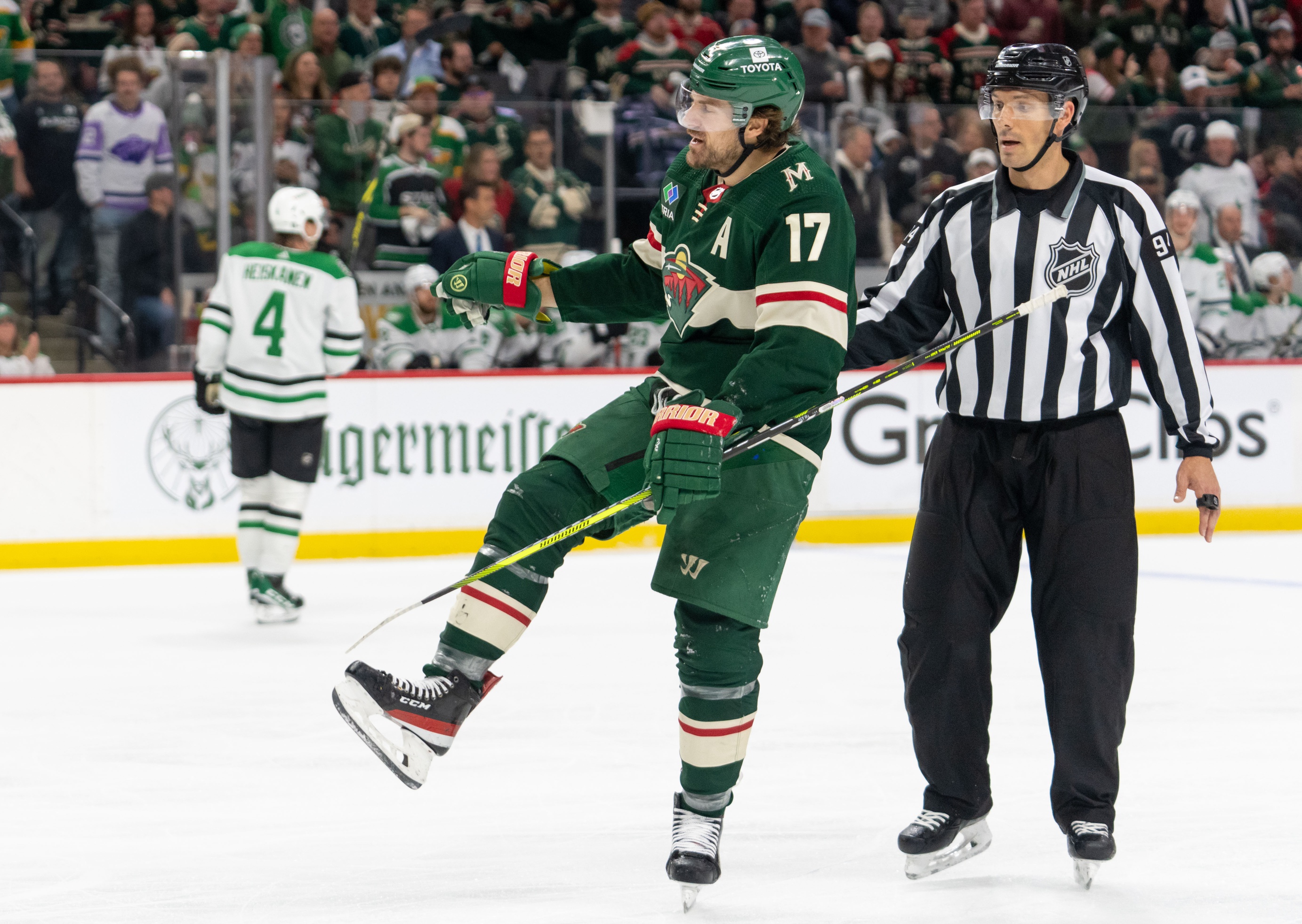 Image courtesy of Matt Blewett-USA Today Sports
The Minnesota Wild brought in Marcus Foligno in the summer of 2017 as part of a major overhaul. The makeover was partly prompted by a salary cap crunch, partly because of the Vegas Golden Knights' expansion, and partly because the Wild needed a shake-up to get back into the playoffs. 
Foligno offered a different look to the Wild's smaller forwards. While even the bigger players of the Wild's old core -- your Charlie Coyle and Nino Niederreiter types -- weren't exactly physical players, Foligno was the rough-and-tumble player necessary for the playoffs. The Wild got shut down by, of all people, Mike Yeo's grind-it-out St. Louis Blues team in the playoffs, and you gotta fight fire with fire.
Ever since then, Foligno has been a staple of the lineup, and a positive force for the Wild. In addition to his physicality coming as advertised, he actually kept play in the offensive zone with his forechecking. Over his first five seasons in Minnesota, Foligno gave the Wild 15.8 Standings Points Above Replacement, or 3.9 SPAR per 82 games. 
On a team that's squeezed value out of several players in recent years, Foligno might have been the best bang for their buck. The Wild enter the last year of their alternate captain's contract poised to pay him $20.8 million for 16.3 SPAR, and counting. Not bad for two contracts that collectively bought six UFA years.
The return on investment Minnesota's gotten so far on Foligno is no doubt a reason why that, of the Wild's pending UFAs, Foligno is likely their top priority. Another reason is that of Minnesota's upcoming prospect pool, none profile to take on the Foligno mantle, at least, not entirely. Someone like Liam Öhgren and Danila Yurov might have that mix of two-way play, skill, and forechecking ability. No one combines that with the sheer physicality and toughness (read: fighting ability) that makes Foligno a playoff-type player.
The dominant belief in the hockey world is that to get through the gauntlet of the postseason, you need that player who can thrive when things get hard, the physicality ramps up, and the toughness ratchets up. Looking at Minnesota's team makeup, it's clear that Bill Guerin buys into that belief. Re-signing Foligno would appear to be crucial to give the Wild's next wave that edge.
There's just one problem with that. In theory, Foligno is the kind of playoff-type performer NHL GMs would sacrifice relatives to acquire. In practice, though? Not so much. Not at all, really.
In his time in a Wild uniform, Foligno's scored 0.39 points per game in the regular season. When the calendar flips into late April, that production shrinks to 0.25 per game -- or just seven points in 28 career playoff games. Even as his role expanded in recent seasons, it's a considerable drop-off. In the past three seasons, he's been a half-point per game player, but drops to 0.32 points per game in the postseason. 
It's not a unique phenomenon for a Wild forward's scoring to dry in the playoffs, and that includes the past three years. It's foolish to single out Foligno when the likes of Kirill Kaprizov (0.63 points per game in the playoffs over that time), Mats Zuccarello (0.63), Kevin Fiala (0.38), and Matt Boldy (0.33) have seen their production dip in the postseason. But if you're working off the theory that players like Foligno are going to thrive in the playoffs, it definitely hasn't happened in practice. 
Foligno's impact can't solely be measured in points. He takes tough defensive assignments and holds the league's stars to precious few opportunities. But this tendency usually declines in the playoffs. In the regular season, Foligno controls 51.1% of the shot share, giving up a minuscule 1.98 expected goals per hour. Once in the playoffs, that shot share dips down to 46.4% and he allows 2.34 xG per hour. 
A player like Foligno is supposed to be a different player in the playoffs, but not like this.
It's not difficult to find reasons for this scoring outage that may be outside of his control. Foligno has missed games in each of the past three seasons, and probably hasn't been 100% for most of those postseasons. It also seems that in this recent series against the Dallas Stars, the referees called Foligno more tightly than in the regular season, limiting his effectiveness. 
While those factors -- assuming that's a correct analysis -- may absolve Foligno of liability for his performances, neither really helps make a case to extend him on his current deal. If Foligno's playoff-style game puts a toll on him that, paradoxically, makes him less effective in the postseason, is that truly an asset? If the referees call Foligno tightly from here on out to restrain or punish his physical play, isn't keeping him for playoff purposes just misreading the NHL landscape?
Under normal circumstances, that all might not matter in the big picture. Jared Spurgeon is an example of a player who, historically, might not get you through the playoffs, but he certainly helps you get to the playoffs. It sounds backhanded, but those players are still good and valuable parts of teams, even ones that regularly make deep playoff runs.
If Foligno can bounce back from last year and regain his previous form, he's still a good and valuable part of this team. His market value should also be pretty easy to swallow going forward. Evolving-Hockey's contract projections believe an in-season extension will come in at around three years with a $2.83 million AAV. For a solid player like Foligno, that isn't breaking the bank.
Is that worth it to keep the leadership, physical presence, and locker room vibes he brings on its own? To Bill Guerin, it might be. It's clear he values Foligno in the locker room as much as his on-ice contributions.
But there are two pretty sizable reasons why it might not be wise. The first is that he turned 32 in August. He only has 743 games, not nearly the sheer amount of miles as fellow 2019 draftees John Tavares (1,029 games), Ryan O'Reilly (991), or even teammate Marcus Johansson (833) has on their odometers. However, the physical toll Foligno racks up on a nightly basis might slow him down quicker than age does.
The other comes back to the playoff knock. The incoming wave of Wild prospects should be full of players who can get the Wild to the playoffs. The Yurovs, Öhgrens, and Marat Khusnutdinovs should have high floors as two-way players who can bring the ice-tilting effect that Foligno does. If Foligno isn't the guy who can get a team through the playoffs, then why block a spot off for an older, more expensive player?
There is a push and pull surrounding Foligno that makes for an interesting argument for and against extending him. As a player looking to prove that he can regain his scoring touch again, he's already poised to be an interesting player to watch this season. The Foligno Extension Watch should be every bit as compelling.
1

1