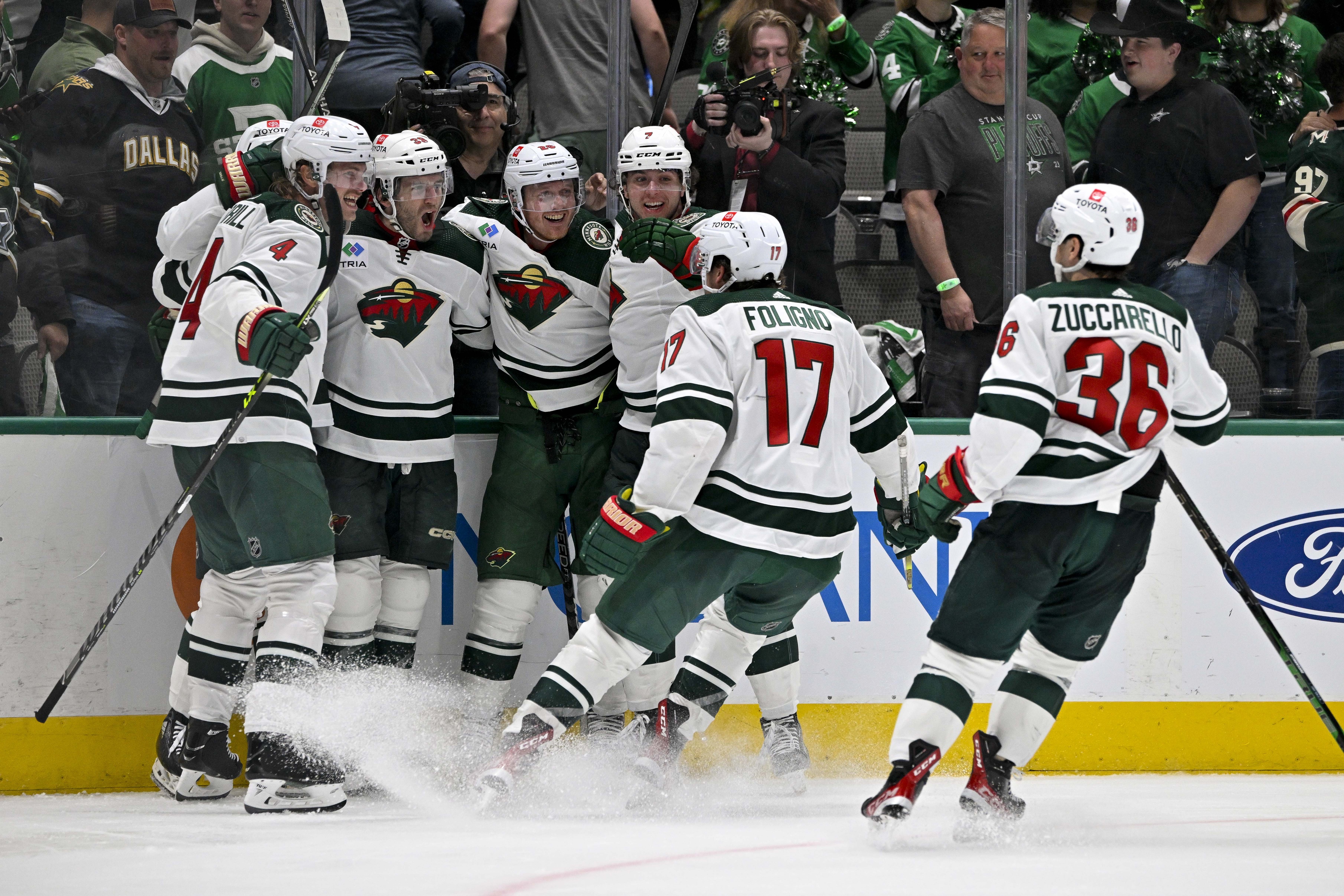 Image courtesy of Jerome Miron-USA Today Sports
Many people who follow the Minnesota Wild believe Mats Zuccarello, Ryan Hartman, and Marcus Foligno will likely walk as unrestricted free agents next summer. They're all in contract years, and the Wild have limited cap space. What if I can tell you they can serve a benefit to the prospects? Not blocking them, but supporting them in a veteran, depth role? 
Now, if they demand too much money, that will complicate the growth and development of Minnesota's prospects. The Wild have a price point in mind, and they might need to let them sign elsewhere if these UFAs can't fit it. But for the time being, Zuccarello, Hartman, and Foligno can serve Minnesota's depth in a way that benefits the team as they transition into a legitimate Stanley Cup contender. 
Danila Yurov, Marat Khusnutdinov, and Liam Öhgren are the top prospect forwards who are expected to join the team in 2024-25. Each of them should join the team's top-nine to make an immediate impact. The Athletic's Michael Russo, reported that Öhgren is coming to Minnesota to be further evaluated by the team's doctors to determine the severity of his back injury. This means he's likely out indefinitely, which is a stunt in his development, but rest assured Öhgren will be ready to make the team in 2024-25. Rest up and recover! 
The Wild are projected to have approximately $24 million dollars in cap space next summer. They have every right to be patient to see who deserves to stay and who goes. Popular opinion is to let these guys walk. However, it's important to note that Zuccarello is likely staying in Minnesota, and for good reason. If he agrees to have Dean Evason shelter his minutes so that he can be more effective, there should be common ground between him and the team. The Wild also need to consider Kirill Kaprizov's happiness in hopes of him signing an extension. 
Zuccarello's not going to get $6 million in his next contract. However, what if he settles for a 25% cut? That means he agrees to a two- to three-year deal worth $4.5 million per season. Kaprizov's contract expires in 2026-27, so that means that Zuccarello will need to sign at least a 2-year contract. That puts the Wild around $20 million to sign more players. 
Yurov is expected to come over from Russia and play with Kaprizov. However, Zuccarello and Kaprizov are inseparable as they're forming an Alex Ovechkin-Nicklas Backstrom kind of relationship. What if Yurov comes and replaces Hartman as their center? Didn't fans want a more skilled player in between them? Well, Yurov fits that description. The expectation is for Rossi to eventually join Kaprizov. But what if the team decides to play Rossi with Boldy? Both already have chemistry, making the top-six more lethal. The Wild should be in business with Yurov and Rossi as their one-two punch at center. 
Khusnutdinov would likely play the wing alongside Rossi and Boldy, which should still be a productive and exciting line. Expect Khusnutdinov to continue adding to his frame, much like Rossi did in adding 15 pounds over the past year. Both can likely hold their own against NHL competition while Boldy facilitates his line and creates chaos in front of the net, much like Bill Guerin requested during his exit interview this past spring. 
Hartman has value to the Wild in a middle-six role with the team as he plays alongside Joel Eriksson Ek and Öhgren. Hartman would enjoy playing a shutdown role with these two as Öhgren gets lessons in being both a quiet and verbal agitator from both players. These three will be hard to play against and will often be productive, due to everyone having the ability to play center. 
Hartman will get a pay raise. The only question is: how much? Due to the role he currently plays, he'd be able to step in as center in a pinch. So if anything, he could enjoy seeing around a 75% increase in his pay as this puts him at around $3 million. Expect this term contract to be 2-3 years as Hunter Haight, Riley Heidt, Caedan Bankier, etc., will be able to continue their development in juniors and Iowa. These two contracts would leave Minnesota with about $17 million in cap space, plenty of room to work with. Hartman loves Minnesota, and he has earned the right to stay. 
Where would Foligno end up? Well, that's the tricky part. He's the default option to put on the fourth line. However, they'd want to monitor his health better, especially with him aging into his mid-30s. Currently, the Wild have Freddy Gaudreau and Marcus Johansson in the fold. They both are more than capable of replacing the speed Connor Dewar and Brandon Duhaime currently bring to the 4th line, not to mention more upside. Someone like Foligno should be able to bring grittiness and leadership to this line.
But what if I tell you there's a better spot for Foligno here: the 13th forward position? 
It's time for Sammy Walker to play the big club, even if it's a fourth-line role. Walker deserves the chance to play, as he has more offensive upside than Duhaime, Dewar, and Foligno. Walker can play a solid and effective two-way game, with blistering speed that will bring fans out of their seats. Gaudreau and Johansson are going to give Walker valuable advice to learn from. This line can create so much chaos and problems, completing their bottom-six. 2024-25 is Walker's time! 
Foligno's current salary is $3.1 million. What if he gets a similar contract and role as Ryan Reaves? Reaves just got a three-year deal at $1.35 million per season. Let's say Foligno gets around $1.5 to $1.7 million. Foligno can draw in for injuries, keeping him healthy, as well as match-ups that require his toughness. Guerin could give Foligno a No-Trade Clause because of Minnesota's previous relationship with him. The Wild will be able to manage because they're coming out of cap hell. 
Ultimately, what do we have here? A team that looks like they've filled in the gaps that they were previously missing. Building center depth in Rossi, Yurov, Eriksson Ek, and Gaudreau? Check. A strong supporting cast with young talent? Check. A Superstar? Check. This article isn't about Minnesota's defense, but there's enough talent there to support the forwards. They'll be riding Filip Gustavsson and likely Jesper Wallstedt, all they need is a seamless transition to the future. With Zuccarello, Hartman, and Foligno still on board, they'll have that. 
3

1