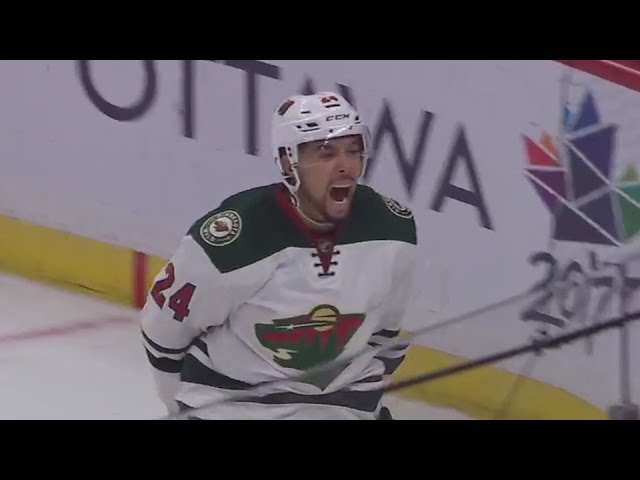 Sunday, the NHL revealed all 30 teams' protection lists ahead of Wednesday's Expansion Draft. The Wild's toughest choice heading into the submission of their list was who they would protect with the third defenseman slot, as it seemed like a no-brainer decision for them to go the 7-3-1 route (instead of the 8 skaters, 1 goalie option), given the talent the team has at forward.
The decision for General Manager Chuck Fletcher came down to Jonas Brodin and Matt Dumba for the final defenseman slot behind Ryan Suter and Jared Spurgeon. It looked as if the Wild were leaning on protecting Dumba just a few weeks ago. However, trade discussion with other teams heated up in the last week, and the Wild saw Brodin as the more valuable asset and ended up protecting him when they handed in their list to Central Registry on Saturday afternoon.
There was quite a bit of division amongst the fanbase over that decision. There are those who either love Brodin, a solid stay-at-home defenseman, or Dumba, a young offensive defenseman that the Wild will not easily replace.
So did the Wild make the correct move in protecting Brodin, or are they making a colossal mistake and leaving Dumba exposed and letting him go for nothing? Let's take a closer look.
After his quick ascension to the big club in the lockout-shortened 2012-13 season, Jonas Brodin seemed he would be a lock in the Wild's top four for years to come. He took a moderate step forward offensively in 2013-14 with eight goals at the age of 20. But perhaps that had more to do with the fact he had an incredibly high shooting percentage of 10.8 percent. In the years before and after that, Brodin has never shot anything higher than 4 percent.
Jonas Brodin shooting percentage by season:
2012-13: 3.9%
 2013-14: 10.8%
2014-15: 3.2%
2015-16: 3.4%
2016-17: 3.5%
But offense was never really a part of Brodin's game, even when he was drafted in 2011. He was drafted as a great skater, great in his own zone and excellent at moving the puck up the ice. There was room to improve offensively, and he offered a glimpse of improvement in the 2013-14 season, but never really ascended under Mike Yeo. However this past year under Bruce Boudreau, Brodin did jump up with a career high 25 points, and was even was second Wild defenseman in points per 60 minutes at five-on-five this season with 1.02.
Jonas Brodin points per 60 minutes at five on five by season:
2012-13: 0.43
2013-14: 0.40
2014-15: 0.51
2015-16: 0.30
2016-17: 1.02
Perhaps this was why teams were high on Brodin in the past two weeks, and this was why the Wild protected him, as they hope to sell high on him having a somewhat decent year offensively. He finally offered a bit more on offense to go with his defensive play, and maybe teams out there saw that at the age of 23, he still had room to grow. Or maybe this just is how the Wild themselves feel, as they have always been very high on Brodin since bringing him into the league.
However, the return on a potential trade for Brodin would have to be great as they would stand to lose a defenseman in the expansion draft (whether that's Dumba or Marco Scandella) and then Brodin in a potential trade after. Losing two solid defensemen and trying to replace them with unproven defensemen Mike Reilly and Gustav Olofsson (who is essentially Brodin-lite) would be a huge roll of the dice.
Then you flip over to Dumba, who seems to be the opposite of Brodin. Dumba, a right-hand-shot defenseman, has provided quality offense from the blue line, but has been a liability in his own zone. Dumba led the Wild in giveaways this past season, which is something most Wild fans will try and remind you when trying to justify the protection of Brodin over the Alberta native.
If you take a closer look at the numbers, Dumba appears to be on a path that *could* make him one of the better offensive defensemen in hockey.
https://twitter.com/OhHiTony/status/849424956756766722
That's pretty elite company, considering what most of those defensemen on the list ended up being. You will notice former Wild defenseman Brent Burns on that list, and let us not forget how he ended up (in case you forgot, he is pretty good).
Also, Dumba is potentially a future quarterback for the Wild powerplay, as Suter continues to age and become seemingly a bit less productive. For instance, Dumba and Suter were tied with 12 points on the power play this season (best among Wild defensemen), but Dumba was able to do that with nearly 50 minutes less than Suter (who played over 60 minutes less on the power play this past year, compared to the year before).
This is not by any means saying Dumba is better than Suter at this juncture; this is merely pointing out that he is on a trajectory to be a replacement as a no. 1 defenseman in terms of offense. And if you still don't buy into that because of his turnovers, let's offer this stat as Exhibit A for why you should cool your jets:
http://i177.photobucket.com/albums/w226/gitesferrett/NHL.com%20%20%20Stats%201.png
The top two players on that list are Norris Trophy candidates. Just want you to keep that in mind.
***
When you come back to the decision the Wild made on Saturday, did they make the right move here by exposing Dumba over Brodin?
While a side deal to keep Dumba on the Wild roster could be reached (but the Wild do not have draft assets this year that Vegas covets, so it is quite possible the Wild have to sacrifice draft picks in 2018 and beyond to keep him), the Wild exposed a 22-year-old RIGHT SHOT defenseman who has tremendous offensive upside for a 23-year-old stay-at-home defenseman who quite possibly over-achieved last season.
Brodin could still get easily get traded after the roster freeze is lifted on Thursday, but will it really be worth exposing Dumba for that reason? There would have to be quite the return on that (which is plausable considering how desperate some GMs can get for a competent defenseman) to justify the move. The Wild also have a Brodin-like player in Olofsson waiting for his shot at the NHL in the minors, so it would make moving him a little easier to bear.
Only time will tell if this was the correct course of action, but for now, this was seemingly not a favorable move on the Wild's end. Now it's on them to try and swing a deal worthwhile for Vegas to accept, to prevent them from picking Dumba. If not, Matt Dumba could very well be added to the list of Minnesota sports athletes who went on to another team and made it big time.
(Advanced stats in this post via Hockey Analysis)
---
Never Miss an Episode of Giles & The Goalie!