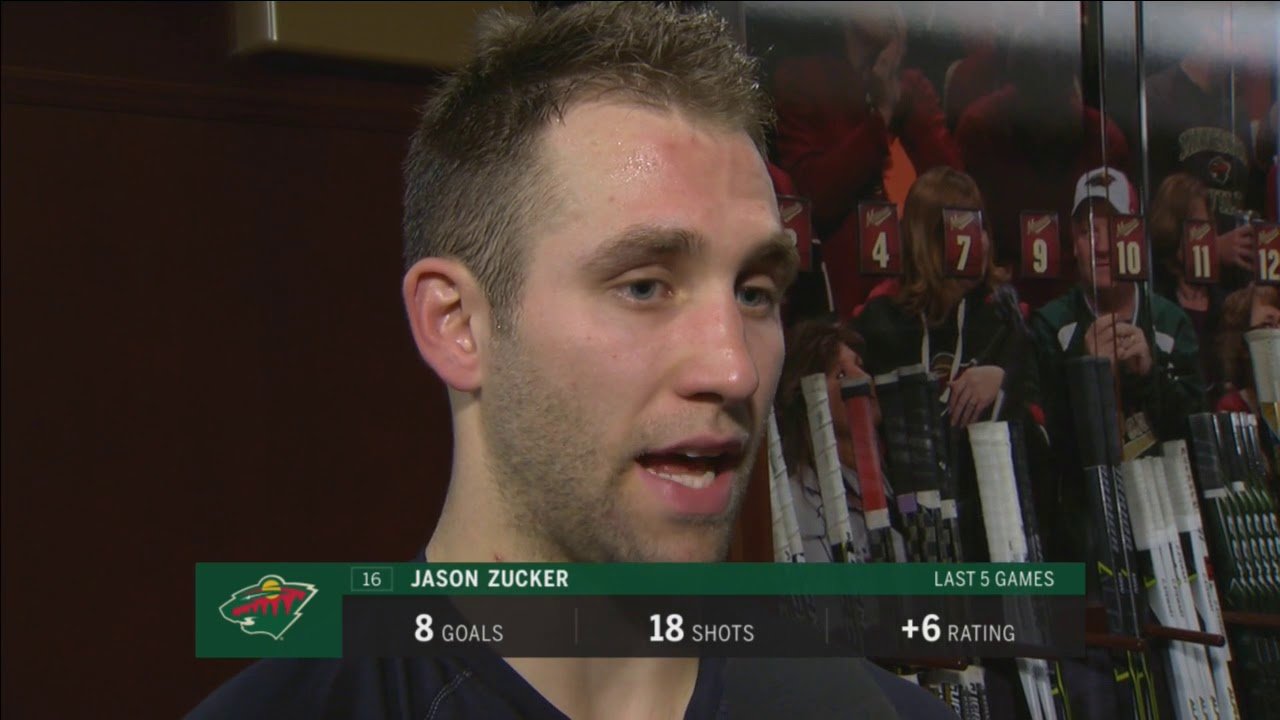 It was just one month ago that we were discussing Jason Zucker as one of the hottest goal-scoring forwards in the league and that he would perhaps get a chance to represent the Minnesota Wild in January's NHL All-Star Game.
Zucker, 25, was just coming off a recent streak where he scored six consecutive goals for the Wild and had a team-high 10 goals in November through Minnesota's game on the 27th against Winnipeg. While that game against Winnipeg was forgettable, the goal for Zucker that gave him 10 in the month was notable in the fact he became just the third Wild player in team history to tally 10 goals in a month -- joining Marian Gaborik (March 2002) and Eric Staal (March 2017)
But since that dreadful 7-2 drubbing in Winnipeg -- in which Zucker tallied his 10th goal of the month to give him 13 goals on the season -- the goals have dried up for the Newport Beach, Calif. native.
Just one goal has come in the past twelve games for Zucker after having such an incredible hot streak in November. The lone goal came in Minnesota's 3-2 overtime win in Anaheim back on Dec. 8, which means that Zucker has been held out of the goals column for the past eight games.
If you look a bit more closely at the numbers, you will find a few interesting things about this drought. The first of which is shooting.
From the beginning of the year through Nov. 27 (24 games), Zucker was averaging 2.4 shots per game. Also in that span, his shooting percentage was an incredible 22.4 percent, which was best on the team. But with a shooting percentage that high, there's bound to be a fall back to earth at some point along the way.
In the 12 games since that hot start to the year, Zucker has only been averaging 2.0 shots per game. It's not a huge drop, but still a noticeable one. And as noted before, he has tallied only one marker in that span, so his shooting percentage during that time is sitting at an abysmal 4 percent, bringing his season average to 16.9 percent -- still not a bad number.
A big reason, perhaps, for Zucker's low shooting numbers in the past 12 games is that he has gotten some pretty unfavorable matchups against the opposition's blue liners. Below is a list of every game in this current drought and the two defensemen that have been on the ice against Zucker the most during each game.
11/30 vs Vegas - 18:03 TOI: Colin Miller (7:31) & Brayden McNabb (6:49)
12/2 vs St. Louis - 17:42 TOI: Colton Parayko (8:58) & Alex Pietrangelo (8:15)
12/5 at Los Angeles - 17:13 TOI: Jake Muzzin (10:33) & Drew Doughty (8:34)
12/8 at Anaheim - 17:23 TOI: Cam Fowler (6:58) & Francois Beauchemin (6:57)
12/10 at San Jose - 16:30 TOI: Justin Braun (11:27) & Marc-Edouard Vlasic (11:27)
12/12 vs Calgary - 18:26 TOI: Mark Giordano (8:28) & TJ Brodie (7:37)
12/14 vs Toronto - 15:40 TOI: Ron Hainsey (8:58) & Morgan Reilly (8:01)
12/16 vs Edmonton - 13:33 TOI: Darnell Nurse (5:58) & Oscar Klefbom (5:52)
12/17 at Chicago - 15:55 TOI: Connor Murphy (7:49) & Gustav Forsling (6:52)
12/19 at Ottawa - 16:42 TOI: Erik Karlsson (10:24) & Johnny Oduya (9:43)
12/22 at Florida - 20:37 TOI: Aaron Ekblad (13:22) & Keith Yandle (13:22)
12/23 at Tampa Bay - 13:50 TOI: Victor Hedman (6:40) & Dan Girardi (5:03)
As you can see, Zucker has been getting a lot of time up against the opponent's best defensive pair. It is pretty hard to slip by the defense -- as Zucker does quite well at times -- when you are getting matched frequently up with the likes of Pietrangelo, Doughty, Karlsson and Hedman.
You know, annual candidates for the Norris Trophy -- given to the league's best defenseman.
It is also worth noting here that Zucker has seen a dip in offensive zone starts during this time, as well. In those first 24 games of the year, Zucker was getting 44.5 percent of his faceoffs in the offensive zone. In the past 12, that percentage has dipped to 40.6 percent.
Zucker has been one of the lowest on the team in that category all year, as the center he has mainly played with (Mikko Koivu) gets a large chunk of zone starts in the defensive zone -- 37.8 percent on the season -- due to his faceoff ability. So while Zucker has been able to overcome that early on, the dip in zone starts isn't exactly helping his cause either.
Basically, when it all comes down to it, Zucker will not be shooting at a 4 percent clip for the remainder of the year. This may have just been a byproduct of his shooting percentage coming back down to earth, because 22.4 percent is a pretty unsustainable number.
But if Zucker is going to continue seeing large amounts of ice time against the opponent's best d-pair, it may be a bit more difficult for him to light the lamp moving forward. He certainly has been shuffled around the top six in the hopes of getting sparked, but no luck has come for him as of yet.
And that's what he just may need to get going again -- a bit of luck.
Stats and ice times in this post via NHL.com. Hockey-Reference, and Natural Stat Trick.
---
Never Miss an Episode of Giles & The Goalie!