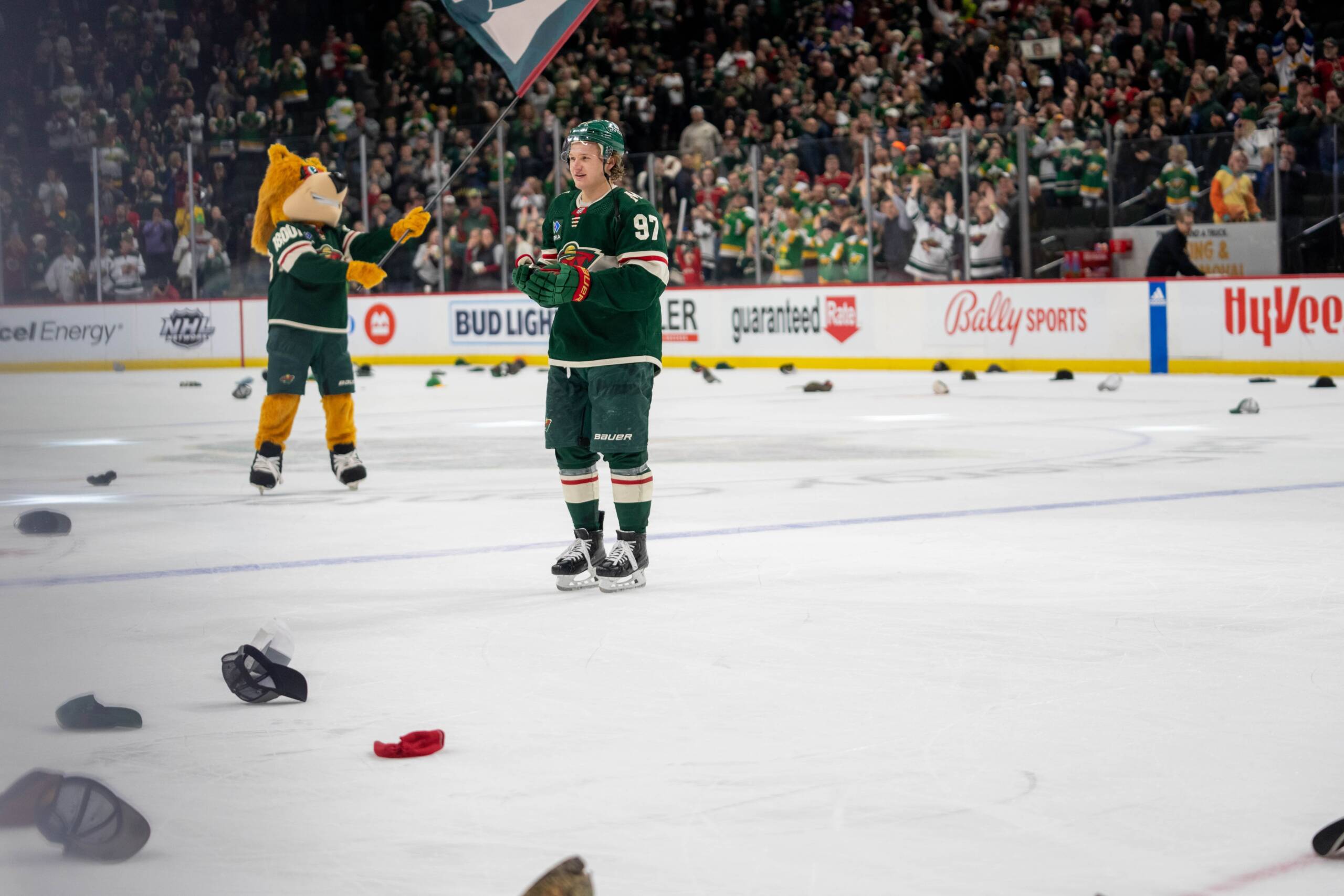 Sunday's matinee at the Xcel Energy Center looked like another disappointment. The Minnesota Wild hosted the dead-last-in-the-NHL Columbus Blue Jackets, and were all too welcoming through 40 minutes. The Wild were down 2-0 entering the third, with no multi-goal comebacks on the season.
Just as they had all year, they were going to shoot themselves in the foot just as they gained momentum. Minnesota had an opportunity to leap-frog the Winnipeg Jets and Colorado Avalanche for second place in the Central Division and appeared ready to blow it.
Instead, 24 minutes and 40 seconds of game time later, Kirill Kaprizov sent the Wild faithful home with an incredible performance. Thanks to his hat trick, the Wild pulled off the win in overtime, securing those desperately-needed two points.
Where did that rank among the Wild superstar's best games?
"One," Dean Evason said matter-of-factly when asked postgame. "His will to not only score, but to win is incredible."
That sounds a bit nutty, that dispatching a last-place team might be his best game. He's had hat tricks before, including one in last year's playoffs. Three points in a game aren't his best ever, he's scored four in three games. Kaprizov's no stranger to overtime winners, this was his sixth in just 196 games.
But Evason's right. It's hard to find a night where Kaprizov has been so dominant.
As an individual shooting threat, Kaprizov has never had a better game. He had eight shots on goal, 12 unblocked attempts, and 15 total attempts. And by far, this was the most dangerous collection of shots he's had. Look at where Kaprizov's unblocked shots came from, which are all circled:
[caption id=attachment_145051" align="alignnone" width="915]

Courtesy of Evolving Hockey[/caption]
You can see four of those 12 shots were simply trying to put the puck on net and see what happens. The other eight, though? Those all had a 10% or more chance of going in. A lot of these chances were also much greater than 10%.
For starters, those three goals had expected goal values (that is, odds of going in based on shot location and more) of 18.3, 21.9, and 22.7%, in order. And while the latter two were in favorable scoring situations — a 5-on-3 power play and in 3-on-3 overtime — Kaprizov was also a madman at 5-on-5 play.
Take out the two special teams goals, and those remaining six high-end chances all came at 5-on-5. Four of them had a greater than 15% chance to score, including a shot he tried banking off Elvis Merzlikins' back, a 23.5% xG value, and a shot Kaprizov has scored on before.
Add up all those xGs and you get a total of 1.57 expected goals. That is, anything other than getting two or more goals out of that game registers as a mild disappointment, considering the chances Kaprizov got.
That is the absolute most of his entire career. Kaprizov's previous high came on January 12 against the New York Islanders, where he got 1.47 xG. However, that was boosted by an empty net goal, a situation that (for obvious reasons, as you're shooting on an empty net) has a very high xG value.
The most in a game without an empty net goal was a February 26, 2021 match against the Los Angeles Kings. He got 1.33 xG in that game, a quarter of a goal lower than what he put up Sunday.
It takes a lot of work to get to the front of the net that frequently. Just ask Zach Parise, who did that with Minnesota for nearly a decade. But Kaprizov has that same drive, and even more scoring talent.
It was a display so impressive that, despite being reluctant to single out one of his players for praise, Evason couldn't stop raving about it. Listening to him, you get the sense that Evason is so willing to praise him ahead of the team because he trusts Kaprizov to always put the team first.
Even when everybody, including Evason himself, thinks it's ridiculous to do that. "His mindset — we talk about 'team-first' all the time — we had a neutral-zone faceoff, and he wants to come off the ice for a faceoff guy, when him and [Mats Zuccarello] were on," Evason said about what ended up being the game-winning shift in overtime.
"I said 'No,'" Evason laughed. "You may not get on the ice again, right? But he said he wanted to come off, so I just had a chat with him. ... And that's how he thinks, 'We need the faceoff, because that's better for the team.'"
Luckily, Evason talked Kaprizov into staying out. He knew the team needed Kaprizov, and Kaprizov showed he was going to drag them to victory.
Kaprizov's dominance also made his team better. He didn't just rack up individual chances. Zuccarello, Ryan Hartman, Matt Boldy, Joel Eriksson Ek, and Calen Addison all got golden looks at the net when Kaprizov was on the ice. With Kaprizov on the ice, the Wild got 24 of their 44 shots and 2.60 of their 4.11 xG.
That's either 55 or 63% of the Wild's offensive output in the game happening with Kaprizov. Which is incredible, even considering that Kaprizov himself played a Ryan Suter-like 25:36 as a forward. That's the second-highest of his career.
Sometimes a game with a lot of power plays can lead to big ice times for forwards, who don't have to work as hard on defense when shorthanded. That wasn't the case Sunday, as the Wild only got two power plays, which overlapped into the third-period 5-on-3.
Almost all of the game was played at even-strength, and Kaprizov kept going on the ice. "We literally could've kept him on the ice the whole game," Evason marveled at his endurance. "[Bill Guerin] and I actually talked about it, because he watched Alex Ovechkin play, and I had a front-row seat for his first eight years. [Kaprizov's] cardiovascular ability to recover is almost identical to Ovi's when he was young. He's going to be arguably the best scorer in the game."
When your coach is making lengthy comparisons to the guy who's going to break Wayne Gretzky's record, that's something that makes you take notice.
But again, he's right. Look at how much better Kaprizov got as it became obvious that he was the only player who was going to save Minnesota from another disappointment.
With the Wild down 2-0, Kaprizov played 11:58 of a possible 24:40 minutes from the third period on. The Wild generated 2.18 xG in those 24 minutes. 1.50 of them, or 69%, came with Kaprizov on the ice. 0.95 (44% of Minnesota's overall output) of that came directly off his stick.
What else can you say? Just marvel at the newest way the superstar blew the minds of the State of Hockey, enjoy second place in the division, and wait for what he does next.
All data courtesy of Evolving Hockey.