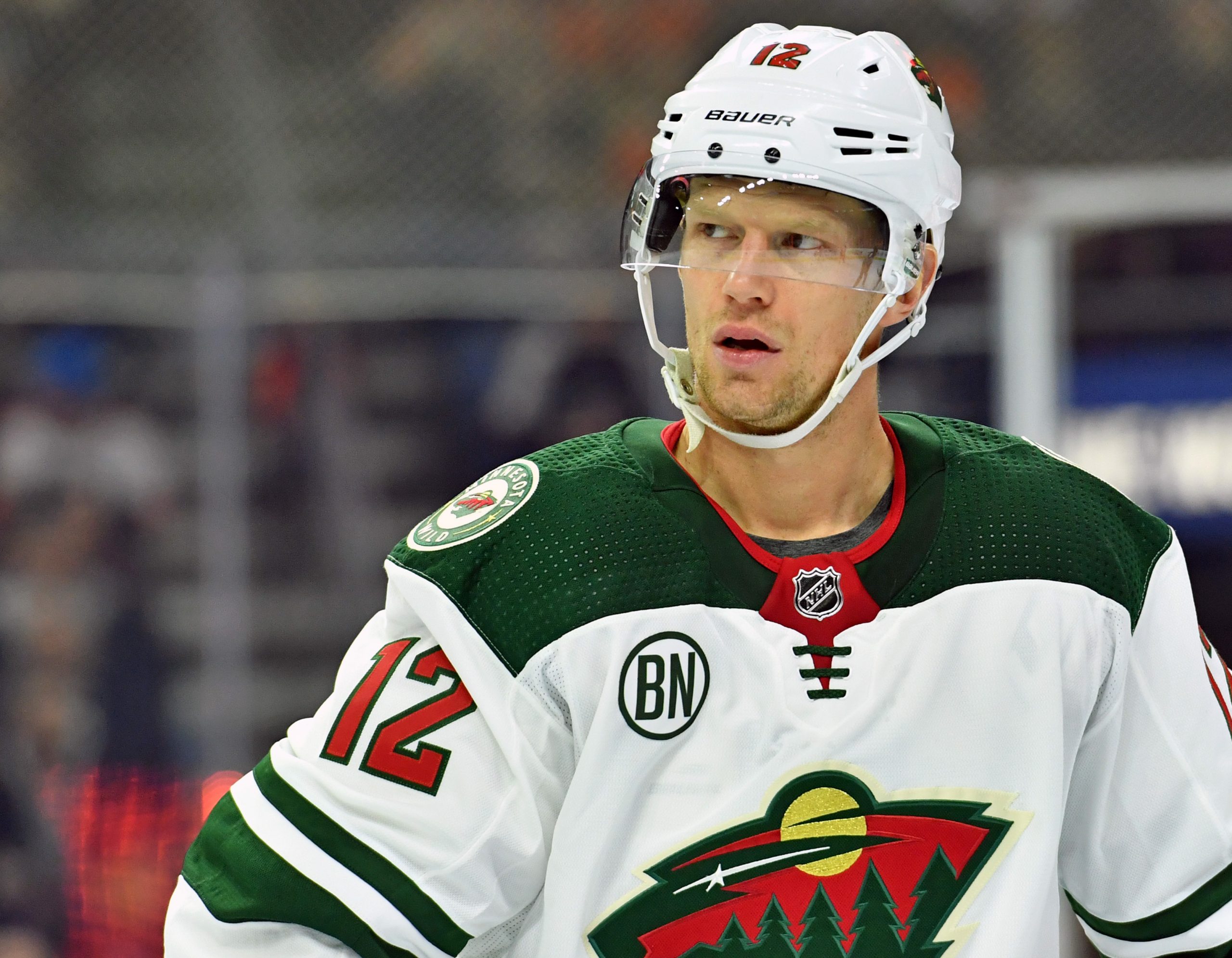 In the wake of a busy trade deadline both league-wide and locally, the Minnesota Wild were not done conducting business Monday afternoon after the 2 p.m. deadline had passed.
Eric Staal's agent Rick Curran spoke with Wild general manager Paul Fenton 15 minutes before the deadline, and the two had agreed upon the fact that the soon to be unrestricted free-agent center would not be traded by 2 p.m. Staal had been very vocal about staying in Minnesota and was now getting his wish to stay at least through the remainder of the season.
Two-and-a-half hours after the deadline, Staal and his agent had worked out a new contract extension with Fenton on $6.5 million over two years ($3.25 million AAV).
The deal is an incredible steal for Fenton and the Wild.
Sure, Staal is having a down season in terms of production. But his 43 points and 18 goals are third and second on the team, respectively.
While the veteran center is at the age of 34, he is coming off a 42-goal/76-point season -- just the second player in team history to tally 40-plus goals in a season -- in which he took a good run at the Minnesota Wild record books. If you had said at the beginning of the season that Staal would sign an extension worth $3.25 million AAV for two years, you are taking that deal in a heartbeat.
Getting Staal to sign the dotted line on that contract when the Thunder Bay, Ontario native could have easily signed elsewhere in the summer for more money was a success for Fenton during a time when he was under fire for some other moves he had been made. The move most notably made he had come under fire for was the Mikael Granlund for Kevin Fiala trade that he consummated three hours prior to getting the extension with Staal signed.
Staal himself was enamored with re-signing in Minnesota when he told The Athletic on Tuesday, "I am happy to stay. This is a great organization. A great place to play hockey. I feel like I've fit in with this group and this fanbase and I'm ready to be here for the next two years."
But the question is, if Fenton is trying to make his team younger, why is he hanging onto Staal for another two seasons after this when he is already 34 years old?
The answer is pretty simple: The Wild need to figure out the future at center.
Mikko Koivu is under contract for just one more year after this one, and the soon to be 36-year old's future beyond that with the Wild -- and in the NHL in general -- is up in the air. Then you have Staal for two more years down the middle. Then what?
Victor Rask will more than likely get a full season with Minnesota next season before Fenton even considers cutting bait with him. A buyout of his contract is very team-friendly -- $1.333 million cap hit depending on which offseason he gets bought out -- and would seem to be in the future if he cannot get his game together.
Young players Joel Eriksson Ek and Luke Kunin could be centers of the future, but does Fenton see them as centers? Or does the general manager see them more productive on the wing?
That's why Fenton gave Staal the two-year extension. It buys him some time to figure out whether or not any of the young players on the roster can slot in down the middle long term or else he will have to look at finding some through the draft, in free agency, or in another trade.
The path of looking for centers through the draft may work out in the long run, but that might not exactly fit in the short term as Fenton retools the Wild roster on the fly in the hopes of keeping them competitive/in the postseason.
If there is going to be an attempt to address the center position through free agency, there are some solid options in the summer as the likes of Matt Duchene, Kevin Hayes and Brock Nelson -- a Warroad, Minn. native -- are all set to hit the market. They each would cost a pretty penny, but if Fenton and his staff felt one of them would be a good long term fit with the Wild they could make a run at one of them come July 1 as the Wild certainly have been clearing out salary this season.
After making several trades in season, Fenton could easily go for another to find a center as well. The general manager has just about used up all his tradeable forwards -- with the exception of Jason Zucker, who nearly was traded Monday afternoon -- leaving him to maybe dangle a defenseman out there in hopes of finding a center.
Jared Spurgeon perhaps? The 30-year-old right-shot blueliner could garner a decent return in the summer should Fenton feel he would rather move him than re-sign him when his contract expires in 2020.
Matt Dumba does not seem to be a piece Fenton would want to move at this juncture, as the 24-year-old Dumba was about to have a career before an injury in mid-December derailed his season. Dumba seems to fit in more with Fenton's 'young and skill' plan that he is trying to execute with his on the fly retool.
There are plenty of options for how Fenton can go to find a center for the future. But the point of the Staal extension was that Fenton is buying himself some more time to figure it out, instead of letting Staal walk in the summer and having to make a panic move or risk going into the next season with unknowns behind Koivu.
"You can never have too many centers," said Fenton after his acquisition of Rask. After moving two players in the past eight days who could slot in at center, the general manager now finds himself in a bit of a center crisis.
But thankfully for him, he has bought a little more time to get it figured with his Staal extension.
Stats in this post courtesy of Hockey-Reference. Salary figures in this post courtesy of CapFriendly.
---