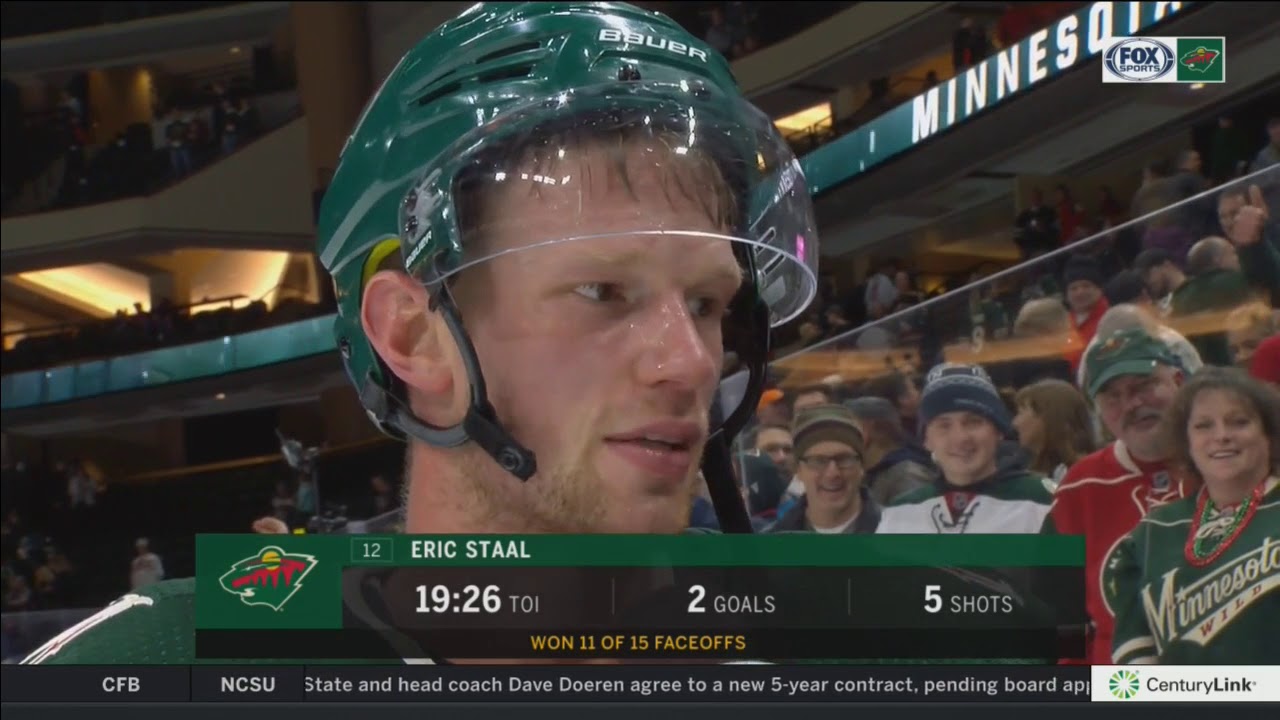 At age 33, NHL players are typically on the downswing of their careers in terms of production.
Eric Staal, however, is not one of those players.
This season, the Minnesota center is having one of his best years in terms of production. He enjoyed a renaissance season last year -- his first with Minnesota after signing a three-year, $10.5 million deal in July 2016 -- where he tallied 65 points (28 goals-37 assists) to come in second on the team in scoring behind Mikael Granlund (69 points).
There was a little bit of doubt on Staal entering this season as he returned from a concussion suffered in Minnesota's final game of the playoffs last spring.
But Staal took his time with recovery and did not rush himself back into training until he was fully ready. He told the Star Tribune back in training camp, "I was smart with that. I wanted to make sure I was totally recovered before I started back up in the gym and training again because I've seen other guys that have pushed themselves early, and that can come back and bite them."
While Staal was back at full health following that frightening run into the boards, the question remained: Would he regain that form he had in the 2016-17 season?
The answer is a resounding yes.
So far this season Staal has a team-best 17 assists and 31 points in 34 games this season. He has registered three two-goal games in the past month, and is making a strong case to be the Wild's All-Star representative in Tampa next month.
If you dig a little deeper into those numbers, we find Staal producing like not many other times in his career.
At five on five this season, Staal has been a menace for the opposition. His points per 60 minutes (P/60) is 2.49 -- far and away leading the Wild -- with Charlie Coyle (2.0) next in that department. Then compare where Staal's production stacks up with the rest of the league, and you find him in some pretty elite company.

Then you compare where Staal's production this year stacks up to previous years in his career, and you find it to be one of the best -- since the beginning of advanced stats in 2007-08 -- he's ever had.

Again, Staal is doing this at the age of 33. Not many players can produce like this at this age, especially at this day in age where the NHL is becoming more and more a young man's league. So just how good is Staal doing compared to others at his age in the post-lockout era? Well, let's look at those numbers, too.

Just on a points per game basis, Staal is 15th on that list. Take that points per game average and extrapolate it over an entire season, and that would project him to finish around 74-75 points. That would put him at ninth for most points post lockout-era in a season, and if you look closely, none of those ahead of him have come past the year 2012.

So what does all this mean? Staal is defying his age with his season so far. Not forgetting, he is having this season on an incredible value contract that carries a cap hit of $3.5 million. You would be hard to find a better value contract in the league, that is not an entry-level contract -- just so there aren't any wise guys out there going 'yeah, look at McDavid's cap hit this year!'.
And in a year the Wild have, well, struggled -- Staal has been a continued bright spot. Just hope that production doesn't fall off at any point.
---
Never Miss an Episode of Giles & The Goalie!