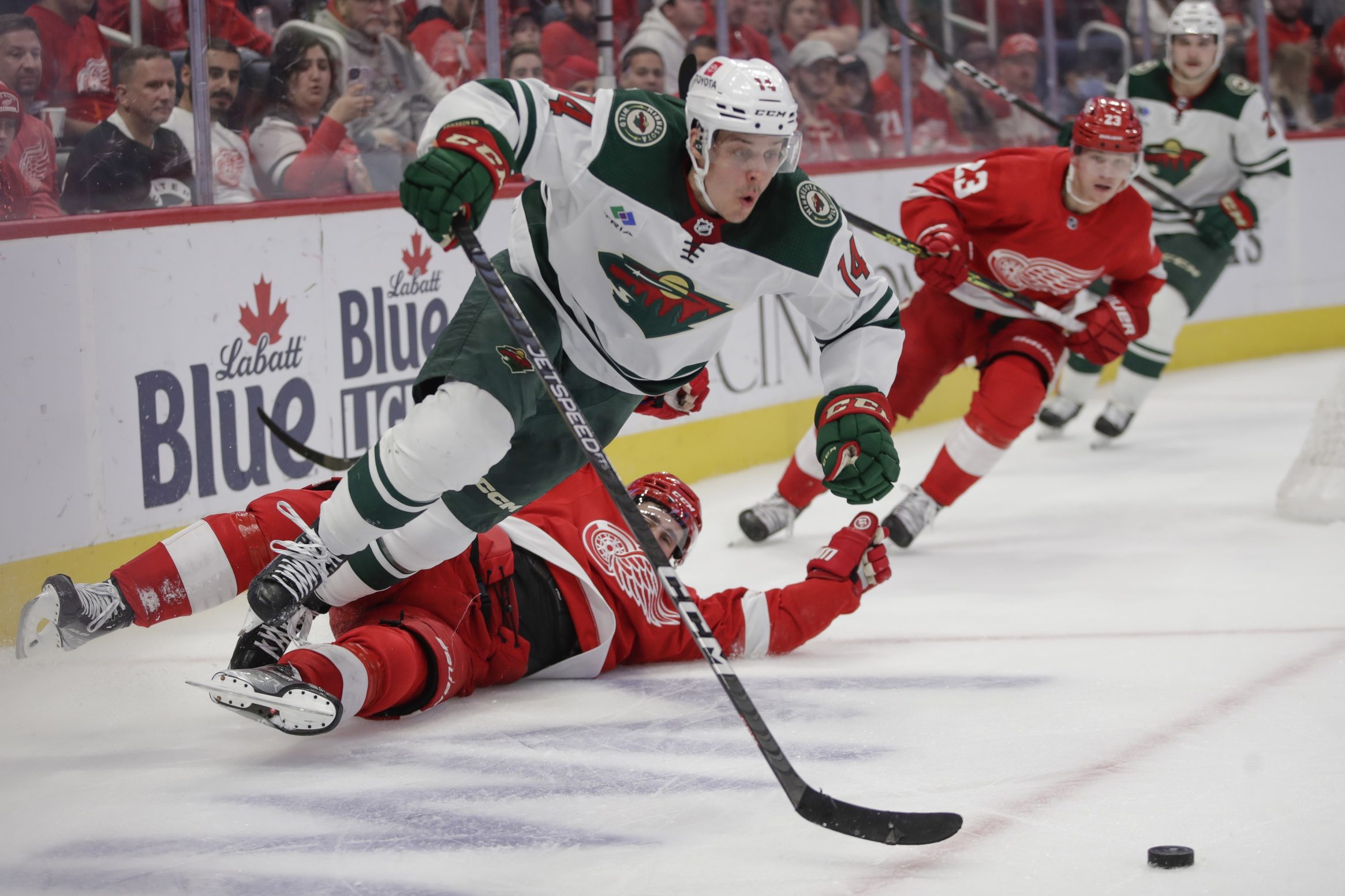 Joel Eriksson Ek is off to the hottest start of his career for the Minnesota Wild. At this time last year, the Wild had played 11 games, and Eriksson Ek had four goals and six points. He has nine points through 11 games this year. Nine! That is a 33% bump from last year and if he keeps this improved pace up, watch out.
Remember how fun his hat trick was to cap off Minnesota's thrilling overtime victory against the Winnipeg Jets early last year? Eriksson Ek was as reliable as ever on the defensive end. Coaches and management were looking for him to unlock that offensive side of his game.
The former 20th overall pick had never eclipsed 30 points before last year. Eriksson Ek had 26 goals and 49 points in the 2021-2022 season, with 16 of those points coming on the power play. That means 33% of his points have come on the man advantage. He was third on the team last year in points percentage on the power play behind Mats Zuccarello and Jared Spurgeon.
In the second year of his 8-year, $42 million deal, Ek is showing that this year he could be a much improved offensive player.
His points per game (ppg) have only climbed as he has entered his prime. In the COVID-19-shortened season, Eriksson Ek averaged .56 points per game. He got a little better in the 2021-22 season, sitting at .63 in 77 total games.
At 25 years old, the Swede is currently scoring at a .81-points per-game pace. If you extrapolate that across an entire season, that's a 68-point pace. That's good for fourth on the Wild behind the other power play threats in Kirill Kaprizov, Mats Zuccarello, and Matt Boldy. His 68 projected points would beat out the likes of "elite" centers like Ryan O'Reilly, Tomas Hertl, and Selke winner Patrice Bergeron.
Erikkson Ek is producing on the much-improved Wild power play yet again. He has two power-play goals and one assist, meaning he's registered one-third of his points on the power play. There's no reason he can't sustain his success this year if he already did it last season. He is leading the team in individual expected goals (ixG) and his 10.3% shooting percentage is not astronomically high. It might even be lower than what he deserves since Eriksson Ek leads the team in individual high-danger chances per 60 minutes by a wide margin.
He's out there making things happen and proving he can drive his own line. Minnesota's improved power play has been beneficial for everyone, but Eriksson Ek is still producing at 5-on-5. He's averaging almost 20 minutes per game, up from about 18:30 last year.
More time on the ice, especially on the power play, will lead to more chances and points for Eriksson Ek as long as he keeps cashing in like he is. Evason trusts him in every situation, and Eriksson Ek also plays a crucial role in the penalty kill.
He has always been an elite possession player, especially with his linemates Jordan Greenway and Marcus Foligno. The trio dominated 5-on-5 puck possession whenever they were on the ice last season.
However, Evason has had to split them up this year. Greenway started the season on IR. He returned for one game, but he went back to the locker room before the final horn. Foligno also went down with an injury, and he's out for an undisclosed amount of time. Greenway may be able to join the team for their West Coast road trip, but Foligno is out indefinitely.
When you think of offensive threats, Foligno and Greenway are not players that usually come to mind. However, Evason has recently paired Eriksson Ek with a more offensively gifted player in Matt Boldy. Let's just say as long as these two keep it clicking the way they've been so far, Evason will have a hard time reuniting the GREEF line.
Brandon Duhaime, Connor Dewar, Ryan Hartman, Jordan Greenway, and Marcus Foligno are all good players. But they can't touch this, and they never will.
Boldy is a key piece to ensuring that Erikkson Ek keeps up his pace. Both players dominate in possession statistics and are generating chances at an incredible rate.
They play together on the first powerplay unit, where Boldly usually roves between the half wall and below the goal line. Ek is traditionally positioned in front of the net, setting screens and tipping pucks, causing traffic for the goalie. Boldly will be there to commandeer any rebounds and slam them home.
If these two players stick together throughout the rest of the season, we could see another dynamic duo forming in Minnesota. Take a sneak peek at this potential:
Don't dismiss Eriksson Ek's hot start. Yes, he's seen as a defensive-first forward and his scoring tends to be hot and cold. But on a team with a top-5 power play, an elite running mate, and a game that is defensively responsible, Eriksson Ek is sure to see plenty of ice time. This year, he's getting more than ever, and he has a darn good shot at shattering his previous career highs.
All stats via Evolving Hockey and Natural Stat Trick.