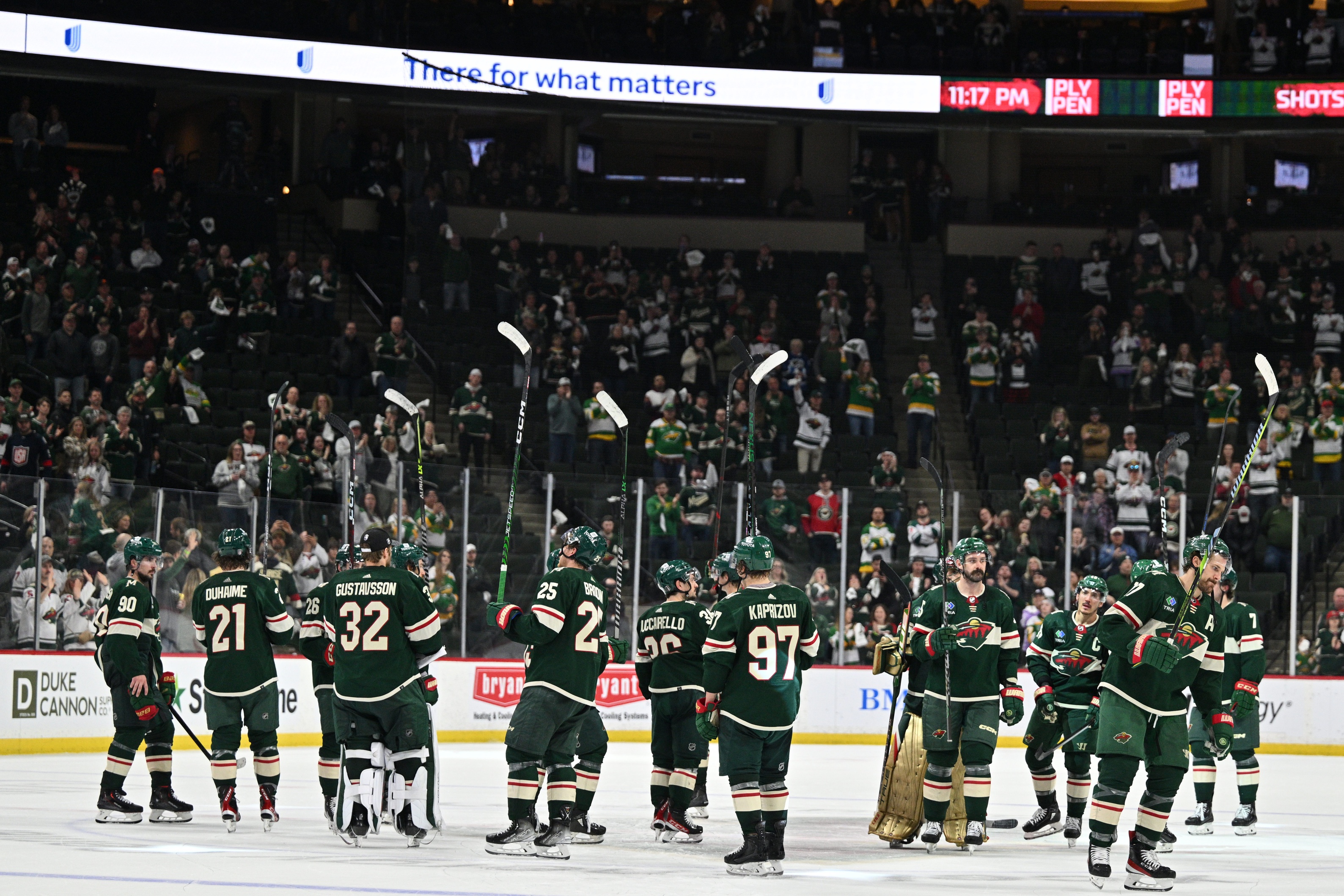 Image courtesy of Jeffrey Becker-USA Today Sports
Bill Guerin's end-of-season press conference upset quite a few fans. That isn't unusual for a GM who is known for bravado and speaking his mind. But this time, a straightforward statement resulted in days of discourse over what counts as a failure or success. In this instance, fans need to listen to and side with Guerin.
"I don't view this season as a failure," he said.
The world is made of shades of gray, and Guerin is pointing that out. Too many fans are jumping to a black-or-white way of thinking that isn't going to help the Minnesota Wild reach any level of success in the next few seasons. 
Let's step back and talk about success. What is success for an NHL team? The Stanley Cup is obviously the biggest success of all, but what about other levels of success? Simply making the playoffs is a level of success. Just ask any of the teams that didn't qualify. While it isn't Minnesota's ultimate goal, making Round 2 would qualify as another level of success.
It's a bit like running a marathon. When someone decides to take up running, the ultimate goal may be to finish a marathon. Is that going to happen immediately? No, they need to train and work up to it. In this scenario, finishing a 5K race would be the first level of success. Sure, the runner hasn't reached the end goal, but they shouldn't dismiss something that is a great first step.
Did the playoffs go well for the Wild? No, and no one will say that they did. After a great win during Game 1, Minnesota commenced a slow, downward slide into an early golf season. 
Was the regular season a success? Yes. With exceptional goaltending, several notable win streaks, and secondary scoring that picked up right when the team needed it to, the regular season was a success. 
Acknowledging a good regular season doesn't mean fans have to pretend that the postseason was good too. Humans are complex and can feel two things at once. There isn't a need to choose good or bad. Fans can be critical of the mistakes while also acknowledging the good parts of the season.
Too many fans are ready to throw the baby out with the bathwater. Don't abandon the good parts of the season just because the team isn't throwing a Cup parade this summer. It takes years to build a Stanley Cup-winning team. And no, the years before Guerin took over don't count. He's got a vision that fans need to trust in and run with.
"There's been this narrative out there right now that 'Oh, the Wild can't get past the first round,'" Guerin said. 
And he's right because that's been the echoing refrain this past week. That's called a negative self-fulfilling prophecy. Fans repeat that narrative over and over. And then what? The team and the players hear this repeated, and even if they play their best, fans will continue to circle back to it. 
Oh, they might be doing good now, but come playoff time, they won't get past the first round again is the reigning sentiment among fans. 
That needs to stop. Now. 
Starting this off-season, fans need to join Guerin by using positive self-fulfilling prophecies instead. Putting out positive thoughts about the team will help Wild fans' overall culture. There needs to be a sense of belief that no matter how a game or season is going, it can turn around and the Wild can pull out a win.
One important way is by being skeptical of the story many in the media are selling. It's one thing for fans to believe the Wild can't make it past the first round, but it's worse when the media does it. Writing headlines screaming out doubt about playoff wins is perpetuating the negative self-fulfilling prophecy. Read the articles, sure, but be prepared to challenge the negativity.
"...it is disappointing that we haven't gotten past the first round, but that's not the goal. Yeah, it'd be nice, but that's not what we're building towards here. That's your narrative. That's what you guys write about," Guerin said. 
The Stanley Cup is the ultimate goal. Guerin has not minced words about that ever since he became GM. He is in Minnesota to win a Cup. So when the media focuses on the negative aspects of a potential Cup run, it's deflating to everyone. 
It's important to remember that Guerin didn't make the decision to sign Ryan Suter and Zach Parise to exorbitant contracts, but he made the decision to buy them out. It was the right decision, and Guerin has been able to make good moves despite the dead money cap. But it's still a giant burden.
"I think our players and our coaches deserve a lot of credit because they're fighting with one hand tied behind their back because of these cap restraints," Guerin said. "We don't apologize for it. We're fine with it."
With two more years of cap hell left, Guerin has been doing everything he can to give the Wild a fighting chance with the limited amount of money available. It isn't an excuse. It is a fact of life that we all should take into account. After all, despite the dead money, Guerin has built a franchise-record-breaking team of players. Things are trending up.
Fans don't have to put on the rose-colored glasses that Guerin wears. But they should take off the mud-colored glasses that they view every Wild season with and challenge their negative outlook before the 2023-24 season starts next fall. It's the least they can do for the team.
1